2004: TV's Hit Fashion Reality Show 'Project Runway' Launches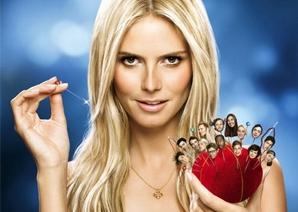 On this day in 2004, the fashion-themed reality competition show Project Runway made its debut on Bravo. The series pits novice fashion designers against each other in a series of clothing design challenges that result in regular eliminations. The series is hosted by model Heidi Klum, who joins Marie Claire fashion director Nina Garcia and designer Zac Posen (though earlier in the run of the series, designer Michael Kors was the third judge) as the show's regular judges. A fourth judge spot is generally filled by a guest designer, model, celebrity or other industry professional. Tim Gunn, Chief Creative Officer for Liz Claiborne Inc., serves as the contestants' mentor.
In April 2008, the show's owners, the Weinstein Company, announced plans to move the series to Lifetime, beginning with its sixth season in November 2008. The announcement prompted a breach-of-contract lawsuit from Bravo's parent company, NBC Universal. Five months after the announcement, a New York Supreme Court judge issued a preliminary injunction that blocked the move. The dispute was finally resolved in April 2009, freeing the show's sixth season to finally make its debut on Lifetime in August 2009.
In May of 2018, with the bankruptcy of The Weinstein Company, it was announced the seventeenth season would be on Bravo, but would not include Heidi Klum or Tim Gunn (announced September of 2018). The pair is expected to host a new show on Amazon.