2005: CBS Launches 'Late Late Show with Craig Ferguson'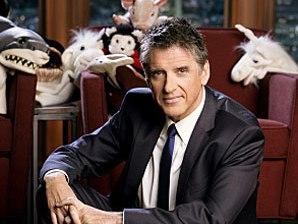 On this day in 2005, actor/comedian Craig Ferguson — best known as office boss Nigel Wick on The Drew Carey Show — took the helm of the CBS late-night series, The Late Late Show.
Produced by David Letterman's Worldwide Pants Incorporated, The Late Late Show with Craig Ferguson mixed the traditional late-night monologue, guest interviews and musical guests with audience interaction, pre-taped bits, puppetry and theme weeks. The show also had a robot skeleton sidekick, Geoff Peterson, and featured frequent appearances by a dancing horse, Secretariat. Ferguson also did impersonations of well-known individuals, including Prince Charles, Sean Connery, Queen Elizabeth II and Michael Caine.

Ferguson was the show's third host, following Tom Snyder and Craig Kilborn.
Ferguson decided to leave the show and did so with the final episode airing on December 19, 2014. The episode famously ended with an homage to television show finales by employing a number of them to end The Late Late Show itself.