2005: Debut of 'The Office'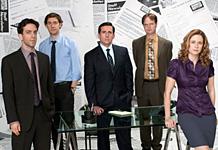 On this day in 2005, NBC introduced the sitcom, The Office, an adaptation of the same-name BBC series starring Ricky Gervais.
The British series lasted just 12 episodes, but the American version, which was created by Gervais and Stephen Merchant, was a hit for NBC. The American version revolved around the employees of Dunder Mifflin, a fictional Scranton, PA-based paper company, and was presented in a mockumentary format.
The sitcom lasted for nine seasons and originally starred Steve Carell, Rainn Wilson, John Krasinski, Jenna Fischer and Ed Helms. Show writers B.J. Kovak, Mindy Kaling and Paul Lieberstein also appeared on the show. Carell left the series during the seventh season.</span>