2008: Beijing Presents a Spectacular Olympic Opener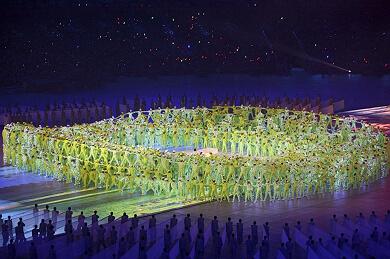 On this day in 2008, Beijing produced a four-hour Olympics opening ceremony that is considered by many to be the most spectacular Olympic opener ever staged — an extravaganza the American Film Institute called the most significant live event of the year.
Directed by Chinese filmmaker Zhang Yimou, the four-hour show featured more than 15,000 performers, ranging from children to martial arts masters.
Four drummers kicked off the event, which included elaborate, artistic tributes to China's Four Great Inventions — paper, printing, gunpowder, and the compass — and 5,000 years of Chinese art, culture and history. At one point, illuminated performers used their bodies to recreate the bird's nest shape of the Beijing National Stadium, the primary venue for the 2008 Summer Games.