2009: TVWW's David Bianculli Guests on 'Late Late Show'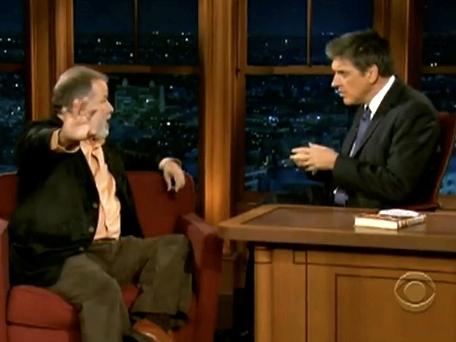 And now, for a very only-on-TV-Worth-Watching remembrance: On this day in 2009, TV Worth Watching founder David Bianculli came out of his legendary basement bunker to discuss his book Dangerously Funny: The Uncensored Story of The Smothers Brothers Comedy Hour on CBS' The Late Late Show with Craig Ferguson.

Says David, who has been covering the TV business for nearly 40 years: "The day I appeared on Craig Ferguson's show to publicize my Dangerously Funny book on the Smothers Brothers, I began my on-air visit by telling the truth: that I was so frightened and intimidated by the surroundings that the only way I could get through it was to not look at the audience. The screen grab you see here is the moment when I told Craig that, and held out my hand, like a traffic cop, to acknowledge the audience I refused to make eye contact with. It got a laugh, but that didn't help much.

Nor, now that I think of it, did Craig's truly funny remark to me in the wings, literally seconds before he walked on stage and faced the cameras and the audience. 'At last,' he said to me with a smile, 'we meet on the field of battle.' I can laugh about that — now.

But what an honor to be on, and what a point of pride to have survived it, however barely."
The night's other guest? English actress Emily Blunt.