Abby Lee Miller Talks Maddie Ziegler, Surviving Behind Bars and Losing Everything in Pre-Prison Interview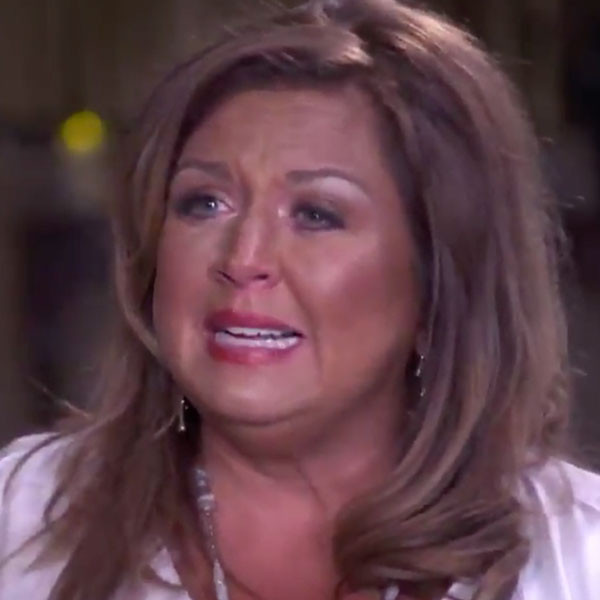 Before Abby Lee Miller put on the orange jumpsuit and began her year behind bars, she had a few things to say. 
The reality star, who was sentenced to a year and a day in prison after pleading guilty to concealing bankruptcy assets and not reporting an international monetary transaction, reported to prison on July 12. However, before driving up to FCI Victorville prison in California, she sat down with The View's Jedediah Bila for a tearful Lifetime sit-down, Abby Tells All. During the two-hour interview, the reality star reflected on everything that has transpired thus far—and the next 366 days to come. 
Throughout the special, Miller expressed concern about the logistics of prison life, including the lack of a pool, having clothes, underwear and bras that fit her and being able to stick to her newfound vegan diet while inside. 
"I don't think there's a salad bar and I doubt there's going to be a lot of fresh fruits and vegetables," she said. "I'm gonna go away for a long time and they're gonna have whatever they have, and that's what I have to eat." Miller recently underwent gastric sleeve surgery. 
During the emotional sit-down, Miller also reacted to the fact that her most prominent Dance Moms co-star, Sia's protégé Maddie Ziegler, has kept her distance from the imprisoned reality star and failed to mention Miller in her newly released memoir. Despite their severed ties, as Ziegler's career continues to blossom beyond Miller's dance studio, she credits herself for the teen's success. 
"I look at what she has done, and the other jobs and the other opportunities besides Dance Moms—they all involve dancing. They're all about dance. They're all judging dance, dancing, performing, something. I don't think, had she not been at my studio, she would be where she is today. And I can confidently say that," she explained. "I'm not gonna say that I 'made' anybody. I didn't make her—her mom and dad created her, but I certainly added my two cents in."
However, when it came to her crime, she didn't entirely blame herself. "I made lots of mistakes—the number one mistake being trusting other people with my money," she said. However, the notoriously strict dance teacher came to terms with the fact that she had broken the rules. 
"I made bad decisions. I'm not denying that I made bad decisions," she said. "I'm not this horrible, evil person! I just made mistakes and I was stupid. And I thought because you're paying everybody back, it doesn't matter– the rules don't matter. But the rules matter. There are rules for a reason."
With her actions in the past, Miller had to face her future as an inmate—a reality that terrified her. 
"I am petrified," she admitted. The star expressed particular concern about possible attacks once inside. "I hope it won't be as bad as I imagine," Miller continued. "I mean, if a whole gang of people want to kill you, they're gonna do it. If a whole bunch of people want to make your life a living hell, they're gonna do it. If it's that bad, I probably won't survive."
In a year, she'll be back, but according to Miller, returning to normal life will pose the greatest challenge of all. "Will I come out and have nothing? Will I come out and be right back where I started?" she asked. "That's more scary than going in."