Christina Applegate's Style Evolution Is a Must-See Trip Down Memory Lane
move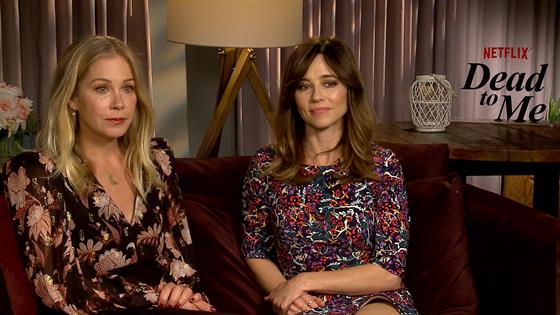 Christina Applegate's style icon status is more than 30 years in the making.
Hollywood was first introduced to the actress when she landed the role of Kelly Bundy on classic sitcom Married… With Children, and it's safe to say Christina has yet to find a red carpet she didn't get along with.
From the late '80s and into the early aughts, Applegate modeled practically every fashion trend that defined those eras—pantyhose and newsboy caps included.
During Sunday evening's 2019 Emmy Awards, where her performance in Netflix's Dead to Me earned her a nomination for Outstanding Lead Actress in a Comedy Series, all eyes will be on Applegate in anticipation of yet another standout style moment.
So in celebration of Christina's ongoing success and our love for pop culture nostalgia, take a look back at her greatest fashion flashbacks.
Ron Galella Collection via Getty Images
Ready for Her Closeup
Wearing a silk driving scarf and matching floral frock, the actress looked gone with the wind fabulous at the 1989 MTV VMAs. And yes, this was the night Christina infamously ditched Brad Pitt, her date for the evening.
Ron Galella Collection via Getty Images
Velvet Vixen
The '80s were big on velvet, and let's just say the starlet didn't skip out on the trend.
Ron Galella Collection via Getty Images
Fearless Fashion
In 1988, Applegate dared to mix practically every pattern in the book during an outing alongside Dance 'til Dawn co-star Matthew Perry.
Jim Smeal/Ron Galella Collection via Getty Images
Baby's First Emmys
At her very first Emmy Awards in 1989, the Married With Children star went for embroidered lace-up boots and a black dress.
Ron Galella Collection via Getty Images
Power Suit Realness
Two years later at the 1991 Emmys, Christina complemented her royal blue skirt suit with a red ribbon for AIDS awareness.
Jim Smeal/WireImage
The '90s Have Arrived
By 1993, the star had ditched her platinum blonde bangs for long layers and a more grunge-inspired aesthetic.
Ron Galella, Ltd./WireImage.com
Vampy Vibe
Between Christina's brown lipstick and over-plucked brows, the only thing missing is a few butterfly clips.
Jim Smeal/Ron Galella Collection via Getty Images
Red Carpet Ready
At the 1998 Emmys, the actress turned heads in embroidered silk and a polished updo.
Jim Smeal/Ron Galella Collection via Getty Images
Elegant as Always
The Olsens twins' flipped up bobs walked so Christina's could run.
SGranitz/WireImage
Double Take
The Jesse star celebrated her first Golden Globe nomination at the 1999 ceremony by wearing a lilac and floral two-piece. And don't you dare forget the matching pashmina, obvs.
Theo Wargo/WireImage
Girl Power
Christina and her The Sweetest Thing co-stars, Cameron Diaz and Selma Blair, turned out for a 2002 TRL appearance in their early aughts finest. And for better or worse, this wouldn't be the last time she wore a dress over jeans.
SGranitz/WireImage
Free Spirit
More trends of the 2000s that Christina couldn't get enough of? Chiffon blouses, low-rise bottoms and kitten heels, naturally.
Jeffrey Mayer/WireImage for New Line Cinema
Best Dressed
Not only did the A-lister rock another dress-denim combo to the 2003 Elf premiere, she paired it with a pointed toe pump.
Donato Sardella/WireImage
All the Rage
The girl squad and style inspo we never knew we needed: Christina, Charlize Theron, Gwen Stefani and Brandy.
SGranitz/WireImage
Ray of Sunshine
Skinny scarves defined fashion in 2004, so Applegate attended the Creative Arts Emmys that year in a sparkly yellow one.
Jon Kopaloff/FilmMagic
Suited Up
Fast forward to 2007 and this celeb was still checking every box in her style handbook: cropped vests, plush blazers and newsboy hats.
Watch E!'s Live From the Red Carpet: The 2019 Emmy Awards coverage, beginning with the Countdown special, Sunday, Sept. 22 starting at 4:30 p.m. ET/1:30 p.m. PT! And after the Emmys telecast, recap the night's biggest moments by watching the E! After Party special at 11 p.m.! Monday, Sept. 23, don't miss E! News at 7 p.m. for all things Emmys!