Coachella queen Maya Jama shares her ultimate beauty tips for festival season
If anyone can be crowned queen of Coachella, it's DJ, model and TV presenter Maya Jama. Not only is her fashion always on fleek, but her luscious hair lends itself to the ultimate festival looks, whether it be braids, loose waves or glitter and accessories.
GLAMOUR beauty editor Lottie Winter catches up with the beauty in her natural habitat, Palm Springs, the homeland of Coachella.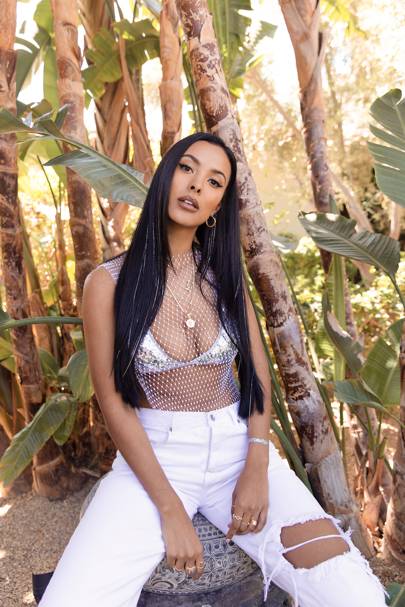 "This festival season is all about Nineties"
"Out of all the festivals, Coachella is the one where you have to really plan your beauty looks. At Glastonbury, I'm in a tracksuit for three days but at Coachella, I've planned my outfits with a stylist. We've kind of gone for a Nineties theme this year – think raver vibes," Maya says. "It's the same for my hair – I'm thinking really long, sleek and straight, and hair tinsels, which are like the new glitter."
Her hair stylist Samantha Cusick, GHD creative artist, used the new GHD Platinum+ Festival Styler to get Maya's hair poker straight, and bonded in ultra-fine strands of silver tinsel to complete the look, which was created to match her sequinned bikini top and diamond-adorned net coverup.
"I'm going without glitter"
"I'm not really about glitter makeup. I like a little dab on the inner corners of my eyes, and maybe, if I'm going all out, I'll use a glittery shimmer instead of a highlighter," explains Maya. "My outfits are statement colours so I wanted to keep my makeup and nails pretty minimal and neutral."
"Compact packing is key for festivals"
"I compact pack all my stuff, which meant I got my whole luggage down to just one suitcase," says Maya. "I roll up the clothes super tight, and put each day's accessories in separate bags, and label them all. Otherwise it's complete chaos in there. I'm so scatty."
"I prep my skin in advance"
"I've kept really on top of my skincare in the run up to Coachella. Even on the plane, I'm going for it. I do so many sheet masks I look like Freddie Kruger with sunglasses on. On the plane here, I used night cream and a super moisturising mask so I came off looking like an oiled up baby."
"I'm also a big advocate of night cream during festival season," says Maya. "I get really dark eyes, especially when I'm out partying all the time, so I'm big on the eye cream."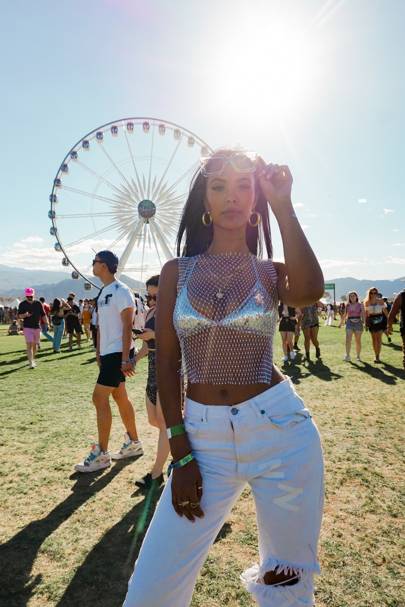 "My secret for good skin is Dove bar soap"
"I just use Dove bar soap to wash my face," she reveals. "I know it sounds bad, but it works! Since I've been doing that, my face hasn't been spotty. It does get a bit dry after, so I always use a moisturiser after." Plus, the bargain beauty product is super travel friendly, making it the perfect festival skincare staple.
"The only workout I do is dancing around my house"
"Ok, so I'm going to be really honest, I'm not an exercise person," Maya admits. "Don't get me wrong – if I've got a shoot or I know I've got to be in a bikini, I'll do a panic workout. But otherwise I just dance around my house, holding weights in my hands."
According to Maya, the low key workout is as good as any other full body workout. "You're running around, you're dancing, fist pumping with the weights. It's great."
As for the soundtrack? "I'll go for disco, feel good playlists. And I like DJ mixes, too. DJ Jasmine is great and Horse Meat Disco has a good playlist. You don't feel like you're working out!"
"I also bought ankle weights to wear when I was walking my dog Kenzo, but it looked like I'd just got out of prison so I stopped wearing them. People were looking at me funny."
"Wigs are great for colour changes"
Anyone who follows Maya on Instagram would have seen the recent photo she posted with her wig half on, half off. "My friend was joking that she was going to post it and I was like, are you silly, I'll post it myself I don't care!"
"I love wigs if I'm going for a drastic hair colour change. I mean, my hair would fall out if I bleached it blonde. Plus, wigs are so incredible these days. Most people I see don't know I'm wearing a wig – except I'm one of those people who, if someone compliments my hair, I'll blurt out 'ah it's a wig!'. I can't accept compliments. But if I'm not changing the colour, I'll keep with weaves and extensions for both length and volume – my hair is quite thin."
For more festival hair and beauty inspiration, don't forget to check out our gallery of the ultimate looks that make the flower crown seem like a distant memory.
And if you're struggling to decide what to wear, we've rounded up our favourite looks to inspire you.