Dynasty Then and Now: How the CW Is Reimagining the Hit '80s Soap for 2017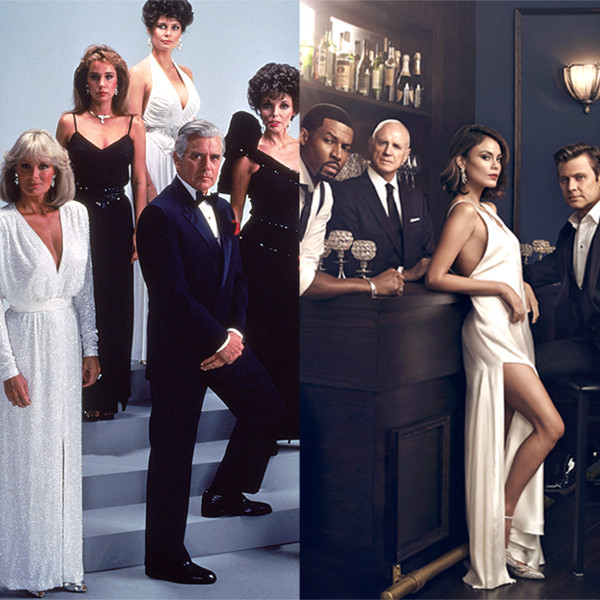 Tonight, the fight for control of the Carrington dynasty begins…again.
The CW is about to bring us it's remake of the popular 1981 soap Dynasty, and based on what we've seen so far, it's delicious to the point of possibly being extremely delicious. While the new show isn't an exact copy of the original show, a lot of it comes pretty damn close…with a few 2017 twists.
"I mean, obviously my thoughts go to shoulder pads and big hair, but that's not really our territory anymore," star James Mackay, who plays Steven Carrington, told us on set. "Although I would like to think we have whatever the 2017 equivalent is."
It's true, there are no shoulder pads or big hair, but there are cat fights, all the original characters, and clothes to die for.
"We pay tribute to the original in every way we can, be it through an outfit or through dialogue that we've lifted from the original, so I think both old and new fans will love the show equally," Liz Gillies, who plays Fallon, says in the video above.
But the changes aren't just about fashion. The original series was very much a product of its time, meaning it featured a lot of storylines that were fairly insensitive, especially when it comes to race and sexuality.
"Look, there were some storylines in the original that were hugely problematic by today's standards," Mackay says. "I mean, you don't have to go far to see where they are. We've got a much more diverse cast. We've switched some ethnicities and genders of characters."
Patriarch Blake Carrington, originally played by John Forsythe, was a particularly problematic part of the 80s series.
"The original Blake was of a different time, and he was of a different time even in the 80s," says Grant Show, who plays the new Blake Carrington. "He was prejudiced, and he didn't like homosexuality, and there were these things that were very clear lines for him. It wasn't easy to be sympathetic with him because we all knew he was wrong. The Blake that I'm playing, he may still be uncomfortable with his son's homosexuality, he may have racism, but he knows it's wrong, and so he battles with that within himself."
Rafael de la Fuente plays perhaps the show's biggest change from the original. He's playing Sammy Jo, who was originally played by Heather Locklear as the woman who eventually married Steven, who was gay.
"It is now a much more diverse cast and a much more accurate representation of what the world looks like and America looks like," de La Fuente says. "There's different races, and different nationalities and different cultures and different sexualities, and it's not a problem or a thing, you know. It's just people."
"At first when I was cast in this role, people were mad. 'Jeff Colby isn't black!'" Sam Adegoke tells us. "I had to think about it, because I grew up with Fresh Prince, and don't ever reboot Fresh Prince! I had to take myself out of it and then I was able to empathize and say wow, I get it. So I'm hoping people will at least embrace and give us an opportunity to tell these iconic stories with new voices, knowing that we're going to honor the legacy of old, but we're going to do something new and kinda make it our own, and it's gonna be fun and dynamic."
To see just how different this new cast looks compared to the old, keep on scrolling!
Dynasty premieres tonight at 9 p.m. on the CW.