Fans are praising Jameela Jamil's new series for shining a light on body acceptance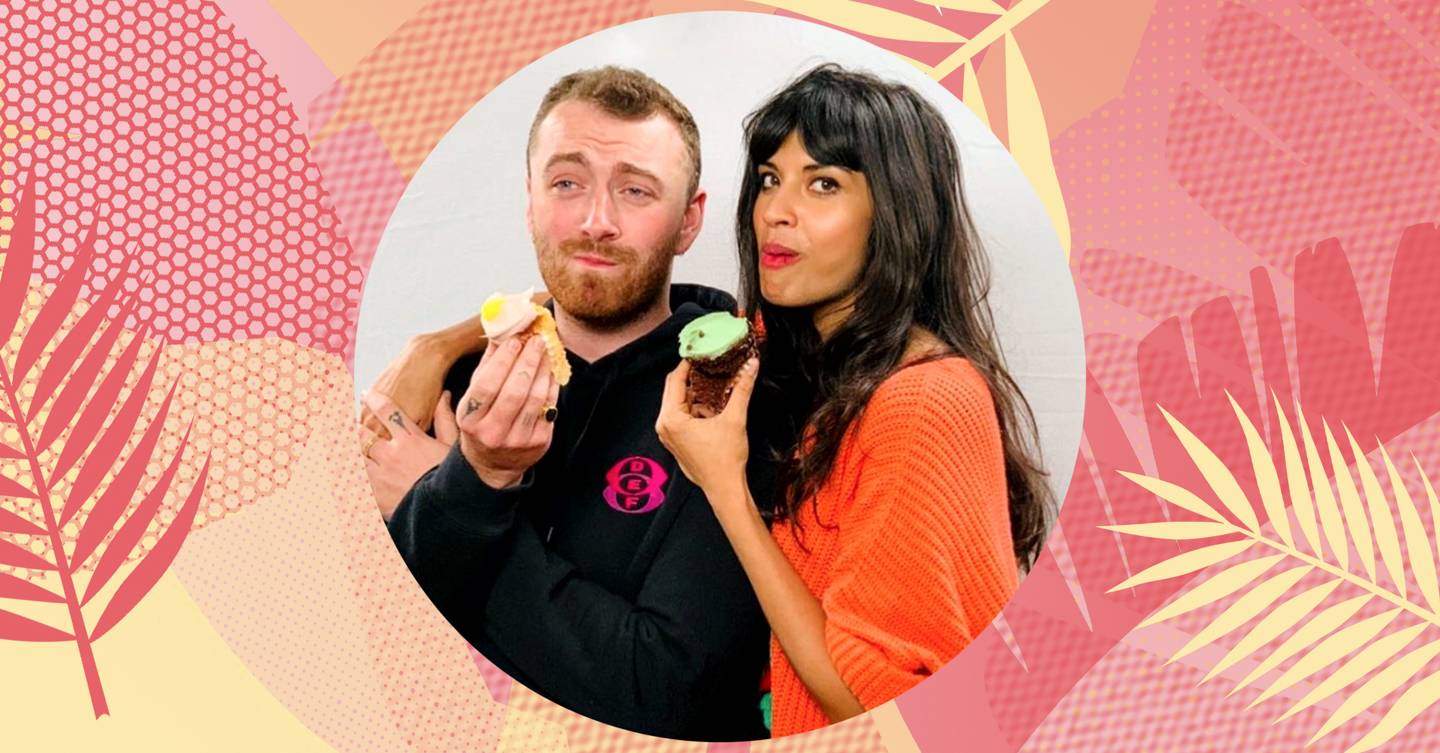 When it comes to battling everyday sexism and body-shaming, we can always count on Jameela Jamil to speak up on behalf of women. From Photoshop battles to airbrushing debates, Jamil's fierce fight-back against unrealistic beauty standards has made her a leading figure in the body positivity movement.
With her popular Instagram account, I Weigh, Jamil has been building an online "revolution against shame", encouraging her 430k followers to share unfiltered selfies and embrace their individual qualities in order to flip the script around beauty norms.
Today, The Good Place star launched a new I Weigh video series on IGTV, in which she explores the "experiences, lessons and inspiring work of people who are out here doing the work to make everyone feel better about themselves."
In the first interview, Jamil sits down with singer-songwriter, Sam Smith, for an open discussion about body shame, mental health, gender, sexuality and fame.
In a preview of the interview, he reveals: "Two days ago I had a full day where I was like "I just have to sit alone I think." I'm getting so sad.
"I get very, very dark. Very sad," he continues. "Recently I've been able to get out of those holes a bit quicker because of things like I Weigh."
Iweigh
Posting to Instagram, Smith described the life-changing effect of his I Weigh interview.
"A few months ago, I sat down with @jameelajamilofficial and spoke with her for her incredible @i_weigh movement. I know this sounds dramatic but this interview completely changed my life. Being able to talk so openly about my body issues and feeling so safe whilst doing it was truly liberating.
"I am so thankful to Jameela and her team for this opportunity and being so respectful and kind to me. It took a lot for me to do this and I was so nervous, so please be kind haha. I really hope this can make someone else who feels like me, a little less lonely and a little less alien xx."
Fans have been quick to praise the new video series for changing the narrative around body image.
Last month, the singer opened up about his struggles with body image in an empowering Instagram post where he addressed the "body trauma" he had suffered in the past.
[instagram id="Btypu_iAaVt/"]
"In the past if I have ever done a photo shoot with so much as a t-shirt on, I have starved myself for weeks in advance and then picked and prodded at every picture and then normally taken the picture down.
"Yesterday I decided to fight the f*** back. Reclaim my body and stop trying to change this chest and these hips and these curves that my mum and dad made and love so unconditionally.
"Some may take this as narcissistic and showing off but if you knew how much courage it took to do this and the body trauma I have experienced as a kid you wouldn't think those things."
Here's to more body positivity on our feeds today and every day.