Fashion Flashback: See the Stars' Looks at the 1999 Golden Globes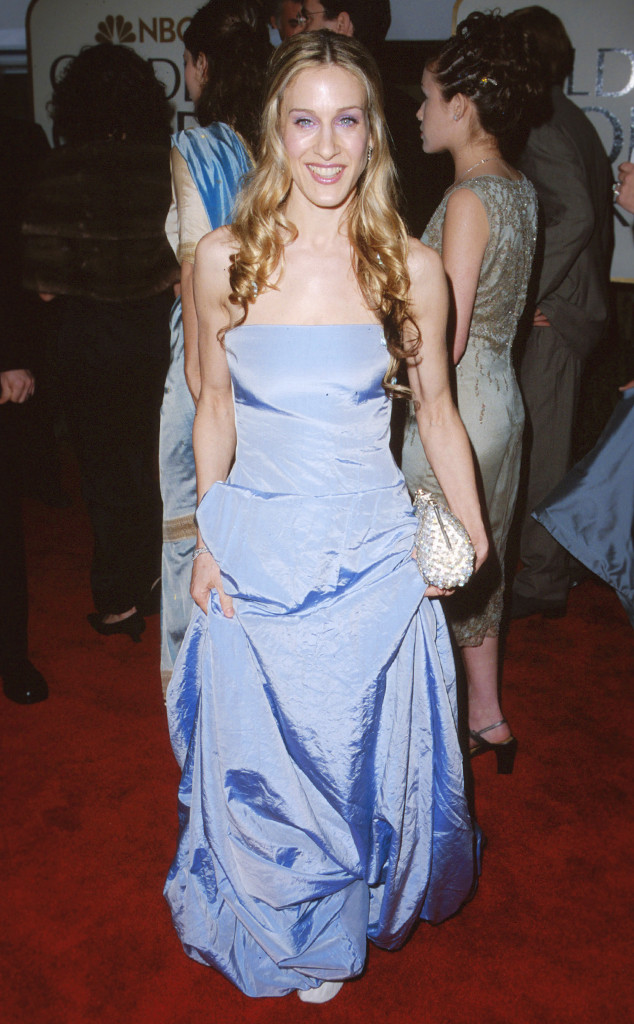 SGranitz/WireImage
We're going back, way back, to when scarves ruled the red carpet.
Before we relish in the fashion to come at the 2019 Golden Globes, we're taking a look back at epic fashion that debuted on the award ceremony's red carpet. This event, which started 76 years ago, has always been an extravagant affair with designers clamoring to dress the hottest stars. In fact, before the rise of social media, this red carpet, along with the Oscars and Grammys, was a major opportunity for exposure to couture. Only the best of the best made it in front of the flashing cameras.
The 1999 Golden Globes red carpet is a prime example. It was the year that Shakespeare in Love, You've Got Mail and Saving Private Ryan made it to the top of box office sales, and Meg Ryan, Gwyneth Paltrow and Sarah Jessica Parker, who was one season into Sex in the City, were the stars to watch.
Twenty years ago, the big trends of '90s fashion—iridescent maxi skirts, sweater sets and scarves—reigned the red carpet. In regard to silhouettes, strapless gowns and full skirts were the popular choices. And, with a slower pace of trends, being creative with colors, prints and fabrics was the best way to stand out.
Check out the best looks from 1999 below!
SGranitz/WireImage
Meg Ryan
In a grey sweater top and yellow floor-length skirt, the You've Got Mail actress is simply chic on the red carpet.
Jim Smeal/WireImage
Gwyneth Paltrow
Before winning the Best Performance in a Musical or Comedy for Shakespeare in Love, the actress followed suit in a black top, matching sweater and iridescent blue skirt.
KMazur/WireImage
Tangi Miller
Wrapped in purple hues and velvet, the actress made a color statement at the award ceremony.
SGranitz/WireImage
Sarah Jessica Parker
The Sex in the City star channeled her inner Cinderella in a blue strapless gown.
SGranitz/WireImage
Christina Applegate
The actress opts for a tube top and floral print skirt to standout on the red carpet.
SGranitz/WireImage
Keri Russell
The Felicity actress appeared in layers of luxurious fabrics before winning Best Actress in a Drama Series.
SGranitz/WireImage
Melanie Griffith
The star opts for all black with a gown and sweater draped over her shoulders, but then adds a red lip to make it pop.
Ron Galella, Ltd./WireImage
Alfre Woodard
Over her lace strapless dress, the Down in the Delta star added a sheer layer with geometric designs for a complete red carpet style.
SGranitz/WireImage
Laura Linney
In 1999, Laura revealed the power of cutouts with a pale pink, embellished gown and fur-accented scarf.
SGranitz/WireImage
Gillian Anderson
The Hollywood star perfected layers with a lilac maxi gown, mid-length sheer top and velvet scarf draped around her shoulders.