Gilmore Girls Revival's Unanswered Questions: What A Year in the Life Has Us Wondering Now
You've had countless cups of coffee, shed numerous tears, eaten some questionable take-out choices and Thanksgiving leftovers and just spent six hours in Stars Hollow with Gilmore Girls: A Year in the Life. Now? Now you have questions. And so do we. Warning, Gilmore Girls revival spoilers from here on out!
"Winter," "Spring," "Summer" and "Fall" each presented new adventures of Lorelai (Lauren Graham), Rory (Alexis Bledel), Emily (Kelly Bishop), Luke (Scott Patterson) and the rest of all your Gilmore favorites. But the revival didn't wrap everything up in a nice little bow—far from it. Please provide us answers to these questions, Amy Sherman-Palladino!
The most important question: Who's the father?
Do we need to get Maury Povich over to Stars Hollow?! We assume it's Logan (Matt Czuchry) based on their last interaction and that would put Rory in a Lorelai situation—the dad is elsewhere and she'll be a single mom…maybe getting her own Luke in Jess (Milo Ventimiglia) based on Jess' lingering looks at Rory? However, there are other options. One final moment with her forgettable boyfriend Paul? The Wookie from that Comic-Con-y line? Her run-in with Dean (Jared Padalecki) was very G-rated, but this wasn't 24, we didn't see every minute. Some other beau?
Where was the theme song?
A vital part of Gilmore Girls is Carole King's "Where You Lead." Yes, we had Carole King return as music store owner Sophie, and she even sang, but the episodes did not begin with those trademark chords, rather they were only heard once in the final installment, "Fall," over the end credits. Why? Why do this to us?
What would've happened if Melissa McCarthy wasn't available?
Melissa McCarthy's Gilmore Girls revival status generated headline after headline. First she was too busy, then she said she wasn't asked, then she kept saying how much she loved Gilmore Girls and then she was finally in…for one scene. A nice scene with Graham and Yanic Truesdale that just felt…right. But if they didn't get McCarthy, would they have just left Sookie foraging in the woods, totally missing from key events in her best friend's life?
Where were Sookie's kids?
They could've at least been seen with Jackson (Jackson Douglas) at the food festival…
What's the one season seven thing that would've made ASP tweak the revival?
In an interview with EW, Sherman-Palladino said they got "the ending that weirdly was supposed to be the end of the series." "They could've done something in season seven that would've changed our ending and that would've been OK, but they didn't," she said. What was it? Lorelai staying married? Rory agreeing to marry Logan?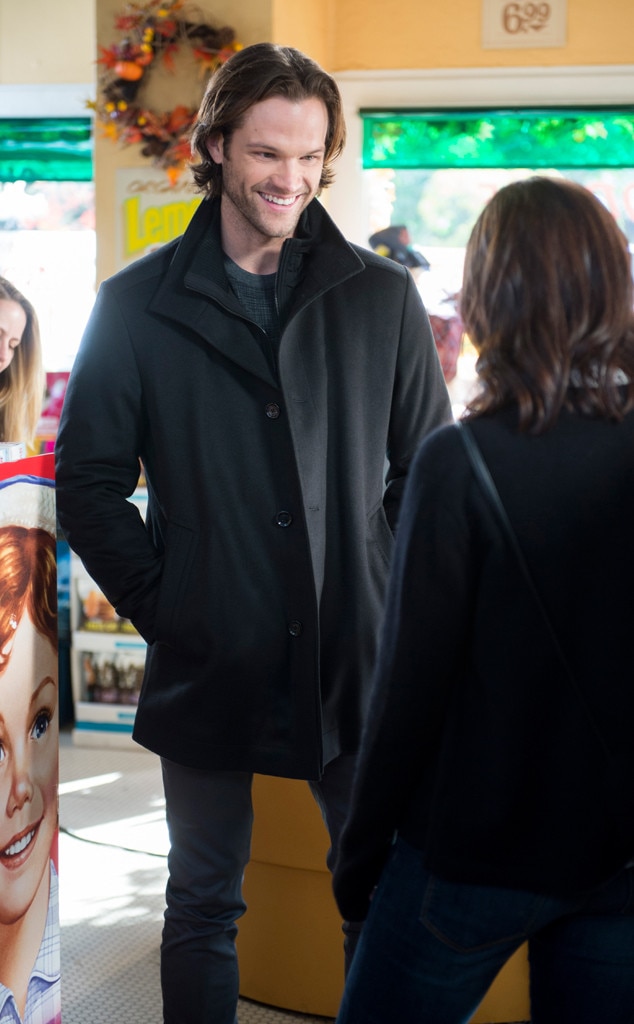 Netflix
Is Emily dating that new guy?
They were awfully friendly in Nantucket. Seems a little soon though…
How old is Paul Anka?
Or is that Paul Anka 2?
Who is Dean's wife?
He's got a ton of kids and doesn't live in Stars Hollow anymore, but what's his deal? What's he do?
Did Chad Michael Murray not want to come back? Or was there no attempt?
Paris (Liza Weil) sees Tristan at Chilton and has a full on breakdown, but when viewers got a glimpse of Tristan it was clearly not CMM.
Is Taylor gay?
He loves a good themed festival and wanted to honor Liza Minnelli, but declined to join the (canceled) Stars Hollow gay pride parade.
Where has Mr. Kim been all these years?What does he do? Was he in Korea? Seriously, we need an episode about Mr. Kim.
What was the real wi-fi password at Luke's?
A running gag during Gilmore Girls: A Year in the Life involved Luke giving out wrong passwords for the internet. Everything culminated when Jess ripped out his router for him.
Where were Madeline and Louise?
Paris and Rory ran into Francie (Emily Bergl) at Chilton, but not Madeline and Louise? Were they still on spring break?
What does Odette look like?
We hear all about Logan's soon-to-be wife, but never see her face.
What other unanswered questions do you have about Gilmore Girls: A Year in the Life? Tell us in the comments below.