GLAMOUR's SS19 cover stars, Sophie Turner & Maisie Williams, get candid about sisterhood in our incredible shoot
Winter is coming. Scratch that. Summer is coming as the stark sisters, Maisie Williams and Sophie Turner, grace the cover of GLAMOUR UK's Spring/Summer 2019 issue.
The pair took to Instagram to reveal to their legions of fans their joint and single covers ahead of the final series of Game of Thrones. So, to say these three covers are collector's editions is an understatement.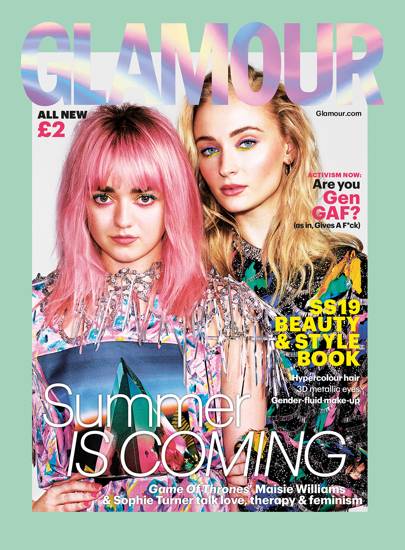 Wearing SS19's key bold prints and clashing metallics by the likes of Louis Vuitton, Prada and Stella McCartney, Sophie and Maisie appear in such a riot of colour it could rise the white walkers themselves. The Games of Thrones goddesses also have the beauty looks to match with graphic bright eyes, a sprinkling of glitter on the lips and Maisie even swishes her pink hair for the occasion. The vibe on set? A sticky floor away from a Saturday night; we have never wished to be pals with a pair of cover stars more.
In our accompanying exclusive interview with GLAMOUR's Entertainment and Celebrity Editor, Josh Smith, Maisie Williams and Sophie Turner reveal the secrets behind their incredible off-screen sisterhood.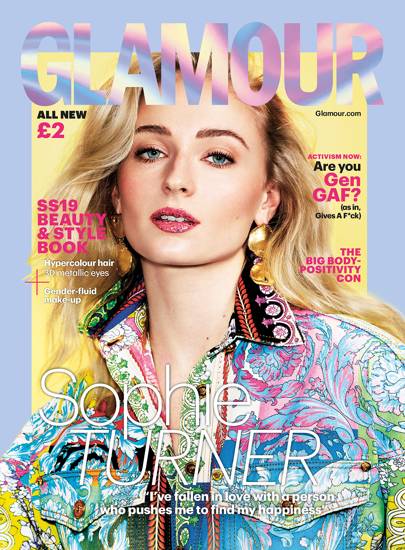 Elsewhere in GLAMOUR UK's Spring/Summer 2019 issue, you will find all the beauty inspiration and empowering features you could need to stride into the new season. From Charli Howard's incredible painted-on glitter swimsuit to Ellie Bamber and Hailey Bieber – prepare to meet your new-gen icons.
Read the full interview with Sophie Turner and Maisie Williams in GLAMOUR UK's Spring/Summer 2019 issue, on sale Thursday 7th March.