How Playing House's Jessica St. Clair & Lennon Parham Conquered Cancer Together–And Made Comedy Out of It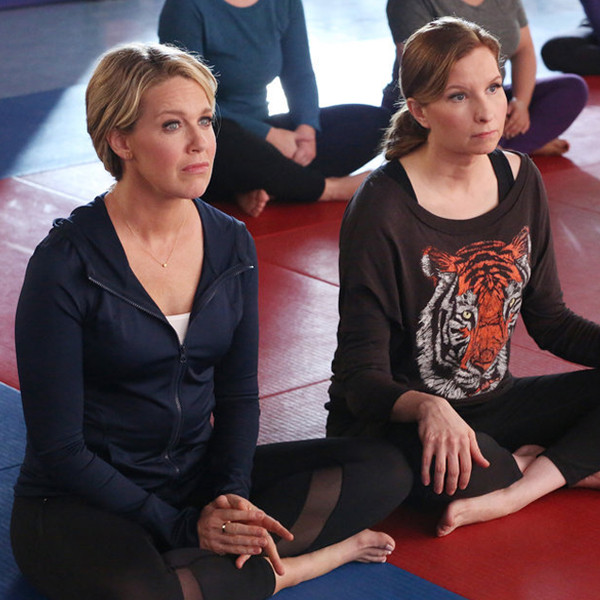 There's nothing funny about cancer, but for Jessica St. Clair and Lennon Parham, the stars and creators of Playing House, writing it into their USA Network comedy series made sense. Even if they hesitated.
"Yes, who wants to write about cancer? You've seen, obviously, season one and two—there are moments where we go sad…real stuff that people deal with in their lives. And also stuff that friends deal with it. It had just happened and it wasn't fun or funny," Parham said during a question and answer sessions (moderated by the writer of this story) at the 2017 ATX TV Festival about writing in cancer.
"Although," St. Clair interjected.
"Funny things happen. Like when your dad dies, your Uncle Larry comes in and says some crazy thing about the biscuits," Parham said. "But in a show where we can choose whatever we want to happen to us…"
"Yes, did we want to relive it? Also as improvisers, we had to relive these moments, which were pretty intense," St. Clair said. "Lennon of course was with me the day that I found out…Everybody thought we were a couple, we were getting treated really well. They're just like, 'Look at these sisters doing it for themselves,' and then my husband shows up and it ruins everything."
The show started with Maggie (Parham) was pregnant and caught her husband cheating on her, so her best friend Emma (St. Clair), returned to their hometown and agreed to raise Maggie's child with her. The two women, childhood friends, were doing it for themselves. But St. Clair and Parham only met as adults, yet you'd be hard-pressed to know it from seeing them in action. Parham was by St. Clair's side throughout her real-life battle with breast cancer, just like her TV character.
"When we were doing the rough draft during one of these scenes, I remember we just stopped and just held hands and sobbed," Parham said. "We were like, 'Oh, OK. If nobody sees this, if this gets made and literally…nobody, it would still be worth it because of what we needed to work through it.'"
"I would not have survived without Lennon, I would not have survived without my best friends, so I wanted to show how f–king kick ass women are for each other because there's nothing like it," St. Clair said. "We're so strong together. Like, Trump can go f–k himself because you can't keep these bitches down. You just can't."
St. Clair, whose character also beats cancer this season, had her best friend, Parham, pick out her breasts.
"So Lennon steps up and she feels each one like a sommelier would like a fine wine…I put that boob into my body without even a second guess," St. Clair said.
How did she know they were the right breasts?
"It felt the same," Parham quickly said.
"Why?! Why do we know this? Why are we able to do this?" St. Clair laughed.
In addition to taking on their real-life cancer battle, the new season will feature guest stars Laurie Metcalf, Michaela Watkins, Jane Kaczmarek and end with a Tina Turner drag performance (which they demonstrated on the panel). Why Tina Turner?
"She is the ultimate survivor, right? I mean, you've seen the movie," Parham said.
"I listened to a tremendous amount of Tina during [treatment]," St. Clair said. "She's a survivor for show, but also we just desperately wanted to be in those weird mini dresses she wore and a Tina Turner wig and we knew we wanted to be with drag queens."
In the episode, Parham and St. Clair's characters get makeovers by drag queens and St. Clair said her character questions her new breasts. "And they say, 'Did you purchase them? Do you have the receipt their yours.' Because we're all survivors of something."
Playing House returns with a two-episode premiere on Friday, June 23 on USA. On Saturday, June 24, the entire season will be available to binge on video on demand, USANetwork.com and the USA Now app.
(E! and USA are both part of the NBCUniversal family.)