I spent a week travelling solo on a health retreat, and this is exactly why it might heal your millennial burnout
My week with Our Retreat in Sardinia was truly transformational, if you had asked me this prior to flying out, I would have questioned my bold statement too but read on and I might just change your mind.
Visiting Sardinia with Our Retreat was perfect timing, I was burning the candle at both ends whether it be work life, social life or wedding planning, I felt emotionally drained; I could not have been more ready for a week of wellness with Richie Norton, aka the Strength Temple.
I have never been on a retreat before so I was unsure of what to expect but I was really looking forward to a week of 'health' and open to learning new things which is quite key to getting the most from a retreat.
I left Our Retreat feeling like a new woman, I felt stronger both physically and mentally. I also felt calmer, as if a weight had been lifted. From a girl who doesn't really like to stop, this retreat taught me how to. It truly gives you clarity, perspective and a more positive mindset – you'll leave feeling recharged, I promise.
The Retreat:
I have never been to Sardinia before but the stories about the clear blue waters are completely true, it is a stunning part of the world and just a quick and easy 2hr flight from London.
The villa we stayed in was a perfect layout for a retreat. It had many outdoor areas for workouts whether it be the spacious garden for a morning HiiT, the yoga deck for sunset yoga and mobility classes or the pool for down time between activities. With scenic hike routes close by and a beach 5mins walk away it was perfectly located for whatever you fancied doing.
The Fitness:
Our Retreat is a fitness and wellness retreat but not an intense bootcamp style. The approach is much more holistic, helping you look after both your mind and body for long term health gains rather than a short term blast.
We started each morning at 8.30am with a hot lemon and ginger drink to kickstart our body, we followed this with a HiiT class with Richie Norton who was hosting the retreat. His positive energy and experience meant we all gained a wealth of knowledge over the week- he taught us how to be smarter with our workout and mindful of technique in order to get better results. His approach is holistic, and encourages breathwork practice to build mental strength to provide focus and a daily dose of calm.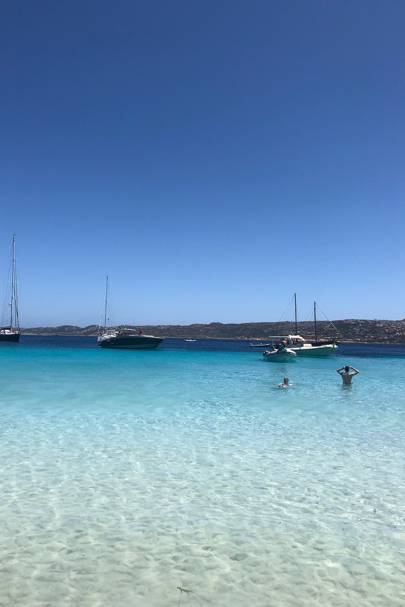 The class would start with breath work, we were taught how to breathe more efficiently to get the most from our workouts – Richie's focus is around mental wellbeing to optimise physical function. Then the class would begin, it was circuit based with both body weight and free weight stations to mix things up.
After breakfast, there would be free time for you to do whatever you fancied. There was quite a bit of down time between activities, a perfect combination of a holiday and retreat which was a nice relaxed approach and not what I expected but very welcome! In these times we were poolside soaking up the sun or taking a dip in the beach nearby sea.
In the afternoon there would be a daily activity, this would range from a scenic hike, sea paddle boarding or an afternoon run with Ritchie. Activities were always fun, keeping your body moving and with a varied schedule it always kept things interesting.
In the evening, we would end the day with sunset yoga, I don't usually practise yoga and have never tried mobility work so I was unsure of how much I would enjoy this side of things. My usual training is more HiiT style, but its naive to think that if you don't sweat it's a wasted workout. We were lucky enough to learn both more gentle flow based classes with Ashleigh whose style was focused around aligning our Chakras and mobility and stretch based yoga classes with Richie.
I really enjoyed working out at a different pace, and I think my body thanked me for less strain and stress that I put on it. Usually, I would wake up at 6am, run off to a class with blaring music and intensity style- it's quite jarring on your body! I'm not sure this is healthy for my wellbeing so I have promised to integrate Yoga into my training back home. Having said this, your health is so personal, with so many different styles and classes out there you need to find what works best for you.
One huge benefit, that sadly I cant recreate at home in the same way, is working out in the clean open air with a sea view. There was something quite special about practicing yoga with the sun going down and moon in sight.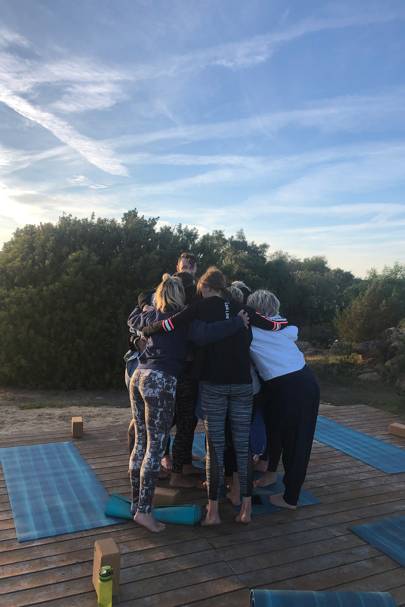 The Food:
Where do I begin… all meals were cooked by the in house chef Gabriele Luppi aka The Soul Kitchen. His focus was around meals that nourish your body and soul. The majority of meals were plant based, they were delicious! Plant based food is never boring if you cook it right, I wish I could have taken all Gabriele's recipes home with me.
To give you a better idea of the range of meals, for brekkie there was always a sweet and savoury option- think eggs with home made 'life changing' seed bread or a tower of buckwheat pancakes. For lunch we had super salads a macrobiotic buddha bowls and my favourite dinner was Mexican style fajitas with buckwheat wraps and all the fillings. We ate really well, for me personally I felt I was eating more than I usually would at home, but with every meal being entirely balanced my body felt truly 'clean' and nourished. The final night was a bit of a farewell treat night, we had a fish based meal and the most incredible chocolate cake cooked with all natural ingredients like coconut cream and cacao powder- it felt really indulgent yet had absolutely no nasties!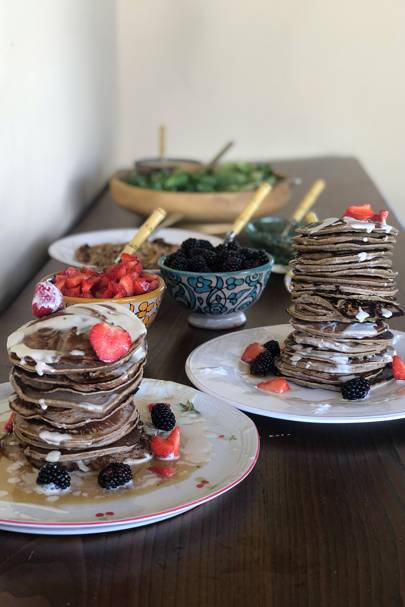 Treatment – sound healing:
The retreat offered a number of treatments to support you further- this highlights the wellness approach Our Retreat offers.
There were treatments such as massage, reflexology or more alternative therapies such as sound healing or breath work.
As a group, we were lucky enough to experience a sound bath with Cherub, she uses sound created from healing crystal bowls to help you fall into a meditative state. I found my mind wandering to complete randomness but when the sound bath ended I felt such clarity and calm in my mindset, you feel fully relaxed. You can see Cherub's upcoming events here.
My week with Our Retreat was very special one. We all arrived as strangers, yet we bonded over shared experiences all striving for the same goal to improve our health and mindset, together.
Our Retreat hosts retreats in Chamonix, Ibiza, Italy and weekends in Somerset, UK. The next retreat in Sardinia with hosts Emily Cohen and Roo Hamer are 22-28th September. For more information and pricing, please visit https://www.ourretreat.co.uk/