James Corden's Best Late Late Show Sketches From London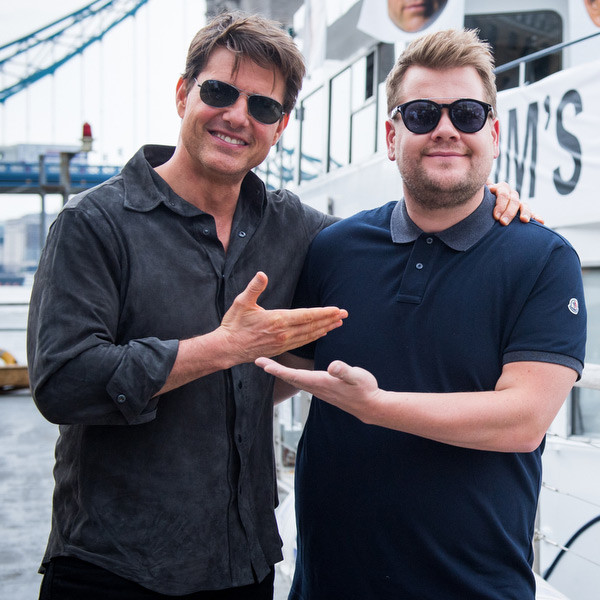 Welcome home, James Corden!
The Late Late Show host returned to London, where he was born, to film a week's worth of shows and brought the laughs with the help of celebrity guests such as Tom Cruise, David Beckham and Emily Blunt.
Check out his best Late Late Show sketches from London:
1. Tom's Cruise: Corden and Tom Cruise partied on "Tom's Cruise" on the Thames River, which contains "rooms" that pay tribute to his biggest movies and, all joking aside, would definitely be a money-maker. The actor got pretty into it, even busting out his Cocktail moves.
2. Mary Poppins Crosswalk the Musical: Corden brought back his second-most popular recurring segment for a special public performance of the Disney musical Mary Poppins. He played the title character, of course, while Sir Ben Kingsley portrayed Bert.
Dressed in Poppins signature coat and hat and holding an umbrella, Corden used a cherry picker to lower himself down to the road as Kingsley opened the mini-show.
In the few seconds they had to avoid traffic, the group belted out his such as "A Spoonful of Sugar," "Chim Chim Cheree," "Super Cali Fragilistic Expialidocious" and "Step in Time" before rushing out of the way of incoming vehicles.
"Look, it's not for me to say," Corden said. "I can hear people- I can hear whispers, you know, 'Oh my God, he's better than Julie Andrews.' I can't say that, those aren't my words. But I think I'm better than Julie Andrews."
3. Drop the Mic with Jennifer Hudson: The Oscar and Grammy-winning star took part in a rap battle with Corden and threw shade at each other, all in good fun.
"Yeah James I lost [American] Idol—you got it me," she said, adding, "I won an Oscar, a Grammy—hell, I won in life."
4. Where Art Thou, Emily? When you're in William Shakespeare's native country, it's time for some Romeo and Juliet. Corden and Emily Blunt performed a Moulin Rouge! musical-style of the classic play, belting out tunes such as Whitney Houston's "I Wanna Dance With Somebody," Britney Spears' "Toxic," Chumbawamba's "Tubthumping" and Katy Perry's "Teenage Dream."
5. Shaken, Not Stirred: In another sketch, Corden and David Beckhampretend to audition for the role of James Bond and their competition is far from friendly.
"We shouldn't be fighting like this," Corden says. "We're a team. We should be working together."
The two then find a way for both of them to play heroes in the same movie.