Jenni "JWoww" Farley Shares Epic "Glow Up" Photo in the Ultimate Jersey Shore Throwback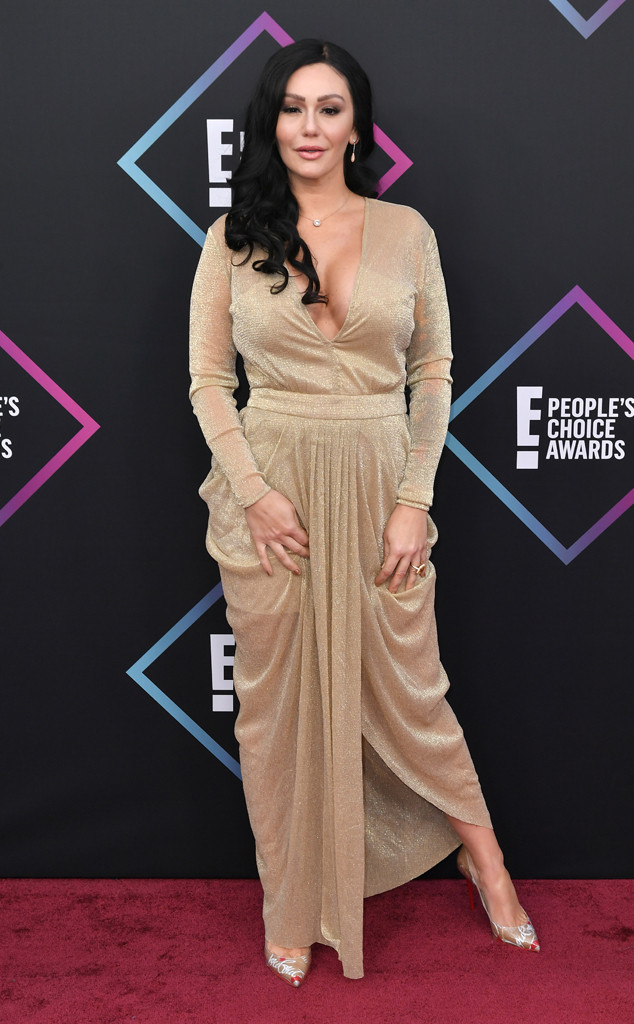 Rob Latour/Shutterstock
New JWoww, who dis?
On Monday, JWoww—née Jenni Farley—reached a major milestone on Instagram and she wanted to celebrate it in a special way. The 33-year-old posted a photo on the social media platform that was a side-by-side image of herself from the early Jersey Shore days next to a more current image.
"In honor of hitting 7 million followers, I shall post this amazing glow up," she wrote. "from looking like I haven't showered… to contour, filters and fillers… but always the same expression #unbothered."
She added at the end, "love all of you. even the hating ass ones."
Under the first photos, a caption was partially cut off but pretty clearly said, "I will rip his head off."
JWoww has turned her glow up into a lucrative career for herself.
She owns Naturally Woww, a skincare company that is "built on three main principles – pure, simple, innovative."
JWoww founded the company because she wanted to use products that she "could trust" and didn't contain any harmful ingredients.
The mom of two has come a long way since her early Jersey Shore days (it premiered in 2009), but the cast members are still as friendly as ever. For instance, Mike "The Situation" Sorrentino is currently serving an 8-month sentence in federal prison for tax fraud, but his friends often stop by FCI Otisville for friendly visits.
The love and bonds have even extended to the next generation because Jersey Shore kids love each other as much as their parents do.
The cast always comes together for big reasons to celebrate. From partying it up at JWoww's birthday bash in Atlantic City to hanging out at Snooki's baby sprinkle, this friend group remains close-knit and sticks with each other through the glow ups and breakups.
JWoww is hardly the only Jersey Shore cast member with a substantial makeover. Take a look at the photos below to see the cast then and now.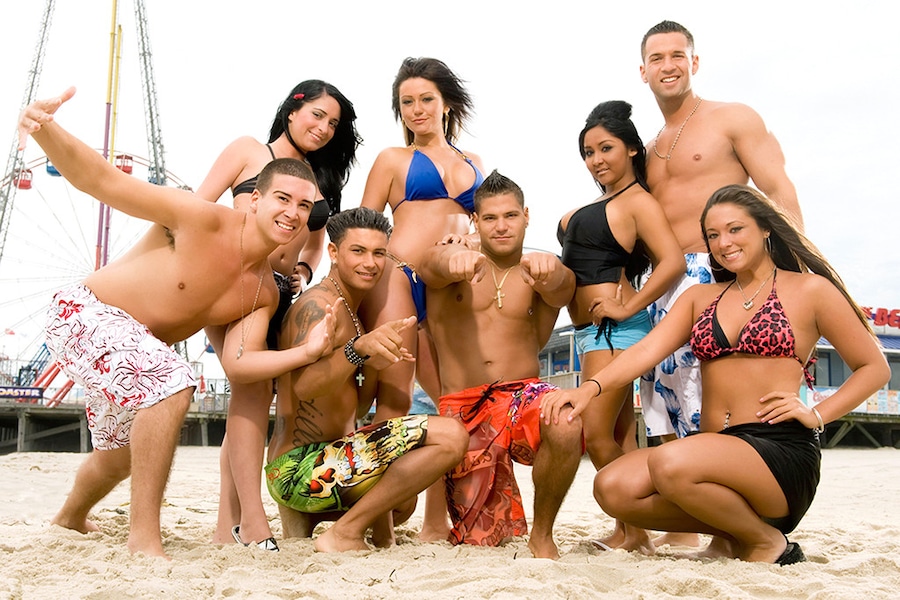 Scott Gries/Picture Group for MTV
Jersey Shore Cast: Then and Now
Almost 10 years later and we're still GTLing.
Jersey Shore premiered in 2009, changing reality TV and the rest of the country's opinion of the Garden State forever. The MTV series introduced viewers to eight unforgettable Guidos and Guidettes as they spent the summer partying in a house in Seaside Heights.
After six seasons, 71 episodes and a trip to Italy, the show stopped fist-pumping in 2012 only to dance their way back into our hearts in 2018's Jersey Shore Family Vacation. Here's how they've changed since their TV debuts all those years ago: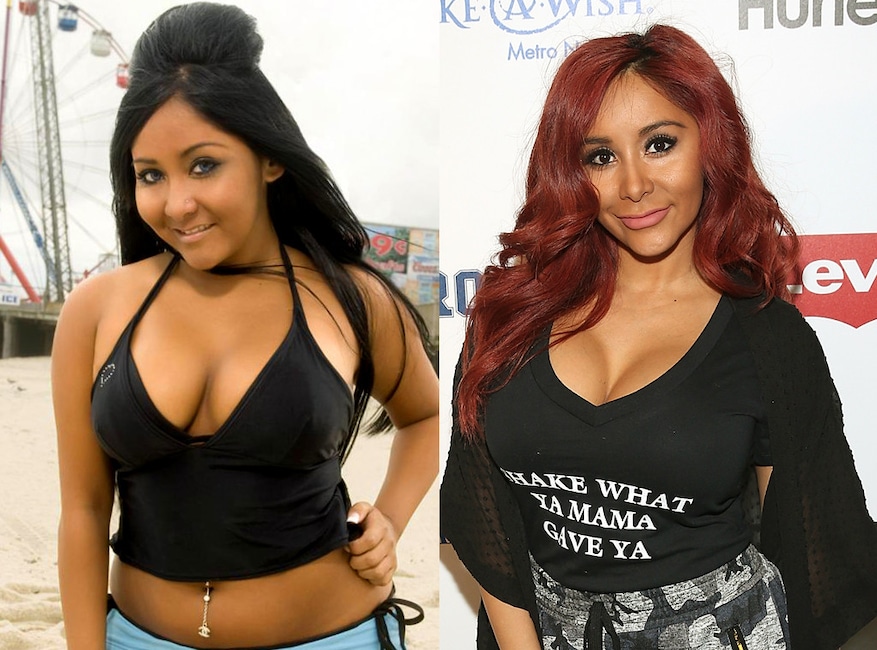 MTV; Bennett Raglin/Getty Images
Nicole "Snooki" Polizzi
Arguably the breakout star of Seaside, Snooki has gone on to make numerous appearances on reality shows, including Dancing With the Stars and Celebrity Apprentice. She and co-star JWoww also landed their own spinoff, which focused on their transition into motherhood, and she tried out professional wrestling for a bit in 2011. Snooki married Jionni LaValle in 2014, and the couple has two children together, and are expecting their third. Dr. Tutela told E! News the mother of two came to his office more than a year ago for a breast lift and implants to combat sagging after breastfeeding. "This is a very common operation after pregnancy and breast feeding and is truly restorative surgery," he said. "Nicole is a great mom and lives a healthy life style. She has a diet and exercise plan in place that keeps her fit and feeling good."In addition to the surgery, Tutela said she also comes in for regularly Botox injections to help prevent wrinkles on the forehead and in between her eyebrows.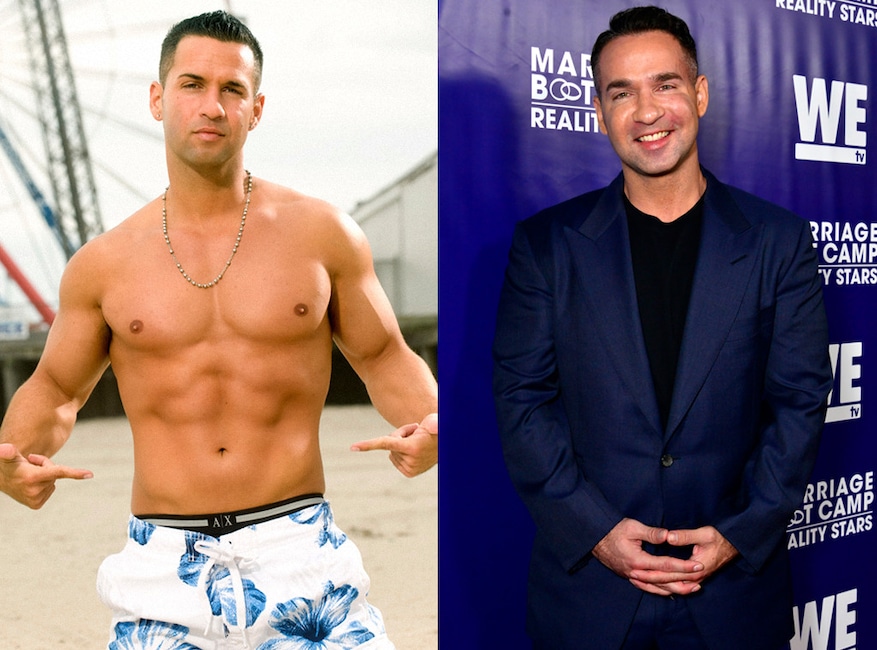 MTV; Jerod Harris/Getty Images
Mike "The Situation" Sorrentino
The Situation has made the reality show rounds since leaving the Shore, appearing on Dancing With the Stars, Marriage Boot Camp: Reality Stars, Marriage Boot Camp Reality Stars Family Edition, Worst Cooks in America and Celebrity Big Brother in the UK. He pleaded guilty to tax evasion in January and, after years of prescription drug addiction, Sorrentino turned his life around, went to rehab and has been sober for more than two years now. With his new outlook on life, Sorrentino aims to keep looking great. According to Dr. Tutela, "The Situation" came into the office for Botox injections. "Everyone enjoyed a touch-up before filming the new show, and I think it's really helpful when being on camera," the doctor explained. "The key is not to use too much so your results remain natural and don't look overdone."
He's currently serving an 8-month prison sentence at the Federal Correctional Institution in Otisville, N.Y.
MTV; Thos Robinson/Getty Images
Jenni "Jwoww" Farley
In addition to the spinoff with Snooki, JWoww also appeared on One Life to Live, Worst Cooks in America and Marriage Boot Camp: Reality Stars after leaving the Shore. JWoww married her longtime love Roger Mathews in 2015, and the couple has two children together, Meilani Alexandra and Greyson Valor. She filed for divorce from Mathews in September 2018.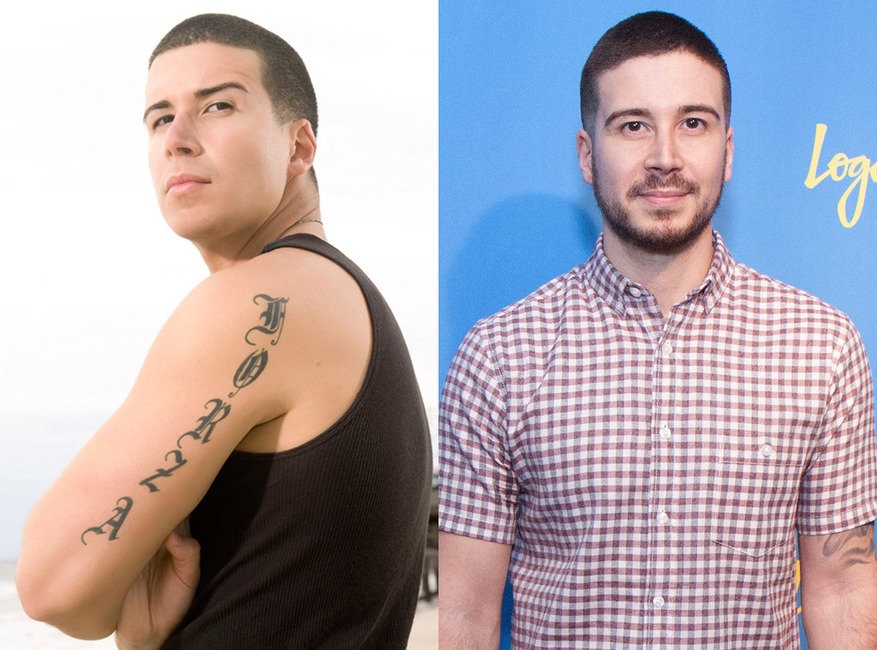 MTV; Jerod Harris/Getty Images
Vinny Guadagnino
Like Snooki and JWoww, Vinny also stayed in the MTV family after Jersey Shore, landing his own talk show, The Show With Vinny, in 2013. He also landed a cooking show with his mother, Vinny & Ma Eat America, which aired on The Cooking Channel. Vinny, 29, also wrote a book, Control The Crazy: My Plan To Stop Stressing, Avoid Drama, and Maintain Inner Cool, and released a clothing line, IHAV. In the premiere episode of Jersey Shore Family Vacation, Guadagnino also revealed he's been keeping a strict exercise routine and has been following a ketogenic diet. He and Pauly D searched for love in their very own dating show called Double Shot at Love.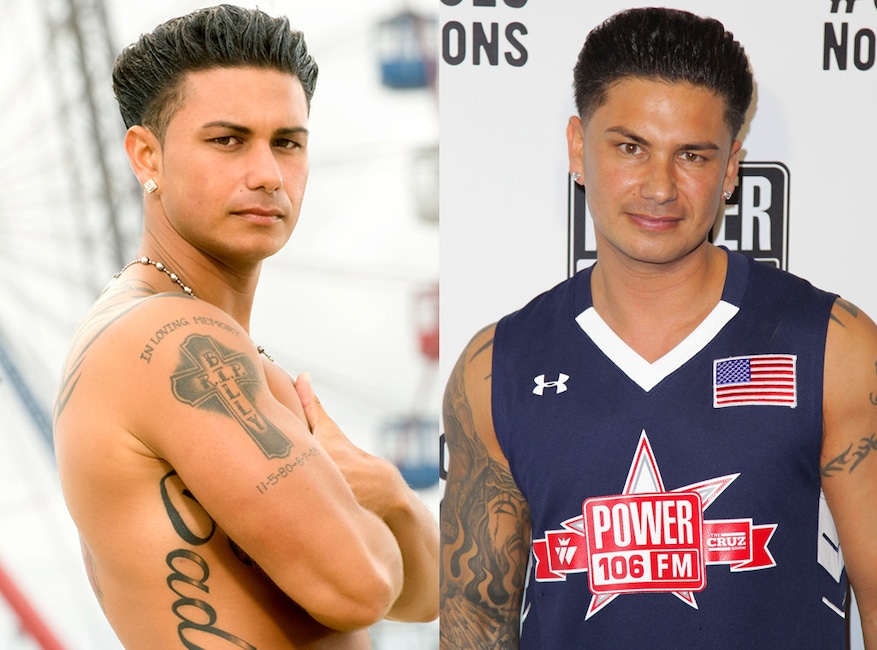 MTV; Leon Bennett/Getty Images
Paul "Pauly D" DelVecchio
The DJ found romance with Aubrey O'Day on season one of Famously Single, but the reality stars have since split. After Jersey Shore ended, Pauly D was the first cast member to get his own spinoff, The Pauly D Project, and in 2013, he welcomed a daughter, Amabella Sophia, with Amanda Markert. All these years later, he's still rocking his signature blowout.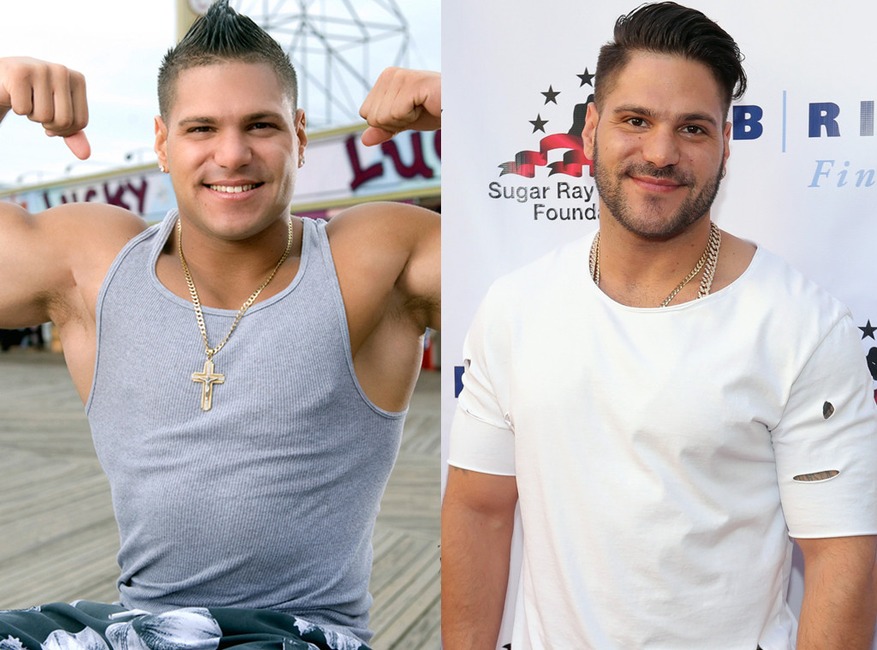 MTV; Mark Davis/Getty Images
Ronnie Ortiz-Magro
After an on-and-off again relationship with "Sammi Sweetheart" Giancola, Ron-Ron followed in Pauly D's footsteps and went on the second season of Famously Single, where he ended up dating Malika Haqq. Sadly, they split after two months. Now, he's a new dad to a baby girl with girlfriend Jen Harley. Physically, not much has changed for the GTL fan—except for maybe a new haircut.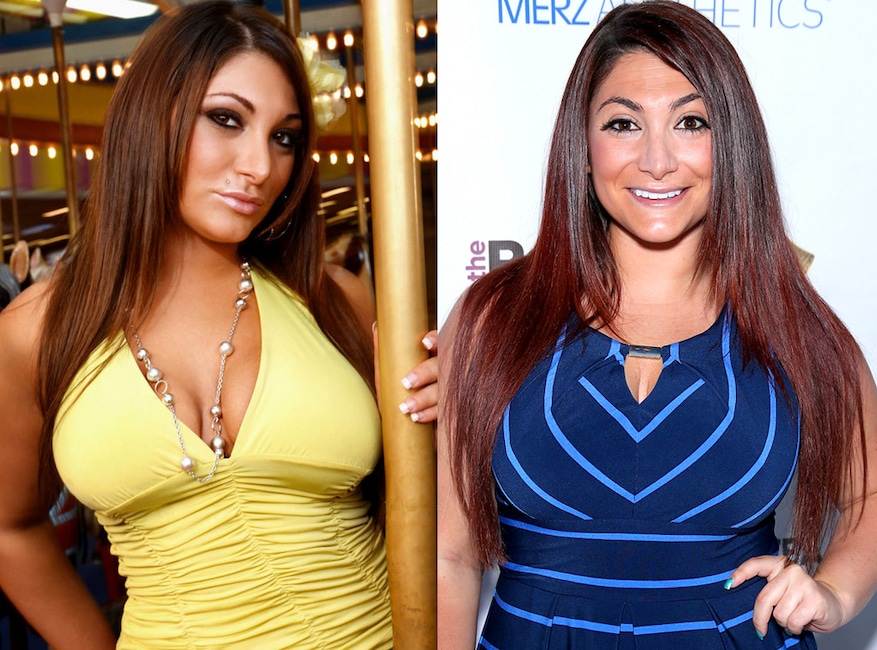 MTV; Paul Zimmerman/Getty Images
Deena Nicole Cortese
Deena, who joined the show original show in season three, is sporting a special new accessory these days—a wedding ring! The star married longtime boyfriend Chris Buckner in October 2017. Not to fret—she's still committed to being one half of the show's meatball duo. She and Chris welcomed their first child, a baby boy named Christopher John, on Jan. 5.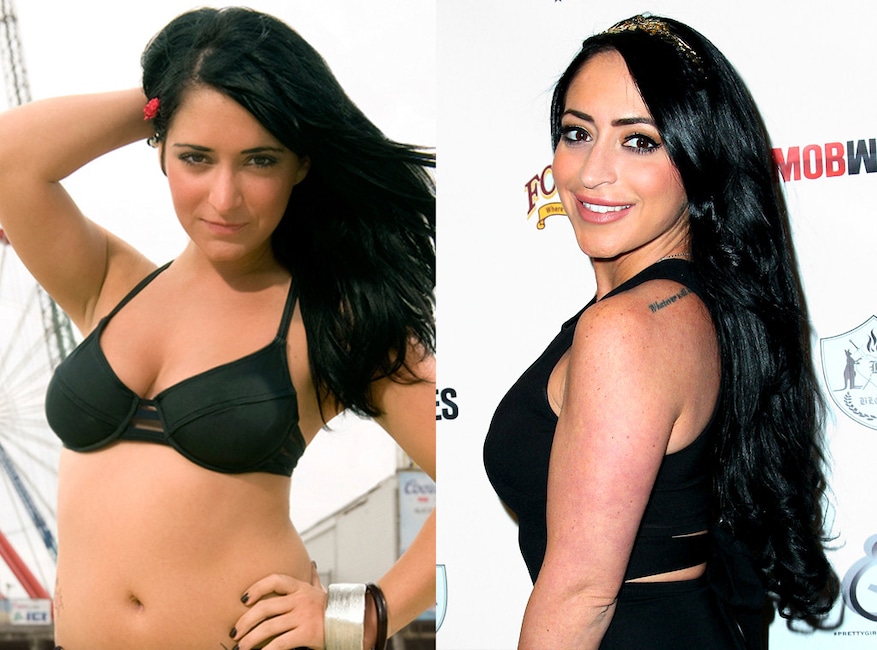 MTV; Bennett Raglin/Getty Images
Angelina Pivarnick
After quitting the show in season two due to confrontations with cast members, Angelina, who described herself as "the Kim Kardashian of Staten Island," went on to join the first season cast of Couples Therapy, and is now an EMT For FDNY. She's also engaged to her longtime love Chris Larangeira. While fans await her surprise return to the Jersey Shore crew, Pivarnick is gearing up for a breast lift and implants with Dr. Tutela. "She has been so great setting up for surgery and is always texting to go over last minute jitters and asking questions about the recovery process," he described.
Step aside GTL, it's now time for gym, tan, glow.
Don't miss E! News every weeknight at 7, only on E!