Kate Middleton or Melania Trump: Who Does the Coat Dress Better?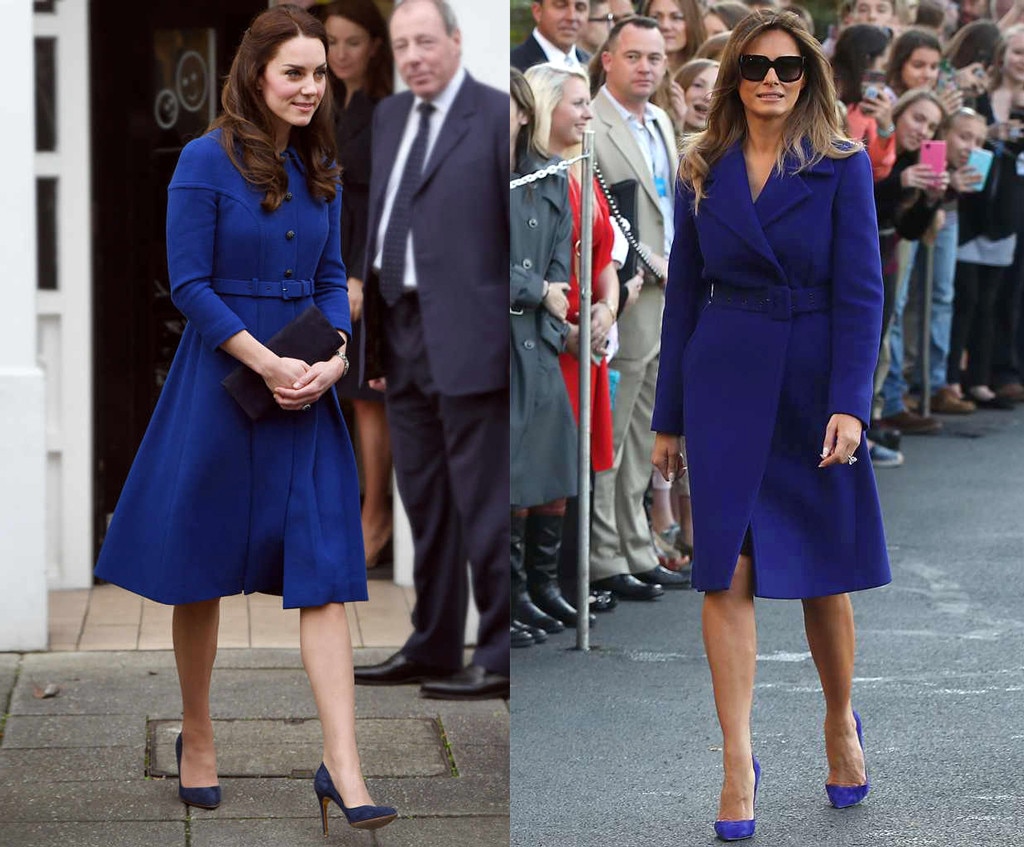 AP; Mark Wilson/Getty Images
The coat dress is to the public figure, as the denim jacket is to the It Girl.
(See: Kate Middleton's best looks as evidence.)
The typical closet may not include the seemingly fancy, cold-weather piece, but royals and first ladies have them in spades. Call it the de facto wardrobe essential for influential women. On her tour of Asia, Melania Trump wore at least three variations of the coat dress. And, we've seen the Duchess of Cambridge wear it on the job even more.
The coat dress is warm and looks formal without requiring much outfit coordination. Just pair one with heels and you're ready to meet the Japanese prime minister…or attend your next holiday party. It's an efficient piece of clothing that is also sophisticated, but just because it seems simple, doesn't mean it's not without impact.
Although it's obvious that the first lady and duchess have a penchant for the coat dress, the women have completely different styles—and it shows…even when wearing very similar-looking pieces.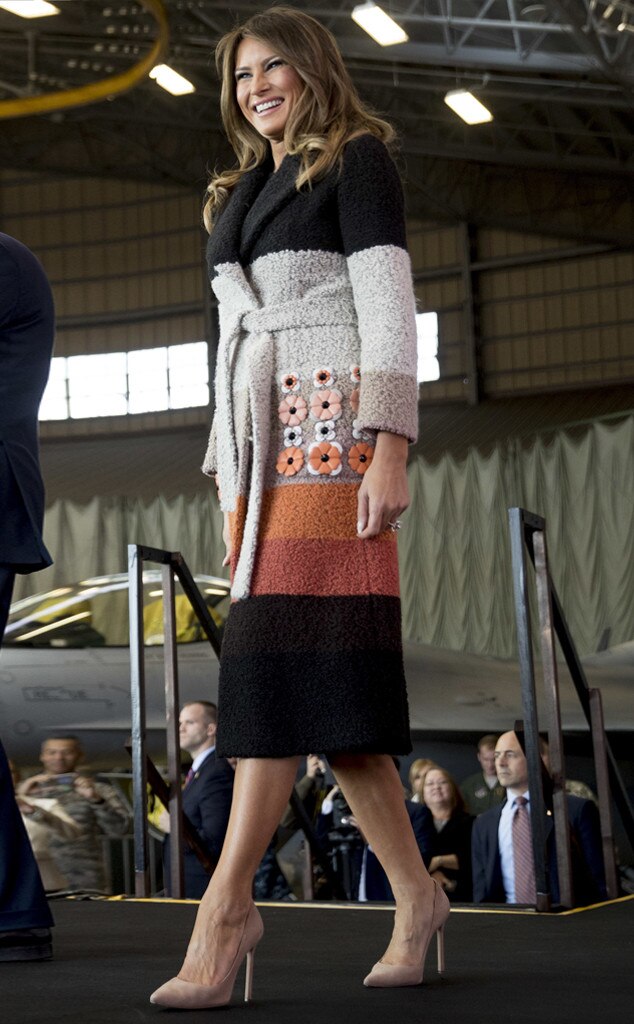 AP/REX/Shutterstock
Melania: Statement Coat
The FLOTUS proved a coat dress doesn't have to be boring. With the right textures and color palette, a topper, like Melania's Fendi piece, will work for any occasion.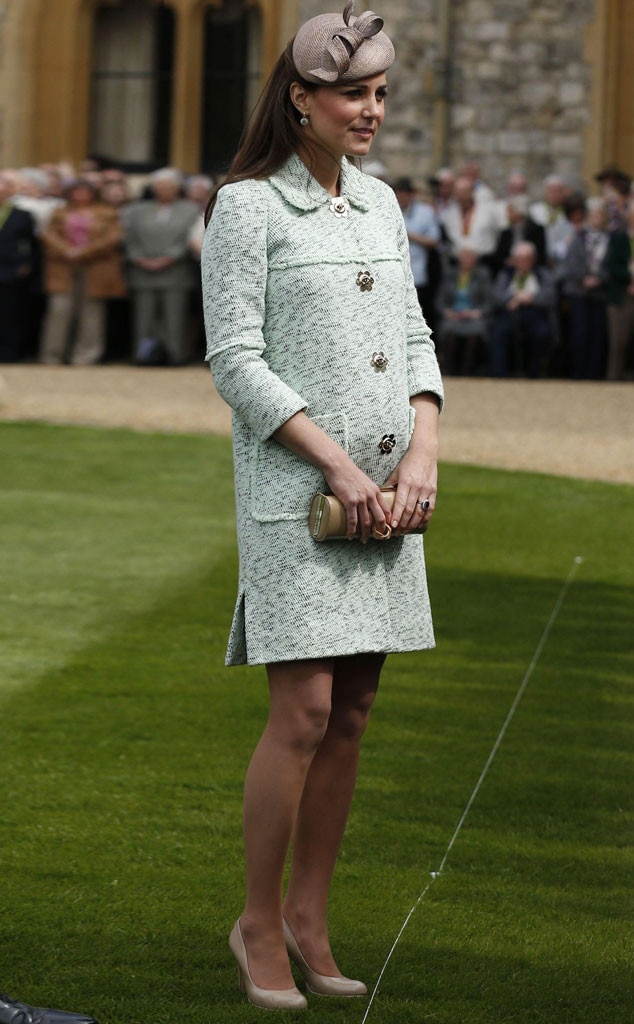 Press Association via AP Images
Kate: Statement Coat
Every element of this coat is thought out, from the ornate buttons, to the shorter hem, to the small side slits. The knitted texture alone would make a statement, but with its additional design details, it makes for a youthful take on an old classic.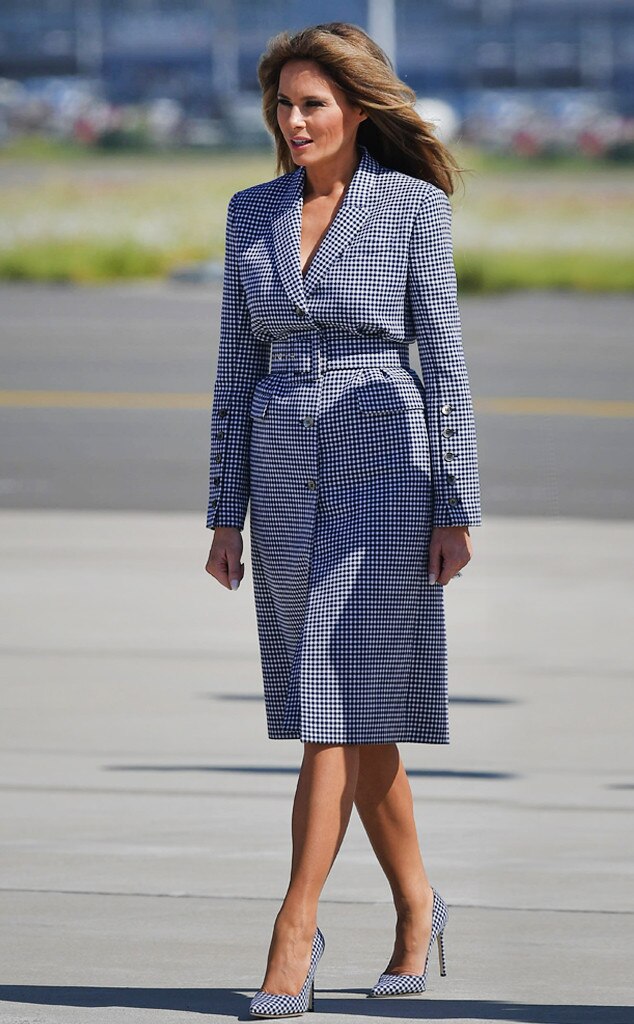 MANDEL NGAN/AFP/Getty Images
Melania: Patterned Coat
You can never have too much of a good thing. Case in point: The first lady's coat dress perfectly matches her shoes. The buttons on the sleeves make for a subtle design detail that adds a lot of impact.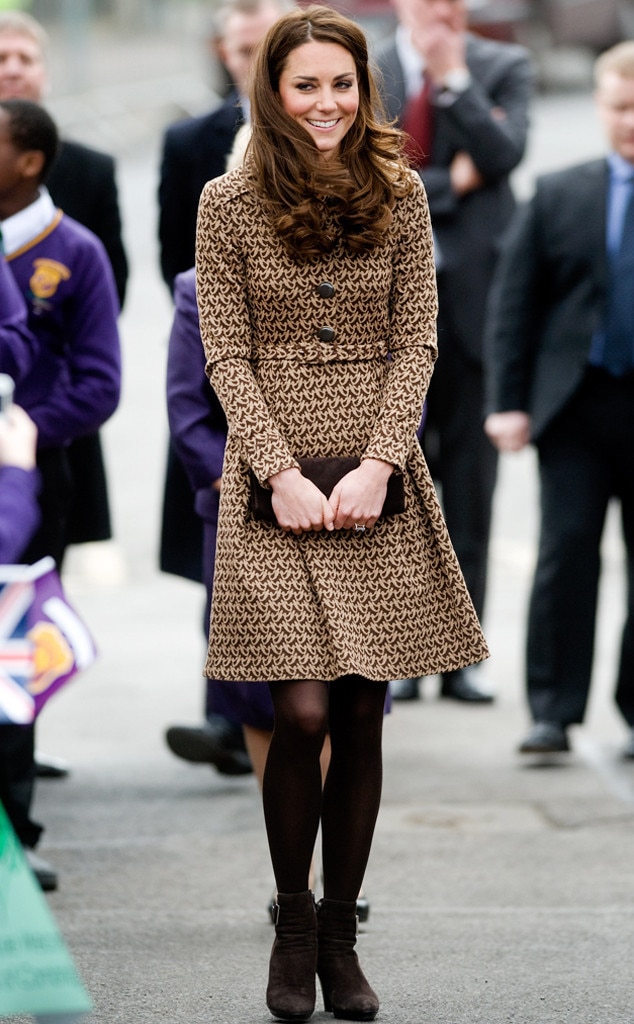 Samir Hussein/WireImage
Kate: Patterned Coat
The Duchess of Cambridge took animal prints to a new level with a bird-print coat dress, which she paired with brown suede ankle boots and brown tights. Both women expertly prove they know how to stay warm and stylish any season.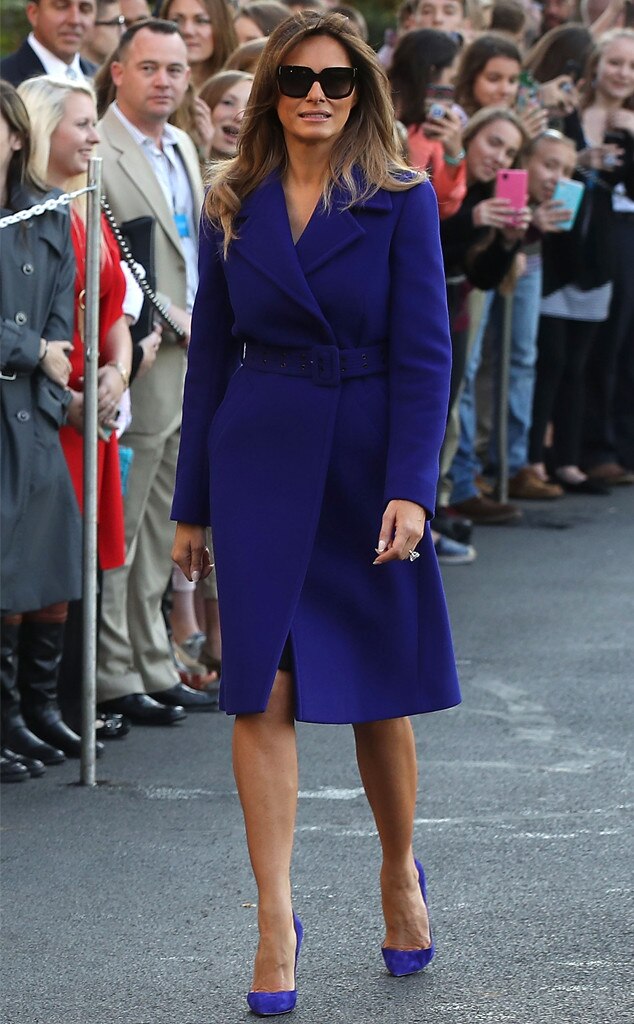 Mark Wilson/Getty Images
Melania: Blue Coat Dress
Melania kept it incognito under a dark blue wool trench coat, which cinched at her waist, and in matching Christian Louboutins. The FLOTUS' fierce physique proved once a model, always a model.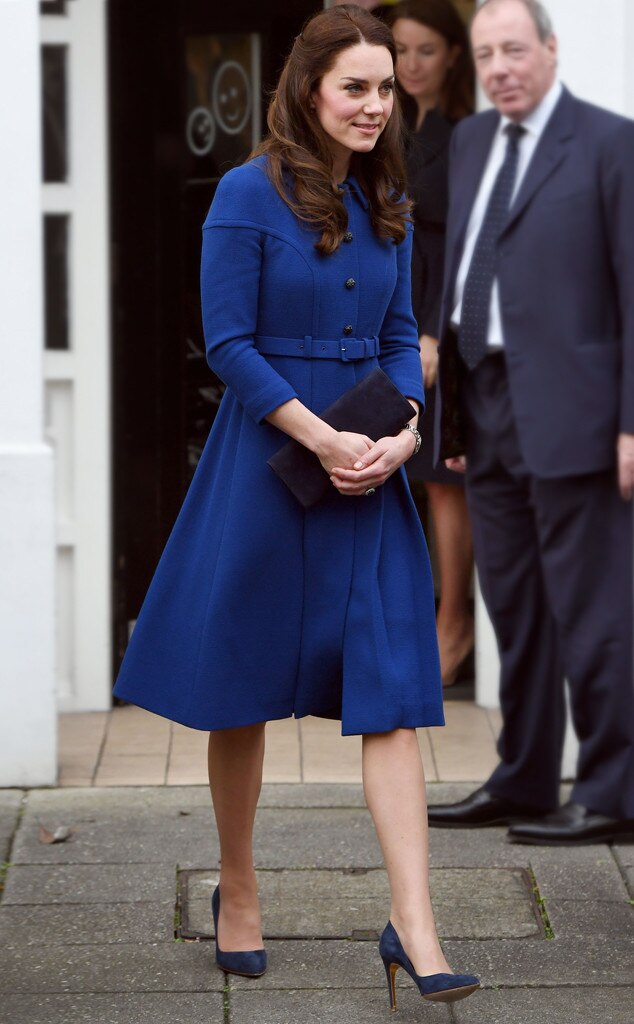 Press Association via AP Images
Kate: Blue Coat Dress
Like Melania, the mother of two wore a blue belted Eponine coat dress, which complemented her tiny waist. Always attentive to the fashion details, Kate paired the look with some navy heels.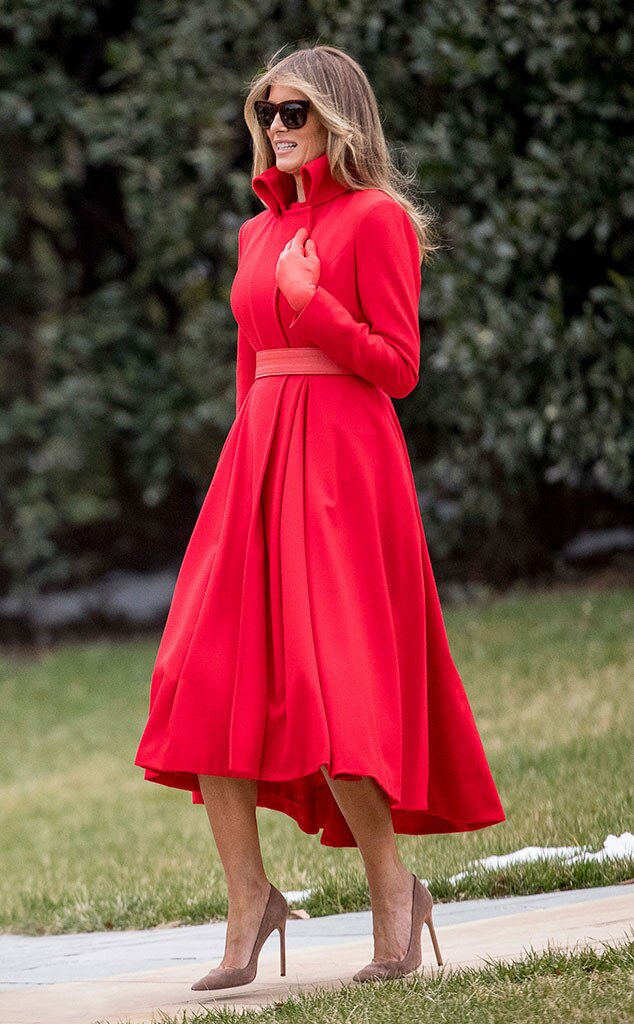 AP Photo/Andrew Harnik
Melania: Red Coat-Dress
Mrs. Trump paired her red coat dress with matching gloves and her staple pair of Gucci sunglasses and nude Jimmy Choo high heels. Alice Roi, who designed the crimson coat dress, told The Hollywood Reporter, "The coat dress is a favorite of Melania's and the FLOTUS "is definitively responsible for its revival."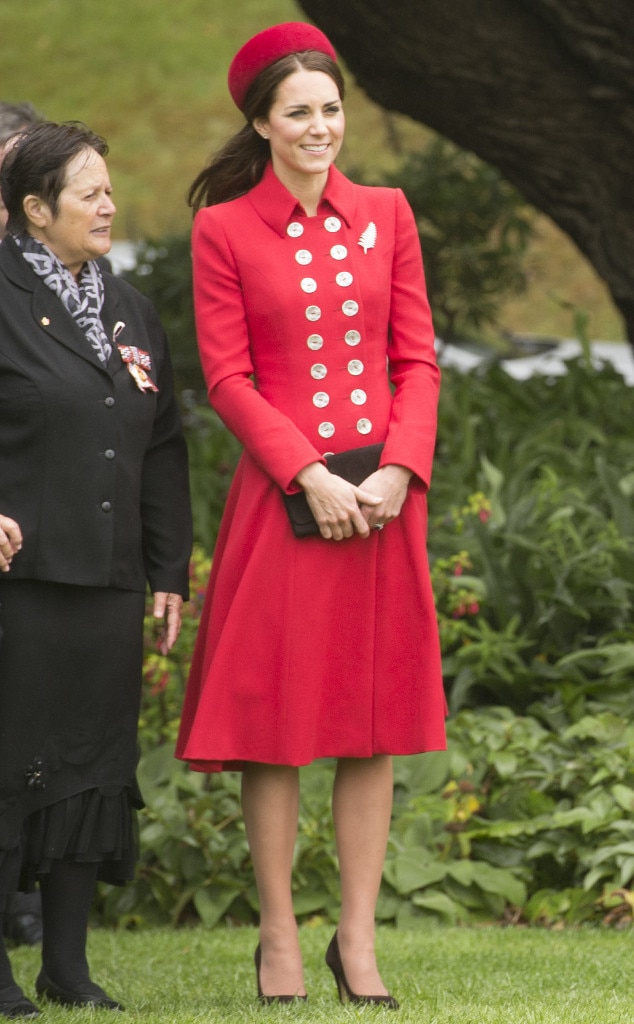 Tim Rooke/Rex/REX USA
Kate: Red Coat-Dress
Well before Melania became first lady, the Duchess of Cambridge was spotted wearing a similar red coat. Notice the silver diamond broach pinned to the coat dress? People reported it was "on loan from the Queen's jewelry collection."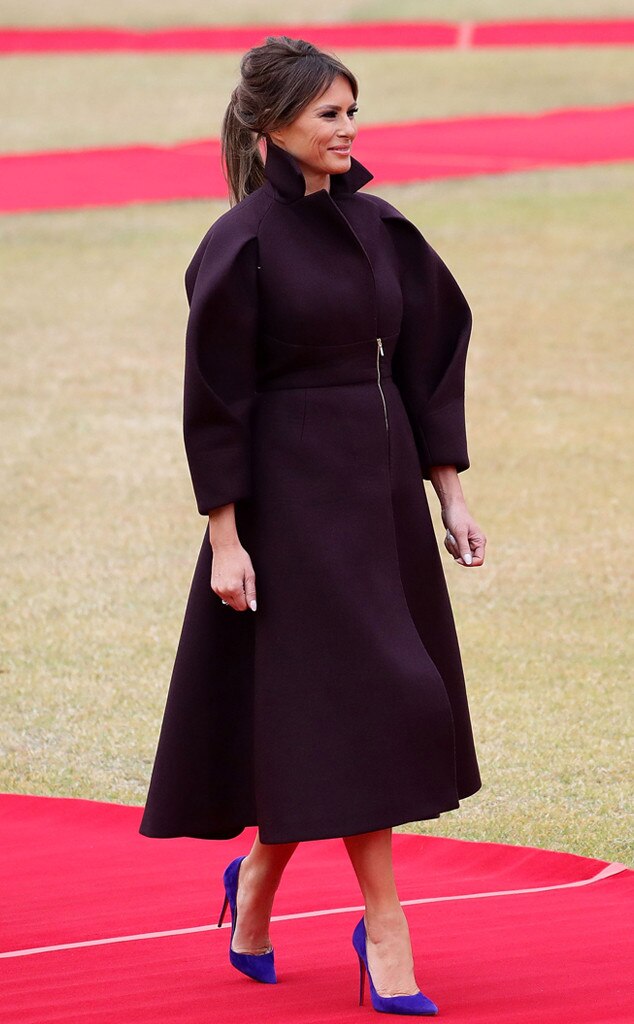 Chung Sung-Jun/Getty Images
Melania: Plum Coat Dress
The president's wife proved she has expensive taste in a stunning $ 4,00 sculptural coat dress by Delpozo. The former model looked absolutely presidential in the plum ensemble, which she paired with electric blue pumps.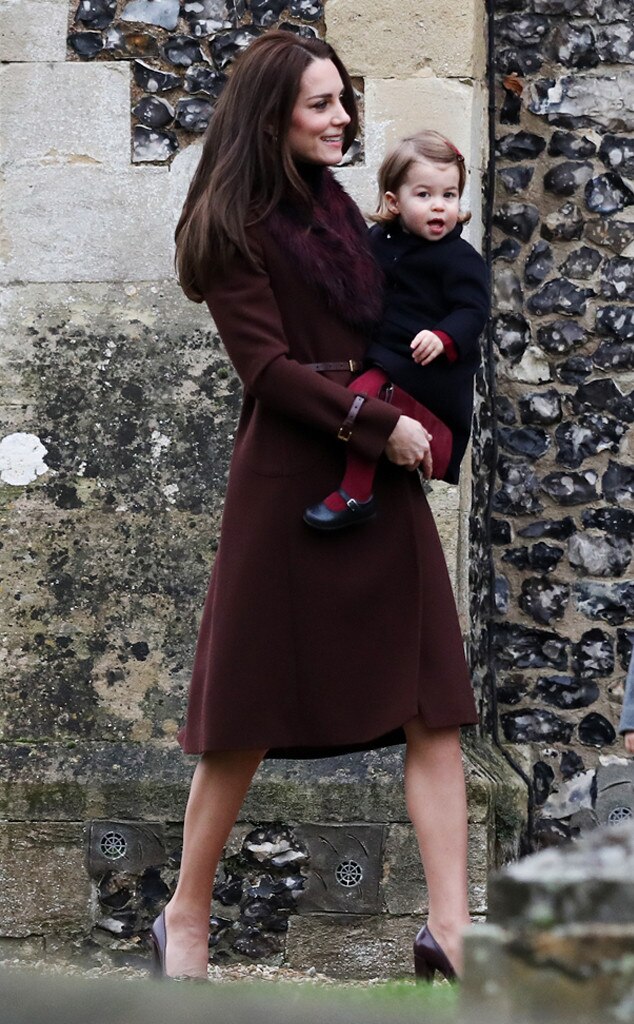 Andrew Matthews – WPA Pool/Getty Images
Kate: Plum Coat Dress
This was actually the fifth time we saw Kate wear this plum trench. The versatile trendsetter kept it fresh with a $ 15 faux-fur collar, which has since sold-out. You have to applaud style on a budget—even when there is no budget.
Anna Ferensowicz / Pacific Press
Melania: Green Coat
We're all green with envy over this gorgeous suede coat. The first lady is a vision after landing at Warsaw military airport. Major style props for the classic brown, teal, black and white scarf, which surely kept her warm.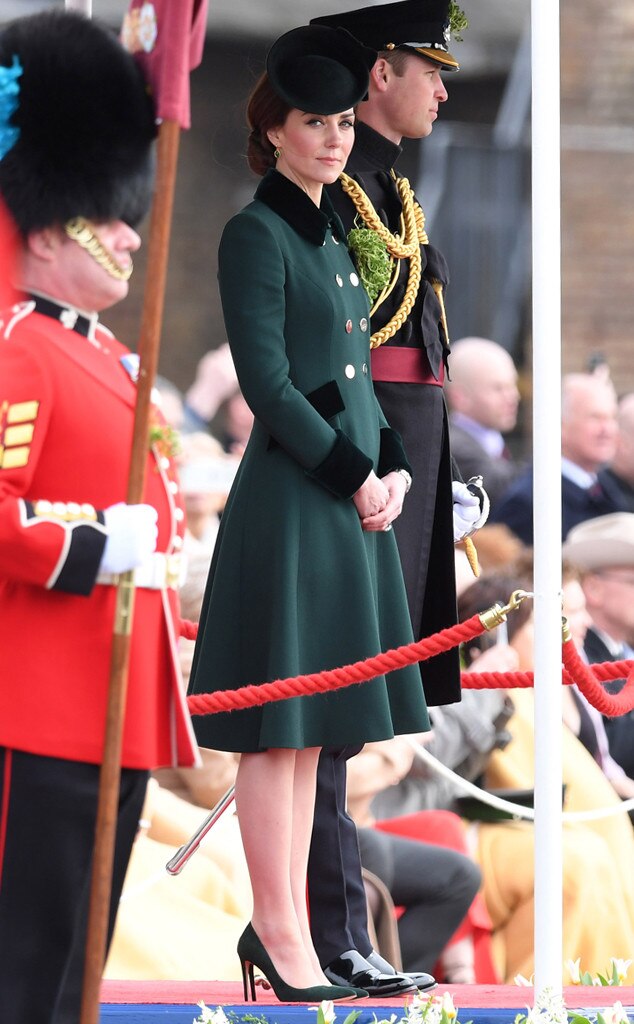 Chris Jackson/Getty Images
Kate: Green Coat
Kate always manages to keep her style diplomatic. We loved her nod to Ireland's national color, as she rocked this dark green coat and adorable black fascinator.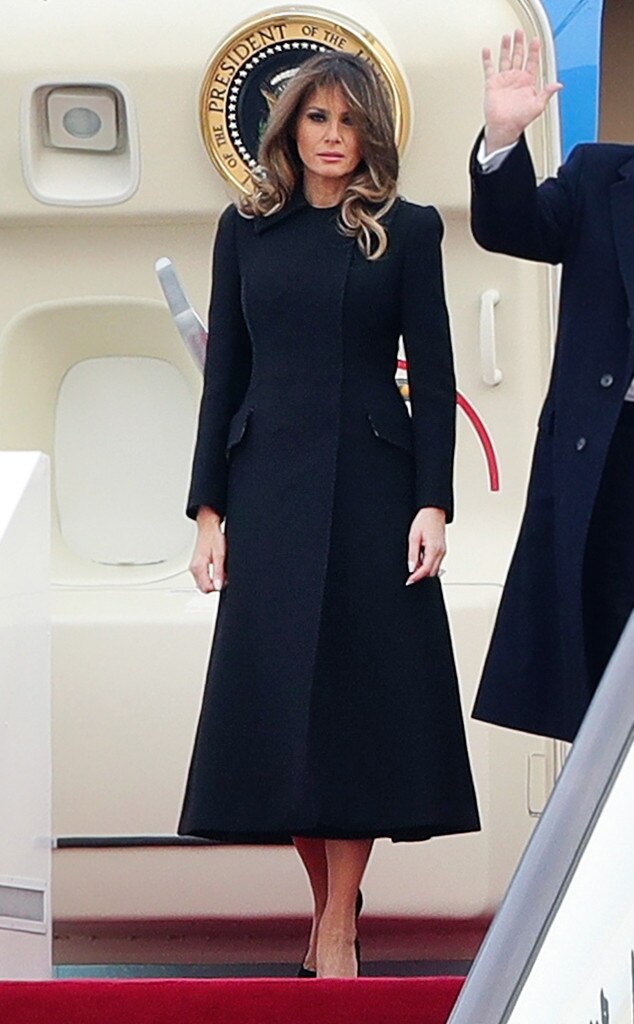 Lintao Zhang/Pool Photo via AP
Melania: Long Coat
Sometimes you have to keep it simple and elegant, like the FLOTUS does in this chic Dolce & Gabbana coat dress. The president's wife matched her husband, who wore a nearly identical black coat.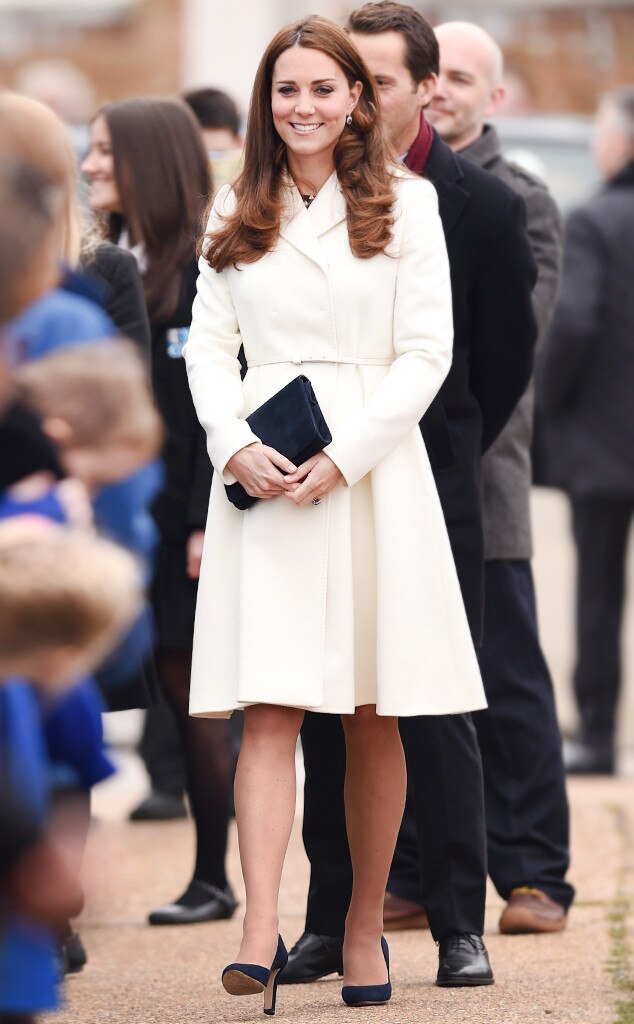 Karwai Tang/WireImage
Kate: Long Coat
The pregnant princess stunned in a cream A-line MaxMara coat, in classic Kate fashion. While the expectant mother kept her baby bump concealed, her skinny belt drew our eye.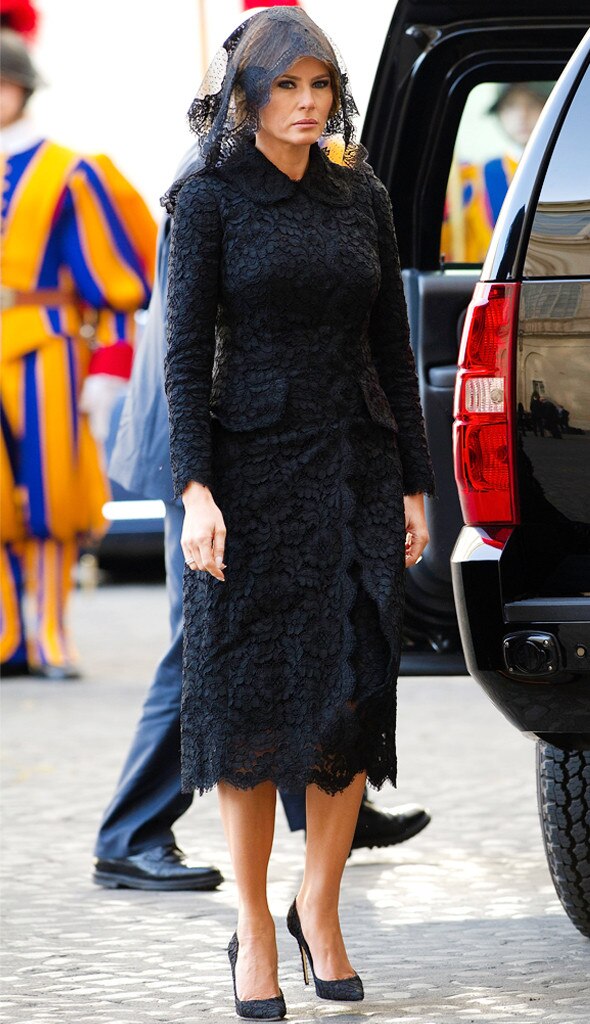 Vatican Pool/Getty Images
Melania: Headpiece
In an all-black ensemble, the first lady wore a traditional veil and Dolce & Gabbana lace coat dress while visiting Vatican City to meet Pope Francis.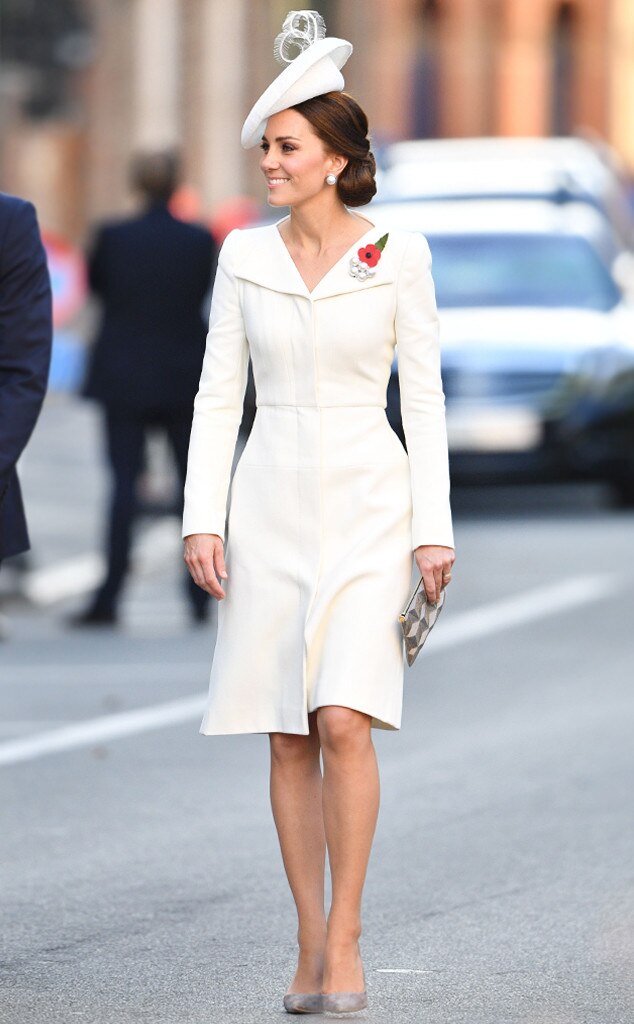 Tim Rooke/REX/Shutterstock
Melania: Headpiece
The queen of fascinators stepped out in another, wearing all white for the 100th Anniversary of Passchendaele. Is it us or do only Brits look good small hats or fascinators?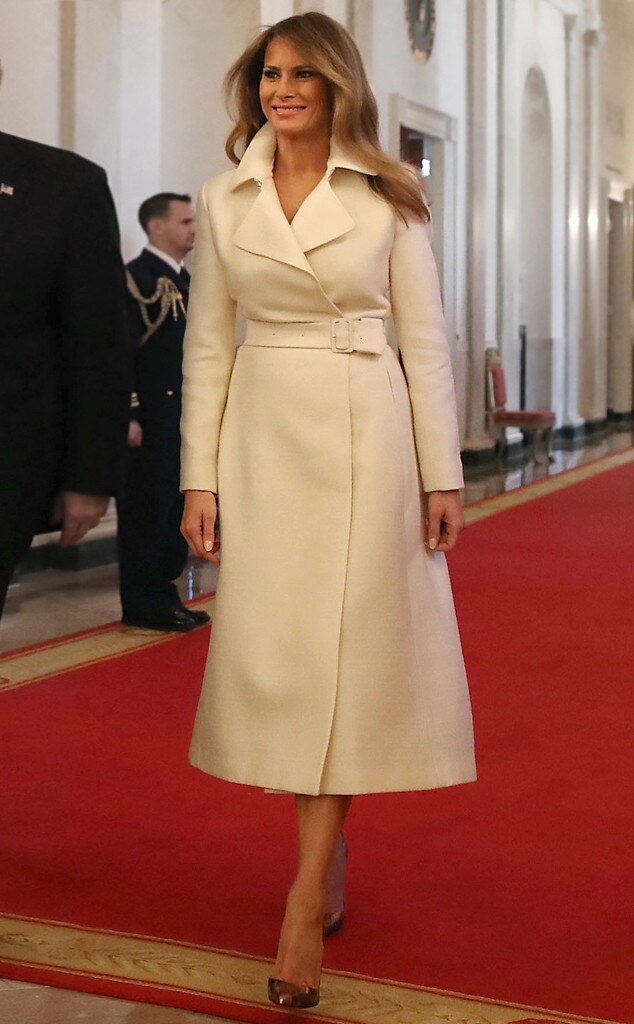 Mark Wilson/Getty Images
Melania: White Coat
Looking chic in another coat dress, the FLOTUS looked comfortable in her signature style and python stilettos. In a sea of black coats, both women own the white coat.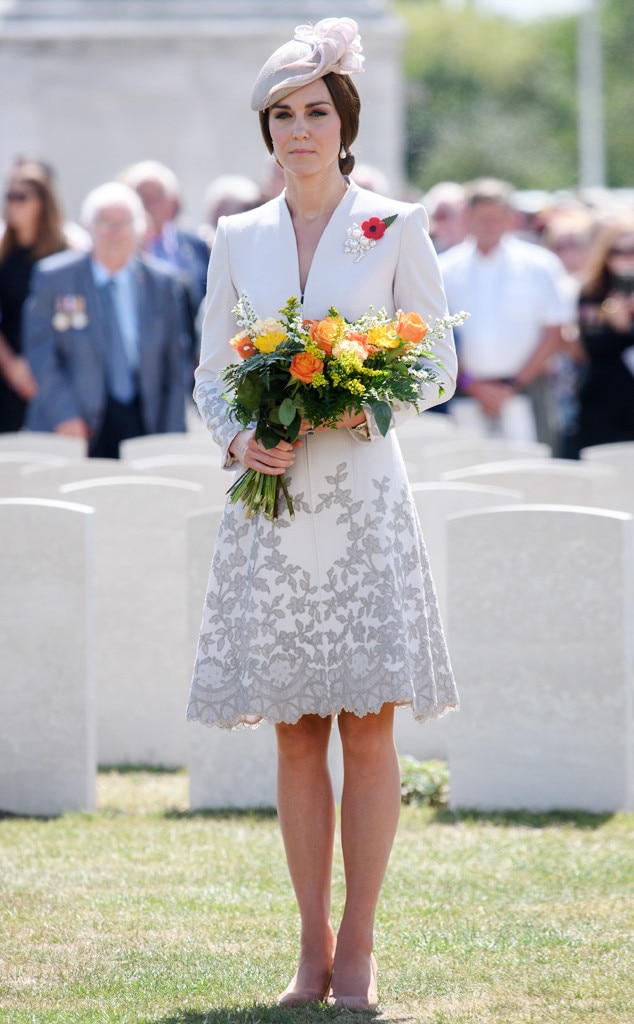 Tim Rooke/REX/Shutterstock
Kate: White Coat
In another fascinator and all white-ensemble, we respect how Kate never strays far from her traditional roots.
We're calling it: It's time to invest in a coat dress.