Megan Barton Hanson hits back at sexism & reveals the empowering lessons she's learnt from therapy
Megan Barton Hanson has had quite the year. Following her stint on Love Island 2018, Megan left the infamous villa to a barrage of headlines involving her former past as a stripper and photos of appearance before she embarked on cosmetic enhancements.
The coverage was savage and at the core the messaging was nothing less than sexist. Why can't a woman enjoy sex in the same way a man can? Megan poses this exact question as she sits down with GLAMOUR following her appearance at the GLAMOUR Beauty Festival.
The 25-year-old also reveals that she is turning her back on reality TV as she opens up about the biggest lessons she has taken away from therapy and why celebrities should be more honest about their relationship with cosmetic enhancement. Plus, Megan sets the record straight on those Wes rumours, one and for all…
WATCH the video above for the full video – like and share – does Megan's story resonate with you?

Has fame been what you expected it would be like?
Not really. I think from before I was in the industry you just see the highlights, you see the big events, the getting glammed up and the deals. When I started working with Pretty Little Thing, I was like, 'oh my god my dream come true,' but you don't see the negatives that come with it like the trolling, everyone having an opinion on literally everything you do. Whether it's a work job, whether it's a relationship choice, whatever it is, you're going to be criticized by all angles. So, at first that was a lot to deal with, but I think you learn as you go on, you change with it. I've definitely grown a harder skin and I'm different now.
What do you think you've learnt about yourself in the last year?

I feel like I'm definitely stronger than I thought I was. After the Love Island final you get taken into a press office and they'll tell you, 'right this story, this story and this story has come out,' and I was like, 'Wes I just want to stay here, let's not go back to reality!' But it's not until you're having to deal with that and you're in amongst all these stories, people's opinions and people's judgement on every move you make, that you realise how hard you are and how strong you are as a person. For me I think I'm 25 now, if I'm going to make a choice, it's for me. It won't please everybody out there but as long as me, my family and close friends are happy, I'm happy.
What would you say is the worst thing you've read about yourself by a troll?
Probably for me it's about my looks prior to surgery because obviously I wasn't content and happy with the way I looked. There are countless celebrities who have had little tweaks here and there and never own up to it. For me I think as a young girl I looked up to all of these perfect looking people who by society's standards were perfect and no one admits to surgery. After being given this platform I think no I'm going to say, 'when I was 13 years old, I didn't love my sticky out ears. I didn't love this, so I changed it and if you want to do that and you're happy to do that, don't feel afraid to say that because you get penalised for not having surgery and then when you go and take those steps, you get penalised because you're fake and plastic.' What really hurt me was I left the villa with a guy I liked, and people were saying, 'wait until he sees the real you!' I'm a 14-year-old child in these pictures, how can you ridicule a 14-year-old child? It's so sad.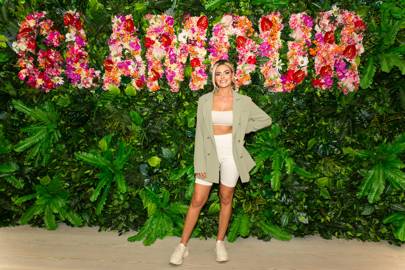 Do you feel like you still carry around that vulnerable 14-year-old child with you?
Of course. That's my biggest thing to young girls. I'm happy with the choices I made with cosmetic surgery but at 19 I went in with the view of, I'm going to get enlarged breasts, I'm going to have my nose done. I'm going to come out and I'm going to be so confident and sassy. Unless you learn to love yourself, all you are changing is the outside shell so that's my biggest message to young girls. But these trolls know that deep down you're still this insecure young girl who doesn't love the way they look and although I've changed the outside shell, it took a lot of therapy, a lot of self-love, age and all kinds of things to make me really love myself.
If you could go back now, would you put the money you put into plastic surgery on therapy instead?

I was fortunate enough to do both so the first port of call for me was the boobs and the nose. After I changed that, I thought I'm still not happy. I thought I'm going to come out and be so confident but that wasn't the case so the next thing I got straight on the phone and I got a therapist. The truth is it's not about the outside appearance. I've always had low self-esteem, but I think with age, with pushing myself, definitely like Love Island, stripping, all of it, those are things that a naturally shy, insecure person wouldn't do. To put myself in those situations, you're growing and you're proving to yourself how strong you can be.
What's the biggest lesson you've learnt from therapy?

It's the way you talk to yourself on a daily basis. If you're telling yourself negative things, you're going to believe that. The way you talk up your friends, they're like, 'no, c'mon girl, you've got this, you can do this,' then you're going to be confident. I'm my own worst critic so number one, don't ever compare yourself to anyone on social media because that is highlighted version of someone's life and be, as cliché as it is, love yourself. You've got to tell yourself positive affirmations in the morning. Be like, 'you've got this.' I'm my own worst critic so I think that's the biggest journey I've come on in therapy to speak kindly of myself.
Where are you at with your self-esteem now?
I think at 25, I love myself, I'm not apologetic for any of my previous choices, in a sexual way, in a work way, in any way. I'm a little bit selfish but it's to make me happy. You only live one life and you've got live it and I'm living my best life.
The level of sexism that is pushed towards in the media you are extreme. What do you think about that level of sexism you've faced?

Obviously being in the industries I've been in you get accustomed to being like, 'no we're exactly the same as men!' All the women I work with, everyone in my circle is of that mentality that women are the same as men. But for a lot of people out there, it's still very backwards, it's still as if women need to be all sweet, virginal and innocent and men can go out and sleep with whoever they want. So, I think slowly and surely for me, the real people who made me confident and be able to speak out were Amy Schumer, Amber Rose, all of these women. If they hadn't been so outspoken with their platforms and say, 'yeah we're women and we enjoy sex just as much,' I wouldn't have been able to do that because I think in the UK it's still very behind and taboo. In the US people are more open about it. There shouldn't be any shame in it. As long as you're practicing safe sex, enjoy it.
Sexism is rife in the way your relationship has been portrayed. A lot of people see Wes as this golden boy and you are vilified. You are in a love hexagon right now…

Is it a hexagon or an octagon? I don't know how many people he's been chatting to but it's getting bigger by the day!
If you wanted to set the record straight on your relationship, what would you want to say to people?
As a woman or a guy, just trust your instincts. If you know something is off, trust yourself and don't listen to anyone else. I think it's so hard. In any new relationship, trying to figure out what the other person's priorities are? Are they being completely honest with you? Let alone when you're in the public eye and every single person has got an opinion. You know within yourself so trust your instincts and go with your gut.
Have your instincts me proved right in this situation?

A million percent!
After reading all these headlines, is it a relief to have the truth out?
Yeah but it still stings because in my heart, I wanted to not believe it and I am very passionate. I did speak out when I had these doubts and I thought hopefully I'm wrong, hopefully it's just me being insecure. It turns out I was right the whole way.
Did you go into that jealously cycle with Wes?
Let's be honest, no one is going to like their partner being with another male or female for 12 hours a day. It's not ideal and especially in a new, fresh relationship. We went from being on a TV show to then coming out and we had no time. We missed all the nice bits of dating. We never went for dates, we went from 0 to 100. We were in the villa with no stresses and no troubles to then being like an old married couple living with each other. I've never lived with anyone. He'd never lived with anyone so it's like we skipped the whole nice cutesy bit.
When you're looking back at the past year and you're looking forward to a new start, what do you want to achieve next?
For me, I didn't come out of the villa and think money, money, money, I'm going to do this deal about hair extensions, for instance. For me I was fortunate enough to earn good money from the age of 20 so now at 25, I just want to do things like this – the GLAMOUR #BlendOutBullying campaign for bullying and mental health. I want to do more serious things. I'm done with reality TV. I don't want to let people in on my personal life, relationships and stuff like that. I'd love to do documentaries, I'm obsessed with Louis Theroux and Stacey Dooley. I want to be the new female Louis Theroux. You know when he goes to brothels, I would love it but because on a more personal level I can relate to girls who have worked in strip clubs. I'd love to show my more serious stuff because I am really intrigued and interested and obviously, I've lived a little part of it.
If you could say something to a girl who is in a similar situation to you who is a stripper and they feel like they can't get any escape, what would you say?
Just own it and you don't have to explain yourself to anyone. That was my biggest problem at 20. I made this choice to go and do it and I was so naïve. I'd never stepped foot into a strip club before I started working in one and I thought it would just be older men, no one is ever going to find out. Of course, everyone in my local area found out and I had hate left, right and centre. If you're happy and you're comfortable in the job you're doing, do it because you can't please everyone and as long as you're happy, that's the main thing.
Megan was appearing at the GLAMOUR Beauty Festival