Orange Is the New Black Season 5: Just How Much Can Happen in 3 Days?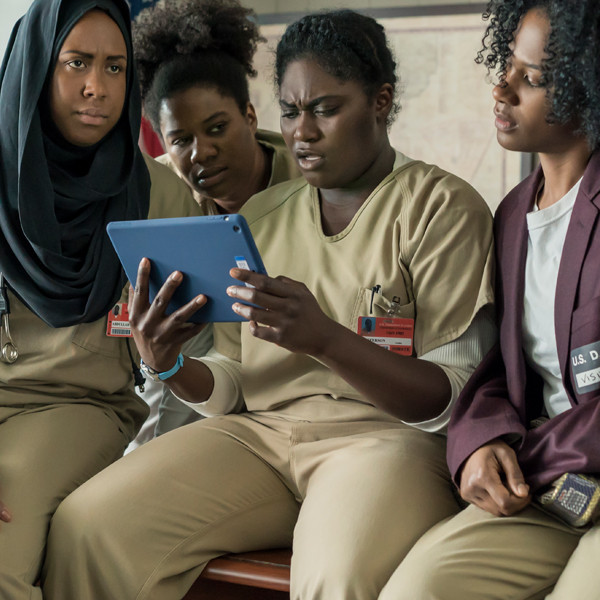 Orange Is the New Black season five takes place over the span of just three days. Just how much can happen in a prison in that time?
"You got to see it to believe it," Taylor Schilling, Piper on the series, told E! News. "I mean, wow."
Remember, it's not just any prison, it's Litchfield and when viewers last checked in on their favorite inmates a riot was brewing.
"The scope of the show is huge—sweeping," Natasha Lyonne, Nicky on OITNB, said. "I think it's a lot of story and a lot of worlds—a lot happens these three days."
Season four of Orange Is the New Black ended with Daya (Dascha Polanco) with a gun to a guard's head. The very gun the guard smuggled in, as all factions of the prison gathered to send a message to the administration after the death of Poussey (Samira Wiley) and the abysmal conditions brought in by the new guards.
"Think about it. It only takes a second to make either the…worst decision or best decision of your life," Diane Guerrero, Maritza on the show, told E! News ahead of the premiere. "So, so much can happen."
When we asked Danielle Brooks (Taystee) and Adrienne C. Moore (Black Cindy) how much can happen, they turned the question around to us. "What have you done in the last three days? Don't answer that, just think about it," Moore said.
"You've seen a lot of people? Have your emotions gone up and down?" Brooks said with a laugh.
"Have you been tired? Have you been hot?" Moore asked. "A lot can happen."
"Now, add a death in there," Brooks said.
Point taken.
Last season ended with the prison inmates safely in their own factions, but this wear there a uniting factor. "We all have that one thing in common," Jackie Cruz, Flaca on the Netflix series, said. "You know."
"To come together for one common thread is sort of really special, it's so telling with what's going on now," Guerrero said.
But Brooks said along with the unity, there's division. "These women are trying to navigate without structure in this world and we already saw when they had discipline and structure how difficult it was for them to follow the rules, so this is a time where we see how they deal with holding the power in their hands and we also watch them come together…"
"And crumble," Moore added.
Orange Is the New Black season three premieres Friday, June 9 on Netflix.