The Secrets Behind Post Malone's Most Daring Looks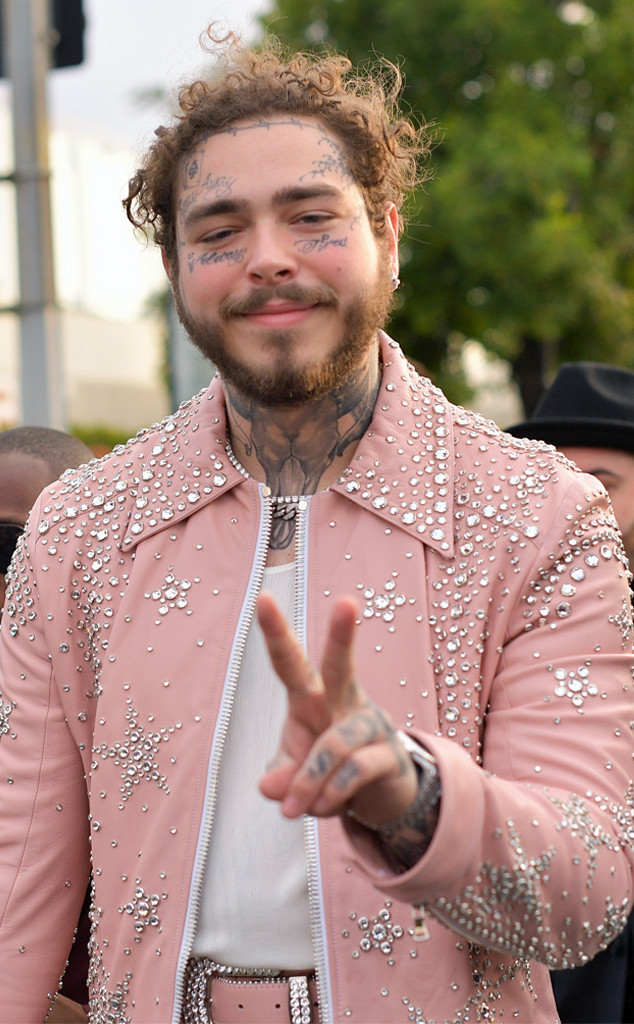 Matt Winkelmeyer/Getty Images for The Recording Academy
Post Malone received a number of nods for this weekend's 2019 Teen Choice Awards.
On Sunday, Aug. 11, actress Lucy Hale and YouTube star David Dobrik are set to take the stage in Hermosa Beach, Calif., to host the ceremony. During the show, Post Malone is up for awards in numerous categories. The 24-year-old artist is nominated for Choice Male Artist, Choice R&B/Hip-Hop Artist, Choice Song: Male Artist for "Wow," Choice R&B/Hip-Hop Song for "Wow" and "Sunflower" with Swae Lee. The duo's track for Spider-Man: Into the Spider-Verse is also up for Choice Song From a Movie.
If we do see Post Malone on the stage this weekend, it's almost guaranteed that he'll be wearing a head-turning ensemble.
The "Better Now" singer has had a fashion evolution over the years, becoming a bit of a style star. Whether he's at an award show or performing for a crowd, Post Malone loves to express himself through his outfits. From colorful suits to airbrushed T-shirts, let's take a trip down fashion lane with Posty's style!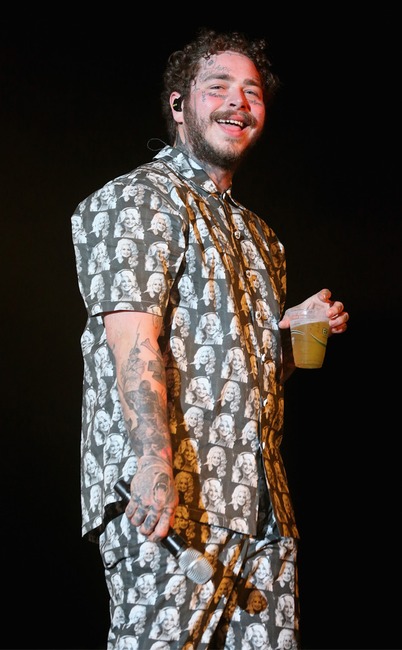 Gary Miller/Getty Images
Dolly Tribute
For his performance at the Bonnaroo Music and Arts Festival on June 15 in Tennessee, Post Malone paid tribute to country music star Dolly Parton, wearing an outfit with her face on it. "Love the outfit from head to toe @PostMalone," Dolly tweeted after seeing the outfit, adding a wink emoji.
Dolly is a Tennessee native, so it appears Post was tipping his hat to the legendary artist while in the state.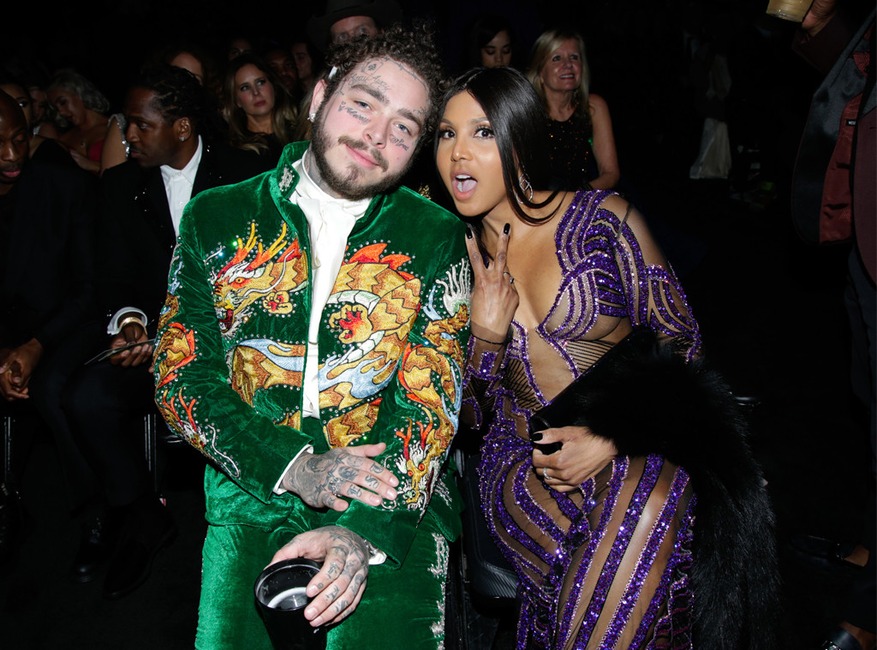 Francis Specker/CBS
Green with envy
Post Malone posed with Toni Braxton at the 2019 Grammys. Malone's stylist Catherine Hahn explains that this suit in particular is "inspired by Jimmy Page" and one of Page's vintage dragon suits.
"I think that suit was really royal. I wanted him to have a dragon energy going on and look like a king," she says.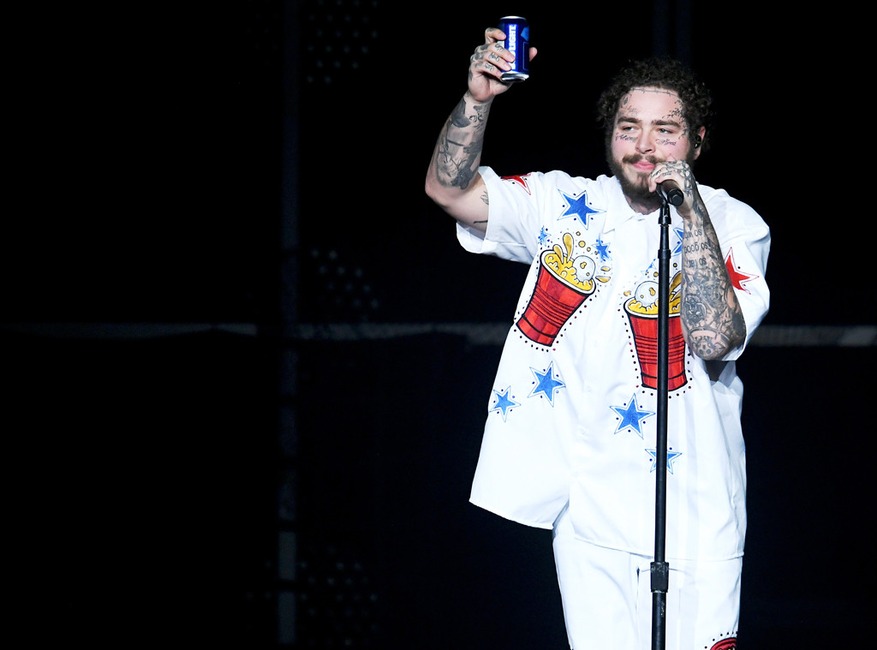 Kevin Winter/Getty Images for Bud Light Super Bowl Music Fest
Cheers to that
Posty got into Game Day mode at the Bud Light Super Bowl Music Fest on Feb. 1. The singer tends to have a beer in his hand onstage, and he went the extra step during this concert to rep his love of Bud Light on his shirt. Hahn calls the look a "shout out to Bud Light and a shout out to the Super Bowl."
"He loves beer pong, everyone knows that. He plays it all the time, he's really good," Hahn tells E! News. "I get inspiration from what he's doing like the Super Bowl party. There's beer, so that becomes the inspiration. He's the inspiration for everything. It's all stuff that he likes."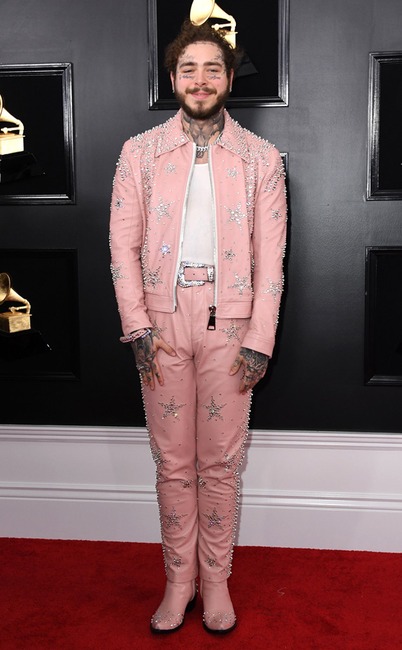 VALERIE MACON/AFP/Getty Images
Millennials in pink
The 24-year-old brought millennial pink, a color that "he loves," to the red carpet at the 2019 Grammys. Hahn explains to E! News that she came up with the idea to make a pink leather suit and he ran with it. However, it wasn't specifically made for the Grammys but when it was done, "We knew it was the one."
She tells us, "The fact that he wears these things and he looks amazing in them and he's so confident. Not many guys would be like, 'Sure I'll wear a pink leather suit covered in diamonds.' He does, he looks amazing and no one else is wearing a pink suit covered in diamonds."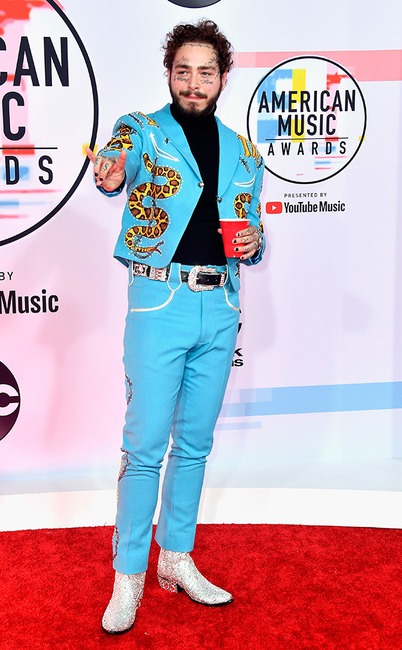 Frazer Harrison/Getty Images
Beer cups & Bentleys
Malone rocked out on the 2018 AMAs red carpet that he walks with his red Solo cup. Other than the unforgettable suit, Posty shows off his manbun-less hair which he chopped right before the show. The red Solo cup that accompanied him both before and during the show wasn't an official accessory, but it might as well have been.
This unforgettable look represents one of the first times Hahn and Malone worked together.
Malone's blue suit "was one that we were just holding onto and waiting for the perfect moment for him to wear it. Then he was nominated for all the AMAs. Just the idea of him being on a red carpet and it's that turquoise, it was something really special," she says of the suit.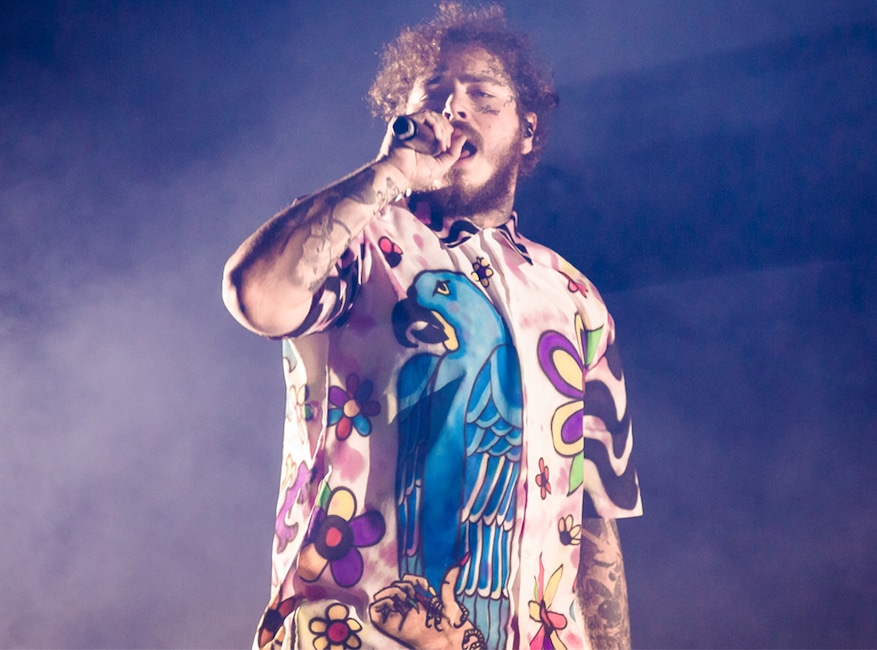 Mauricio Santana/Getty Images
Feeling Tropical
Malone wore an airbrushed shirt at Lollapalooza Brazil on April 6, 2019. Hahn said she works closely with a company called Gentle Thrill on this outfit.
"All the things on the suit are things that he loves like snakes and symbolic things that he likes and they have to do with his personality," she describes.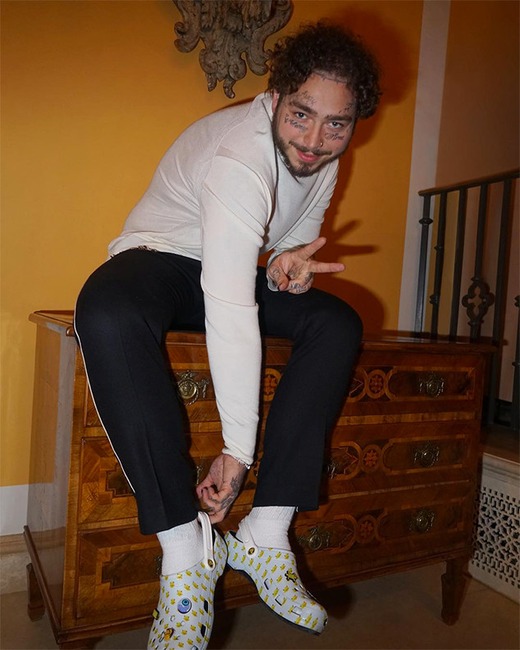 Adam DeGross / Crocs
Crocs, paper, scissors
The "Better Now" singer showed off his customized Crocs that he designed. "He is who he is and that's not going to change," Hahn says of his affinity for the shoes. "I think one of his most iconic looks was this picture of him smashing a guitar on stage with thousands and thousands of people. It's like this beautiful photo that his photographer took and he is smashing a guitar like a real rock star and he's wearing Crocs."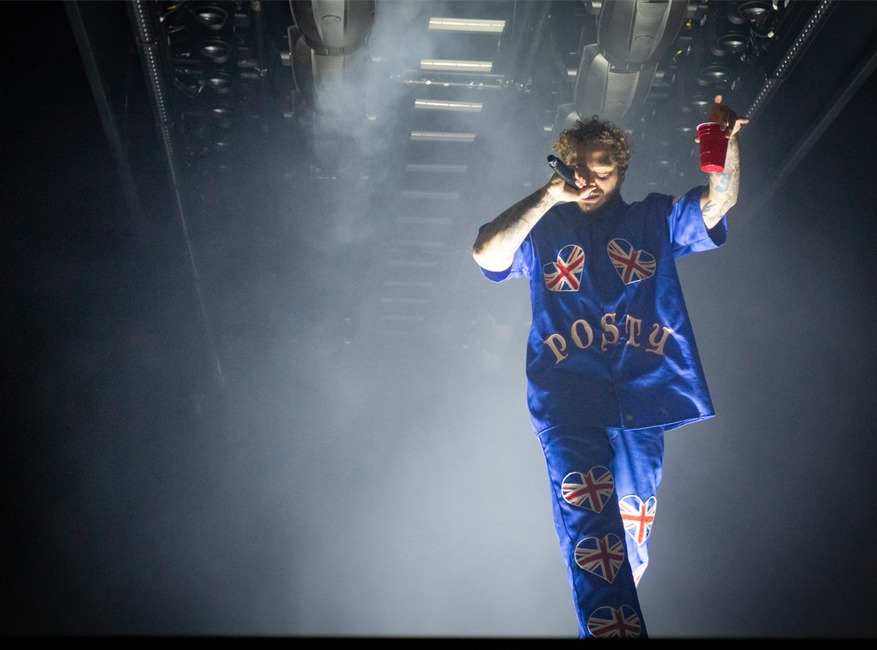 Andrew Benge/Redferns
Across the Pond
The 24-year-old performed at a concert in Manchester, England and reps the Union Jack all over his outfit. Hahn points out to E! News that Posty's locale often influences what he will wear at his concerts, whether it's the Super Bowl, England or Japan.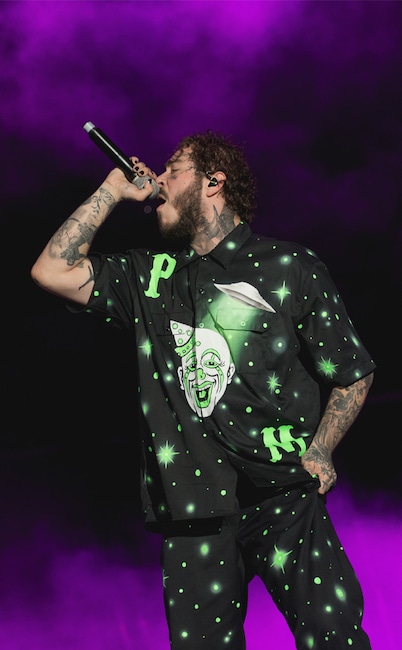 Rick Kern/WireImage
Always Glowing
Malone donned a glow in the dark look at Astroworld Festival in Houston on Nov. 17, 2018. "I feel like we just have so much fun. I just want to keep doing what we're doing," Hahn shares.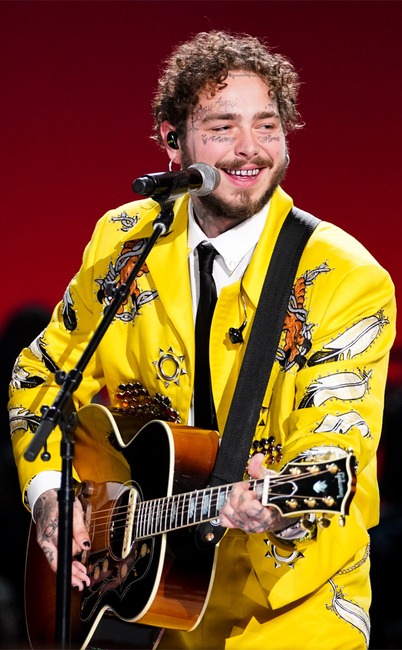 Tyler Golden/NBC/NBCU Photo Bank via Getty Images
An Ode to the King
Posty strummed his guitar at an Elvis All-Star tribute. This yellow suit holds a special place in both Malone and Hahn's hearts. He's "a big Elvis fan so we made him a Post Malone suit that was inspired by Elvis." Graceland loved the look so much that it is not on display at Elvis' home.
Hahn says, "He's such an Elvis fan so it was a big deal for him. Each one is a work of art that people put a lot of time into and I hope that they could be displayed so people could see the details on them up close."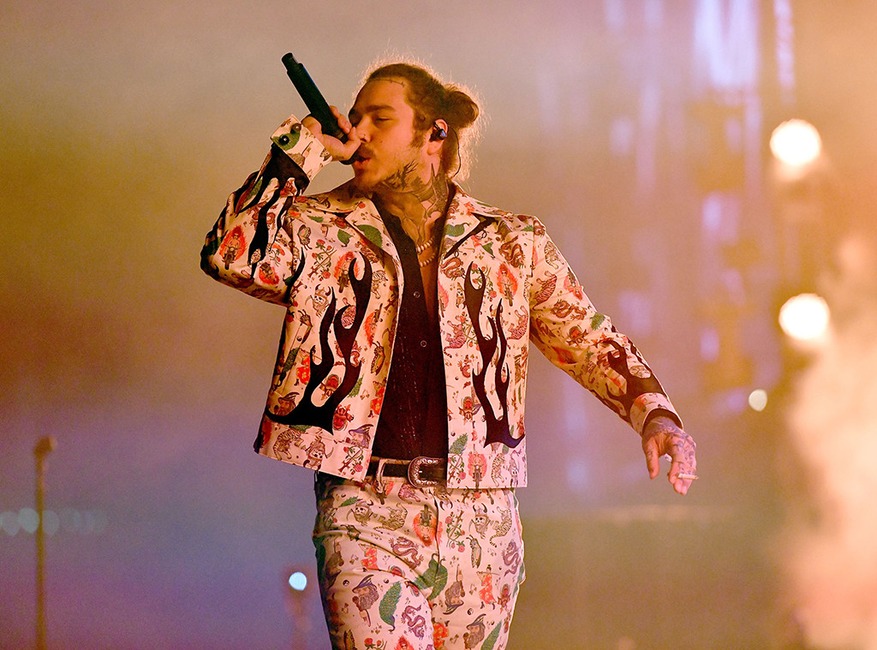 Scott Dudelson/Getty Images for Coachella
Coachilln' in style
Posty entertained the crowd at Coachella 2018 in his colorful Catherine Hahn suit that she designed with Rose Cut clothing.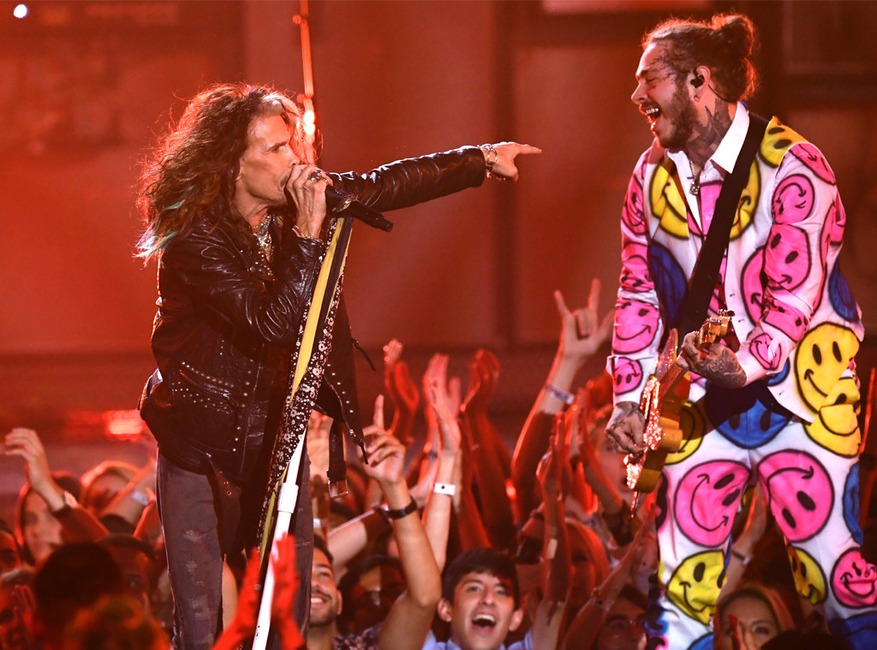 Noam Galai/WireImage
Smile on three
Posty was quite literally all smiles while singing alongside Steven Tyler at the 2018 MTV VMAs.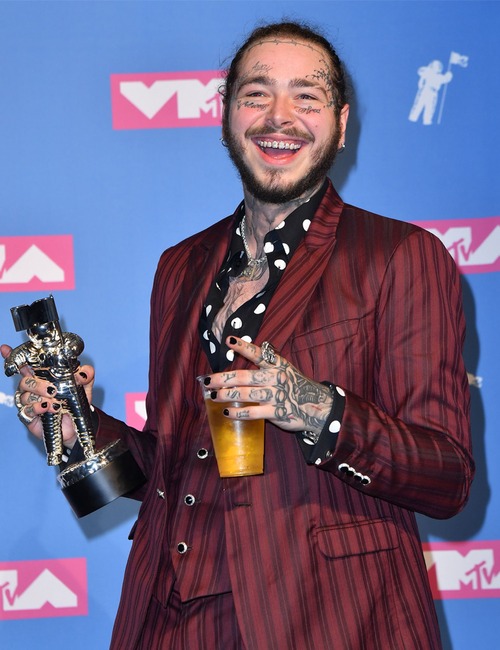 ANGELA WEISS/AFP/Getty Images
Dots & Stripes
The Texan expertly paired polka dots with stripes at the 2018 MTV VMAs. Of course, his cup of beer accompanies him while he shows off his shiny award.
Don't miss E! News every weeknight at 7, only on E!