The Witcher's Anya Chalotra and Freya Allan on plot spoilers, body image and Henry Cavill
Netflix know their way around a blockbuster TV show and catapulting actors to international fame. With The Witcher and its female leads, Anya Chalotra and Freya Allan they are about to do it all over again and fill the 'fantasy TV' void left by Game of Thrones in the process.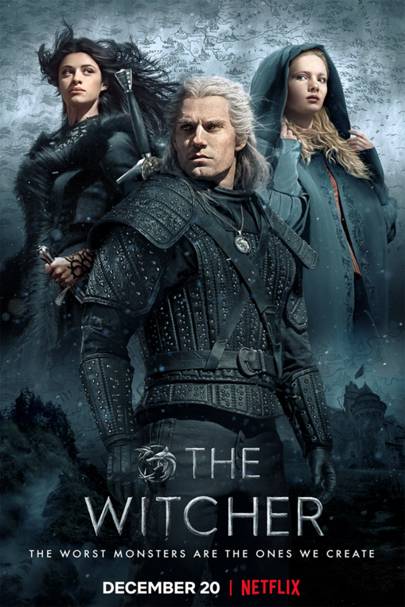 Based on the books by Polish author, Andrzej Sapkowski and the video game adaption that garnered mass appeal, the new eight-part series focuses around Geralt of Rivia played by Henry Cavill, who belongs to a rare breed of monster-hunters aka Witchers who use their mythical powers to slay the competition. Expect huge battle scenes and with Henry's muscles (watch out for one seriously thirsty bath scene) as an additional weapon the contest is well and truly ON.
The Witcher also follows Ciri – played by 18-year-old newcomer, Freya Allen – a young princess on the run from a rival kingdom and Yennefer a sorceress whose ambitions are only matched by her levels of independence, played by Anya Chalotra who you may remember from the BBC's haunting drama ABC Murders.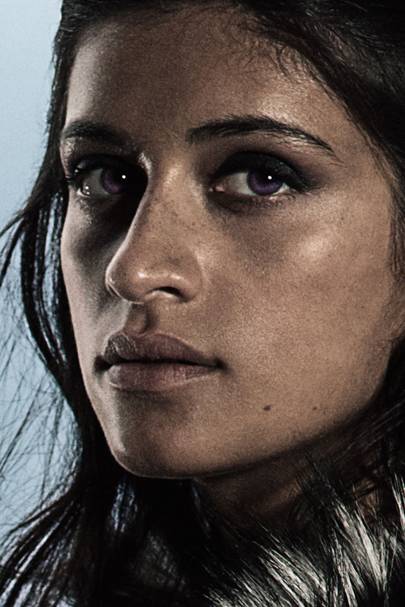 But as I meet the two female leads in the real world, the fantasy world of The Witcher is put to one side. Instead I find two nervous young women, who on the cusp of huge fame are finding their situation, "so bizarre and so daunting," as Anya shares. "It's getting closer to the launch -, my nerves are shaking. I am more nervous about the step and repeat at the premiere tonight though," she jokes.
Aside from the nerves there is also a shared excitement as here Anya and Freya reveal how their characters increased their own self-confidence, how they are navigating the tricky topic of plot spoilers and their hopes for The Witcher season two…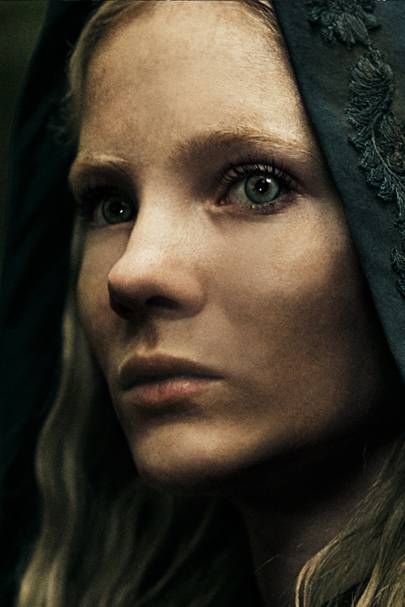 When you first got this script for The Witcher, what was your first reaction?
Freya: I hadn't read the books or played the video game, so I had to Google my character. I knew she was an amazing fighter so when I got the script, I was like why is she not fighting? But I was really excited. I found out I got the part in the kitchen of my house. I was quite chilled on the phone and my agent was like, 'you've got it – how do you sound so calm?' But the minute I got off the phone I was pacing up and down. You know when your whole body gets excited and you're shaking? That's what it was like.
What was it like when you first stepped onto set?
Anya: I've never seen sets like it. I've never been in a production with this much money behind it. It supported our ambition, and everything came to life in front of you. The detail – I remember going into The Tower of Gold – could be a spoiler, I don't know, stop there Anya – and the detail that went into every room was amazing. Your imagination didn't need to work as hard because it was all done for you.
How are you coping with the spoilers?

Anya: I was terrified at the beginning. The word 'spoiler' now doesn't scare me as much because it's coming out. Before I was so scared because the way Netflix prep you, especially for a show like this in its first season, the reaction has been huge. The fans following it, you don't necessarily get that on a first season of anything, so I was so scared.
Freya: In San Diego Comic Con, I literally sat there not saying anything because I was like if I say anything, I'll say the whole plot.
Anya: It's so hard to put your journey apart from the story line, when you've lived through it yourself or know what's a spoiler and what's not, especially when I wasn't a fan of The Witcher before I started filming. I grew with the journey of Yennefer so everything for me wasn't a spoiler.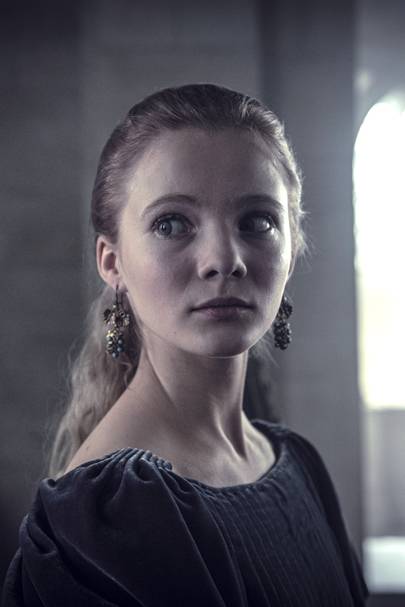 What have you learnt about yourself through playing your characters?

Anya: I've changed so much as a person since the start of filming. I feel stronger and I feel like I've gained so much knowledge and new perspectives because I've met so many different people. I went from a very structured life in Oxford going to school every day to suddenly a week later I was living in Budapest for eight months. It's a big change so I feel I've changed so much from that experience as a person.
How has it changed you the most, Anya?
Anya: With the confidence Yennefer has with her body – I've learnt a lot from her. Doing what I had to do in this series, I've really had to trust myself because we didn't have the time, we usually have to develop a character. It wasn't a process I've ever gone on before. I'm from theatre where we get a certain number of weeks to develop and interrogate a script. We didn't have that and yet I was playing someone from the age of 14 to someone at the age of 77. I didn't have that ageing process to show the change physically, so I had to mark moments of her life and focus on how I was going to bring certain moments of her life alive. Going back to the way she's empowered in her body, I had to be empowered in mine to play that. I had to really, really trust myself. I've just gone through drama school and it wobbles you. She gave me a lot of strength. I couldn't be vain or anything like that, so I learnt to really appreciate my body.
Have you leaned on each other throughout filming The Witcher?
Freya: I remember the first day of filming we were both on. I think they shot your scene and then my scene. I remember us going back to the hotel and I spent a lot of time going through my worries with you.
Anya: We went through the same experience at different points in our lives. No one else will go through what we go through so it's really important that we grow through this process together because no one else will have that.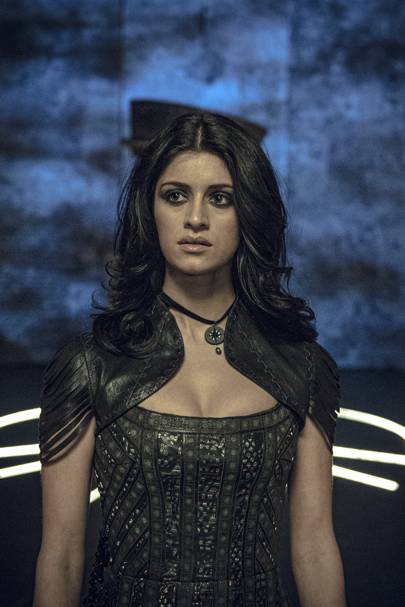 Was there a moment where you leaned on each other the most?

Freya: I feel like I needed that mainly at the beginning because I got very familiar with the role and it became easier but at the start, I was very nervous, and a lot of the scenes were very huge to begin with. I was very worried about getting it wrong, so I definitely talked through that.
Anya: Having a constant Freya there throughout the whole of it means a lot because you're not going through it alone. The main thing I got to Freya for is to voice my concerns and to listen to hers too. It's a real sisterhood and that's important to have in this series as the two female leads.
The Witcher is all about personal power. How have you in your own lives learnt to be at one with your own power?

Freya: I'm still learning – it's something everyone is always learning.
Anya: I don't think I'd get to a point where I know what that is. For me, it's about honest interactions with people, always being honest with myself. That's my biggest power.
Freya: I feel exactly the same. I don't like being false or being turned into something I'm not. That doesn't sit comfortably with me.
What have you learnt the most from working with Henry?
Freya: What I learnt the most is he's very generous and kind. That goes a long way in this industry.
Anya: And he's also so hard working. On set, he doesn't just do his job and that's it. I love the fact he's really looking out for the show. He does jobs that aren't even necessarily his to do and I'm not saying actors have to do that but to have that much care for a show that you're looking out for everyone involved shows how kind he is.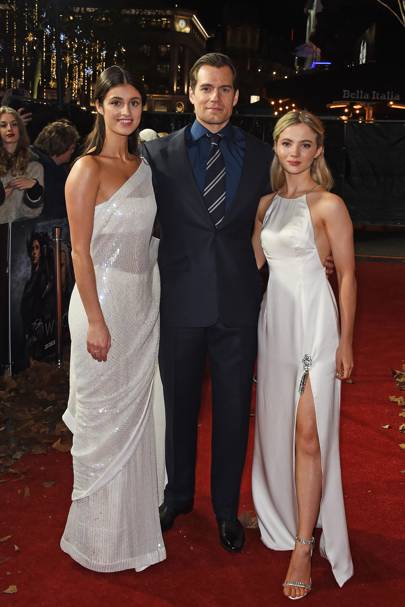 What's been the best piece of advice that's seen you through those moments of self-doubt on set?
Freya: Someone said something to me recently about thinking back to before I got this role and how excited 14-year-old me would have been that I'm in this show. It's easy to find it very scary and it's ok to feel like that because it is terrifying but remembering 14-year-old me who would have been dying to get this role also helps.
Anya: For me, it's to treat others the way you want to be treated. In this industry, you need to.
What was the biggest LOL moment on set?
Freya: I had to go on this fake horse with somebody else. You can imagine it was very awkward. It was silent and you've got this fake horse bobbing up and down. I could see everyone around us was laughing because it looked ridiculous and it was a serious scene. I was like this is bloody ridiculous. I was trying not to LOL, but I was really laughing inside a lot.
When you go into The Witcher season two, what would be the dream scenario for your characters?
Anya: Fighting. I want her to become a fighter!
Freya: She's been a fighter already but like physically, I want her to do some badass stuff.
The Witcher is available on Netflix now