Jon Stewart knows a thing or two about the challenges and joys of parenting.
The former "Daily Show" host and his wife, Tracey McShane, have two children, 12-year-old Maggie and 14-year-old Nathan. Over the years, he's joked and spoken earnestly about fatherhood ― from the hilarity of raising little kids to the difficult, perspective-altering moments.
In honor of his birthday on Wednesday, we've rounded up 13 funny and heartfelt quotes from Stewart that will resonate with parents.
On The Opportunity Children Provide
"Fatherhood is great because you can ruin someone from scratch."
On Kid Joy
"The thing that I love about them is their joy, their exuberance. My boy will dance when he sees something that he likes. We'll literally be walking down the street and he'll just go [starts dancing enthusiastically]. But you'll be like, 'That's mulch.'"
On Parenting Triumphs
"We've kept them both alive."
On Retiring
"I don't have any specific plans [for retirement]. Got a lot of ideas. I got a lot of things in my head. I'm gonna have dinner … on a school night … with my family, who I have heard, from multiple sources, are lovely people."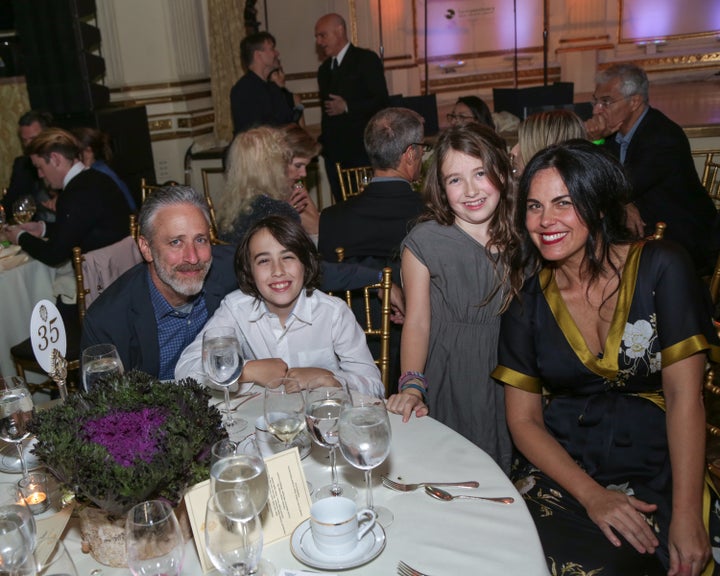 On Having A Second Kid
"It's remarkable. I think you feel [like it might be underwhelming], but then you see them, and your heart, it's like the Grinch, it just grows three sizes."
On Parenting Two Children Under 3
"It's tremendous. They somehow have worked out a system where one of them is awake at all times. I think they must be trying to raise money for something … It's some sort of a vigil."
On Weaning A Toddler Off Pacifiers
"This might not be the best way to do it, but we have him now just starting on cigarettes. We feel like, you do that and then the pacifier, at a certain point, he might think, 'Well if I can't light it, I don't want it.'"
On The Challenge Of Balancing Work And Family
"I was missing out. I saw them at 'crying times' ― putting them to bed and just before school."
On His Son's Health Crisis
"It's hard not to get choked up thinking about it because it was horrible … Everybody [in the hospital] is just looking for an answer and we're the lucky ones who got one."
On Keeping Life In Perspective
"You always figure, connections and money, what else do you need? But it doesn't save you heartache."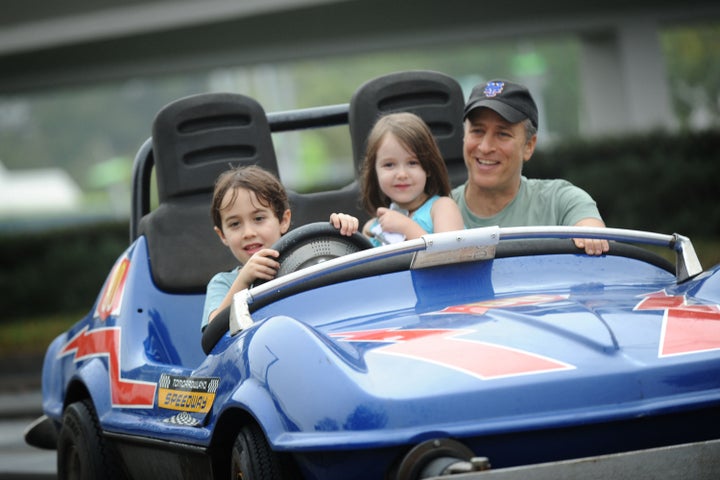 On Raising Siblings
"They get along actually as nicely as a 2-and-a-half-year-old can get along with an 8-month-old. He would like to climb on top of her and just pound on her head like a percussion, and we have decided that probably shouldn't happen.
On Toddler Communication
"My boy is trapped in that world, still uses the pacifier a little bit, but still also is joining the world of the verbal. So when we go down the street, he'll have the pacifier in, but if he sees something he knows, he feels he wants to share. So he does this: [mimes removing pacifier and pointing] 'Dog!'"
On The Next Generation
"Everybody talks about the entitlement generation. There is no time I'd rather live in than now, and there is no generation I would more entrust the future of this country to than this one. There is a tendency to live in a nostalgic state in this country, and to think that other generations possessed an integrity and a tenacity greater than the generation that is now. I wholeheartedly disagree with that. I believe that this is a group that will rise up to any challenge that comes before them as well as any other generation in America would have done."