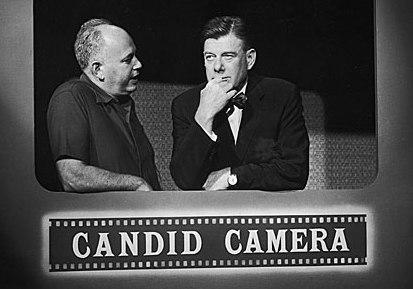 On this day in 1948, ABC introduced the hidden-camera reality show, Candid Camera. Hosted by Allen Funt, the show consisted of a series of practical jokes conducted on unsuspecting victims, with the results caught on a hidden camera.
When the practical joke was finally revealed, the subject was greeted with the famous catchphrase, "Smile, you're on Candid Camera!"
The show had an unusual broadcast history, debuting on ABC, then bouncing to NBC. The stand-alone show then became a segment on NBC's The Tonight Show (with Jack Paar), then CBS's The Garry Moore Show. It became its own show again in 1960, and ran in various formats on CBS, in syndication and, finally, on PAX. It originated in 1947 as a radio show, Candid Microphone.
Funt hosted or co-hosted the show's many incarnations, until suffering a stroke in 1993. His son, Peter — who began working on the show with his father in the late '80s — took over as producer and host.
Here's an episode from the show's early run on NBC: