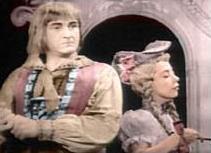 The Sid Caesar showcase Your Show of Shows — which debuted on this day in 1950 — and the two other series in which he starred before and after that landmark show (Admiral Broadway Revue, Caesar's Hour), constitute one of the most innovative and important creative bursts in TV history.
Thanks to the 1973 release of the film compilation Ten from Your Show of Shows, both the Your Show of Shows title and some of its classic skits have remained familiar to subsequent generations of comedy fans, and the astoundingly deep pool of writing talent that worked for Caesar and company has attained almost legendary status.
Actually, "legendary" is a good description, because a lot of it is myth, at least who did what, and when, during that golden age of televised comedy. One common mistake is that skits performed for Caesar's Hour, the comedian's successor to Your Show of Shows, are wrongly attributed to Your Show of Shows instead. The most widespread error, though, is crediting Woody Allen as one of the Your Show of Shows writers. He wasn't. Neither was Larry Gelbart, although he and Allen worked for Caesar later — much later.
Because all three of these variety series were so crucial to the development of televised comedy, and because so much misinformation has been spread about them over the decades, consider this an effort to set the facts straight and to give each series its individual due. I come not to bury Caesar, but to praise him — highly.
—Excerpted from Dictionary of Teleliteracy: Television's 500 Biggest Hits, Misses and Events