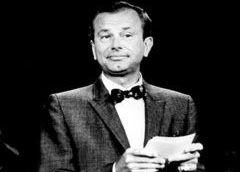 Five years before Jack Paar became host of NBC's late-night show, Tonight, he helmed the short-lived quiz show, Up to Paar. The program, which debuted on this day in 1952, was Paar's first network television gig.
The show, which aired three days a week, tested participants' knowledge of current events. Each contestant answered five questions, which incrementally increased in value. If a contestant answered a question incorrectly, the money associated with that question went into the show's jackpot.
At the end of the show, all of the participants were asked to answer a question (in writing) culled from a story in the day's newspaper. A correct answer earned the contestant $ 100 and money from the jackpot.