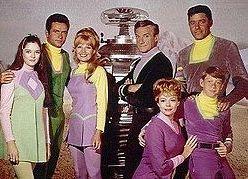 This day in 1968 marked the series finale of CBS's Lost in Space. The sci-fi series revolved around the Robinson family — professor John Robinson (Guy Williams) his wife Maureen (June Lockhart), and their children Judy (Marta Kristen), Penny (Angela Cartwright) and Will (Bill Mumy) — who, in 1997, are chosen to take part in a multi-year space exploration mission.
They're accompanied by Major Donald West (Mark Goddard), a military pilot, and Dr. Zachary Smith (Jonathan Harris), whose attempts to sabotage the mission results in the group becoming lost in space. One of the show's best remembered characters is the Robot. Voiced by the series' narrator Dick Tufeld and performed by Bob May, the Robot was responsible for some of the show's best-known catch phrases, including "That does not compute," "Warning, Warning," and "Danger, Will Robinson!"
As the series progressed, it strayed from its more serious sci-fi route and became more comic and campy. Fans, however, weren't disappointed. Lost in Space was a ratings success during its three-season run, unlike its genre competitor, Star Trek, which didn't become a hit series until after its cancellation.