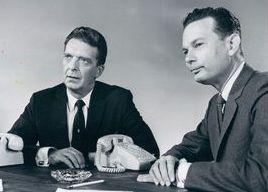 On this day in 1970, television viewers heard the famous signoff, "'Good night, Chet.' 'Good night, David. And good night, for NBC News,'" for the final time, when news anchor Chet Huntley said farewell to his long-time co-anchor David Brinkley.
The Huntley-Brinkley Report, which made its debut in 1956, grew into one of television news' earliest successes. Huntley anchored the show from New York, while Brinkley broadcast from Washington, D.C. Initially a 15-minute newscast, the show expanded to a half hour in 1963.
The news duo were popular with viewers and became media celebrities. Because of their on-air rapport, few realized the two men rarely interacted outside the news broadcast.
On The Huntley-Brinkley Report's last telecast, Brinkley told audiences that NBC gave Huntley a horse as a farewell gift. He added: "So from now on, when somebody stops me in the street and says, 'Aren't you Chet Huntley?' I have an answer: It is, 'No, ma'am, he is the one out West on a horse.'"
Following Huntley's retirement, the newscast was renamed NBC Nightly News, and was anchored by Brinkley, John Chancellor, and Frank McGee.