1982: CBS Debuts its Satirical Sitcom 'Filthy Rich'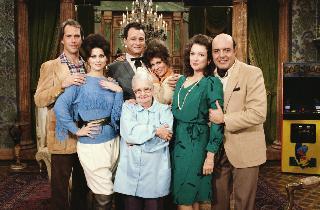 On this day in 1982, CBS premiered the soapy sitcom, Filthy Rich, which satirized prime-time hits such as Dallas, Dynasty and Falcon Crest. The cast included Dixie Carter and Delta Burke, who several years later would go on to star in the long-running sitcom, Designing Women.
Also part of the cast was actor Slim Pickens, who underwent surgery for a brain tumor shortly before the show's premiere. Unable to resume his role, Pickens was everntually replaced by Forrest Tucker.
Filthy Rich was created by Linda Bloodworth (before her marriage to Harry Thomason) and was originally conceived and produced as an hour show; eventually the network insisted it be retooled as a half-hour series. Although the show had some ratings success as a "limited run" summer series, it failed to attract viewers during the fall season where it aired opposite NBC's new series Family Ties.