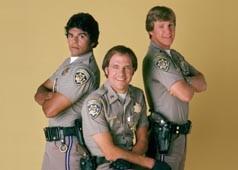 On this day in 1983, the NBC police drama CHiPs aired its last original episode. The series, launched in 1977, followed the exploits of two California Highway Patrol motorcycle patrolmen, Jon Baker (Larry Wilcox) and Frank "Ponch" Poncherello (Eric Estrada).
As police dramas go, CHiPs was anything but edgy. There was little violence, and the cases the cops handled were generally routine calls ranging from freeway accidents to stolen cars. The remainder of the show focused on the interaction between the show's characters (the trouble-prone "Ponch" routinely tested the patience of the duo's superior, Sgt. Joe Getraer, played by Robert Pine) and the active social lives of the two bachelors.
In 1981, Estrada was temporarily replaced by former Olympian (and Keeping Up with the Kardashians star) Caitlyn Jenner (then known as Bruce Jenner) as a result of a salary dispute between Estrada and the show's producers. Wilcox left the show in 1982.