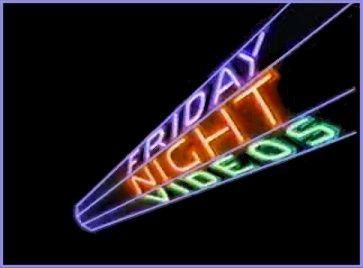 On this day in 1983, NBC attempted to capitalize on the growing popularity of music videos with the introduction of the late-night show, Friday Night Videos.
Cable was still in its infancy, and the two-year-old MTV was not readily available to many viewers. Friday Night Videos, produced by Dick Ebersol, offered those who didn't have cable (or subscribed to a cable provider that didn't offer MTV) an opportunity to see videos by the day's top artists.
Two years into the show's run, the off-screen hosts were replaced by weekly celebrity guest hosts ranging from Arnold Schwarzenegger and Jay Leno, Don Johnson and Philip Michael Thomas, John Ratzenberger and George Wendt, Yoko Ono and Sean Lennon, Don King and Mike Tyson, Dr. Ruth Westheimer, Ozzy Osbourne, George Carlin, Madonna and Pee Wee Herman.
For a while the show even had its own Saturday Morning spinoff, Saturday Morning Videos, which catered to younger music fans.
The show underwent several format and name changes over the years. The music aspect was permanently dropped in January 2001, when the series became Late Friday and transitioned to a stand-up comedy series.