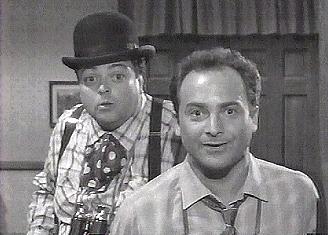 On this day in 1991, CBS introduced the creative comedy series,
Morton & Hayes
. Produced and hosted by Rob Reiner, the show was presented as though it was a documentary, with Reiner as a present-day television host showcasing "rediscovered" film clips from a forgotten (fictional) comedy duo, Morton & Hayes, that dated back to the late '30s and early '40s.
The stars of the black-and-white slapstick-rich shorts were played by Kevin Pollak (as Chick Morton) and Bob Amaral (Eddie Hayes), in the spirit of Bud Abbott and Lou Costello or Stan Laurel and Oliver Hardy. Five of the six episodes aired were directed by the series' co-executive producer Christopher Guest. (The sixth was helmed by his This is Spinal Tap co-star, Michael McKean.)
Guest stars in the featured shorts included Guest, McKean, Catherine O'Hara, Allison Janney, Courteney Cox and Joe Flaherty.