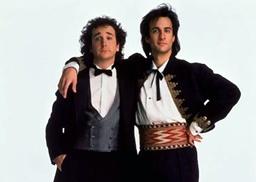 This day in 1993 marked the final episode of the ABC fish-out-of-water sitcom, Perfect Strangers, which introduced the catch phrase "Don't be reee-deek-u-los!" and the ABC spinoff, Family Matters.
The series, which ran eight seasons, starred Mark Linn-Baker as a straight-laced midwesterner who unexpectedly finds himself sharing an apartment with a distant cousin from a foreign country, played by Bronson Pinchot. Much of the comedy stemmed from Pinchot's attempts to acclimate to life in America and his misuse of cliché expressions.
Producer Tom Miller — who produced shows such as Happy Days, Laverne & Shirley, Mork & Mindy, Bosom Buddies, Full House, and Step by Step with partner Robert Boyett — told the Houston Chronicle that the show was inspired by the "nations all coming together" at the 1984 Summer Olympics in Los Angeles, and the patriotism instilled by the games.
Perfect Strangers, which anchored ABC's original TGIF Friday-night lineup, was responsible for another hit sitcom, Family Matters. Jo Marie Payton-France, who played the elevator operator in the cousins' apartment building, and her husband, played by Reginald VelJohnson, went on to helm the series that introduced Jaleel White's Steve Urkel.