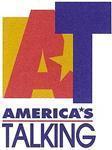 On this day in 1994, NBC launched the 24-hour cable network, America's Talking. The channel's creator, CNBC president and chief executive Roger Ailes, envisioned the cable network as a place average viewers could find talk shows featuring a mix of news, health and relationship programming, newsmaker interviews, and more.
America's Talking (and CNBC) was based in Fort Lee, N.J. and featured simple (and shared) bare bones sets. AT hosts included Steve Doocy, who co-hosted the morning news talker America's Talking A.M. with Kai Kim; Elle magazine columnist E. Jean Carroll, who helmed a sassy advice show, Ask E. Jean; and Ailes himself, who hosted his own celebrity/newsmaker interview show, Straight Forward.
Another news-focused show, AT In Depth, was initially co-hosted by Terry Anzur and Chris Matthews. When Matthews was moved to his own show, Politics with Chris Matthews, AT renamed the show In Depth Coast to Coast and brought in newsman John Gibson to replace Matthews.
The foundation underneath AT began to crumble in late 1995. In January, 1996, Ailes resigned from his positions with CNBC and AT, and soon after teamed with Rupert Murdoch to create the Fox News Channel. NBC entered into a partnership with the Microsoft Corp., and America's Talking became MSNBC. Matthew's show was the sole survivor of the switchover; it became the MSNBC talker Hardball with Chris Matthews.
America's Talking was officially shuttered on July 15, 1996.