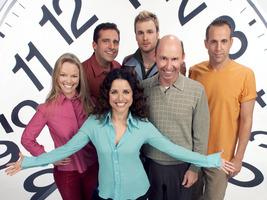 On this day in 2002, NBC introduced the Julia Louis-Dreyfus sitcom, Watching Ellie, the Seinfeld alum's first attempt at carving out a new TV identity after nine seasons of playing Elaine Benes.
In Watching Ellie, Louis-Dreyfus portrayed a cabaret singer, Ellie Riggs. Initially each episode was presented in "real time," offering 22-minute slices of Ellie's life. The show was later re-tooled and adopted a more conventional sitcom set-up. The series also starred Steve Carell, who would go on to find fame in the American version of the British sitcom, The Office, and the feature film The 40-Year-Old Virgin.
Despite the attempt to recreate Watching Ellie during its short, 16-episode run, the show — created by Louis-Dreyfus' husband, Brad Hall — failed to find a significant audience and became the "strike three" sitcom that helped spawn the so-called "Seinfeld Curse," an assertion that the Seinfeld stars would be unable to attain further television success as series leads.
The failure of The Michael Richards Show in 2000 was the beginning of the "curse," which was further reinforced by the quick cancellations of Jason Alexander's 2001 sitcom, Bob Patterson, and, in 2003, Watching Ellie.
Louis-Dreyfus fared much better with her second show, 2005's The New Adventures of Old Christine. Upon winning an Outstanding Lead Emmy for her role in a series, she said: "I'm not somebody who really believes in curses, but curse this, baby!" In September 2012 she won yet another Lead Actress Emmy for her current HBO series, Veep and, as of September 2016, she has won every year since.