Motherfatherson, the highly-anticipated BBC2 drama that will see Richard Gere (yes, seriously) return to our screens, airs on Wednesday March 6 at 9pm and we can confirm you won't want to miss a minute.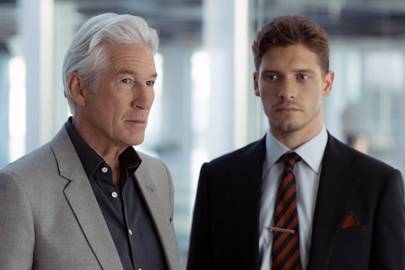 The 8-part series spearheaded by Tom Rob Smith, the screenwriter of The Assassination of Gianni Versace, sits at the intersections of politics, media and the police.
It centres around Max, a self-made American businessman, his British heiress ex-wife Kathryn and their son Caben who runs Max's UK newspaper. 30-year-old Caben is all set to step into his father's powerful footsteps until his life begins to spiral out of control resulting in devastating consequences for the entire family.
BBC described the drama 'as much a family saga as it is a savage, unflinching study of power and how even the mightiest of empires can be in peril when a family turns on each other', meanwhile Smith says the heart of the script poses the question 'if you had to restart your life, what's important?'.
Motherfatherson will mark Gere's triumphant return to television after a 30 year hiatus: 'I'm so pleased to be working now with the BBC on this extraordinary 8-hour project with such talented people and which resonates so much to the time we live in'. He will be joined by Helen McRory, Sarah Lancashire and Billy Howle.
It looks like we're in for a treat.
Here's what else we'll all be watching this year…