Brooklyn Nine-Nine's Jake Makes His Action Dreams Come True in New Season 6 Promos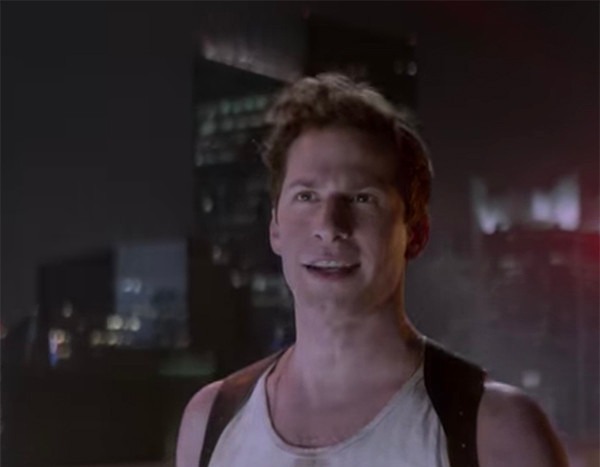 Move over, John McClane. Jake Peralta is in the house.
It appears that, in a way, Jake (Andy Samberg) is making all his wildest dreams come true in season six of Brooklyn Nine-Nine, which makes its NBC debut in January. The latest trailers let the Die Hard-loving detective do all the things a good action star is always doing, like knowing exactly what to do to get off the top of a high rise building, and having just the rope to do it with, but only having enough for everyone else on the roof, so he he has to hitch a ride by leaping onto a passing helicopter.
Three separate trailers with different endings debut today, and you can watch two of them below before the third one debuts tonight during Sunday Night Football tonight on NBC.
Sure, Jake's action sequence doesn't turn out to be real in the end, but at least watching Jake's dream scenario reminded us that Brooklyn Nine-Nine season six was our dream scenario, and it's playing out in just a matter of weeks.
Brooklyn Nine-Nine was rudely canceled by Fox just ahead of its season five finale, in which Jake and Amy (Melissa Fumero) got married. 48 hours later, NBC had picked the show up for a sixth season, which begins with Jake and Amy's somewhat ill-fated honeymoon and the news of whether or not Captain Holt (Andre Braugher) gets to be the new commissioner.
Not only does the Nine-Nine return in early January, but Samberg is joining Sandra Oh to host the Golden Globes on Sunday, January 6 on NBC, which might just turn out to be the best decision anyone's ever made.
Brooklyn Nine-Nine premieres Thursday, January 10 on NBC.
E! and NBC are both part of the NBC Universal family.