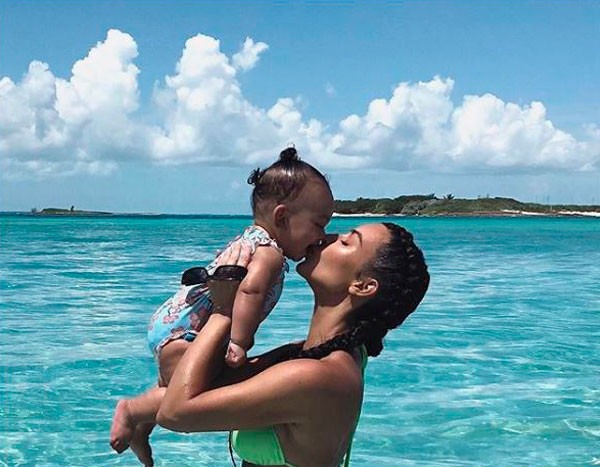 Chicago West is taking to new heights.
The youngest member of the Kardashian-West family is on the move—and doing it in style thanks to her famous mom's heels. Yup, Chicago may be only 1, but she's already perfecting the art of walking in pumps.
In videos Kim Kardashian shared on her Instagram Story, you can see the tot impressively walk around in her famous mama's neon yellow heels. The budding fashionista also had her eye on an accessory, so her famous mom handed her what appeared to be a pint-sized Hermès Kelly bag to carry around.
The reality star also showed her daughter how to open it and pull out a coordinating cross-body strap for the bag. Needless to say, the youngest Kardashian-West is already figuring out her personal style.
While there are certainly plenty of women in the Kardashian-Jenner family to take style cues from, perhaps the closest source is Chicago's older sister, North West, who is an emerging fashionista in her own right.
Kim and Kanye [West]'s firstborn, who scored her first magazine cover last month at age 5, was in a styling session with Simone Harouche, which Kim also captured on her Instagram Story.
The youngster rocked a red leather look complete with matching sunglasses. Rock it, North!
Back in January, fans learned that not only could little Chicago walk by herself, but she also could groove along to dad Kanye's rehearsal.
As the couple's famous kids grow up before our eyes, the family is preparing to welcome the fourth addition to the family as they are expecting a baby boy via a surrogate.
"Kim and Kanye are really excited about the new baby! It's a bright spot right now given everything else that's going on in the family," a source recently told E! News. "At this point they've been working on the baby's nursery at their home and putting all that stuff together."
Perhaps North and Chicago have some styling tips.