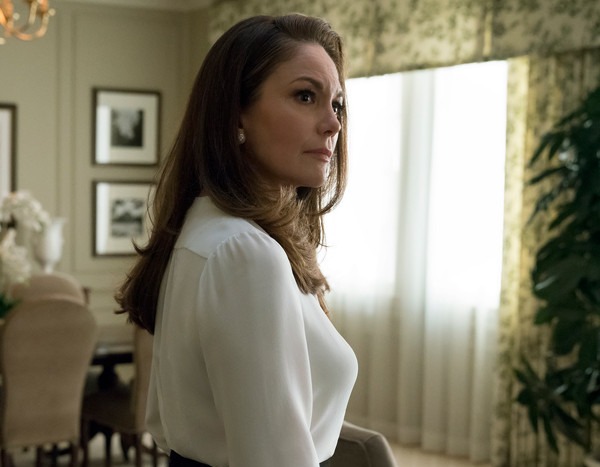 Diane Lane and Greg Kinnear sure made life difficult for Robin Wright's Claire Underwood in the final season of House of Cards.
"Somebody's got to take her down," Lane said.
The two Oscar nominees joined the final season as wealthy siblings, Annette and Bill Shepherd, who use their money to influence the politics of Washington. For the part, Lane said she had to binge early. You see, House of Cards was one of the shows she had "horded off to the side" while "planning my retirement binging or something," she told E! News' Carissa Culiner.
"When I got the call," Lane said, "I was like, 'Oh my god, I've got to watch this show!'" And despite what binging five seasons of the political drama did to her outlook on life (Kinnear said she developed a dark outlook on Washington), Lane said she was so happy to be invited to be on the show, even if it is to take down the protagonist.
"Annette and Claire go back to high school, and they have the dirt on each other from eons ago, maybe even pre-Frank, so there's a lot of reveal about their past and it does get weaponized between women, occasionally," Lane said.
"There's currency in secrets and we have a lot of secrets on the new president," Kinnear teased.
House of Cards' final season is now streaming on Netflix.