You know we love to hear about anyone in the beauty business actively trying to make their products more sustainable, more thoughtful and more environmentally-friendly.
We are thrilled, then, to hear that Danish beauty and skincare company Gosh Copenhagen have done exactly that. The packaging for their latest product, the Dextreme Full Coverage Foundation, is 40 per cent made of ocean waste plastic. The recycled plastic packaging is collected from beaches, rivers and oceans all around the world.
"We work after the principles reduce – reuse – recycle and
this is a step in the right direction for a more environmentally friendly structure," Gosh Copenhagen told GLAMOUR.
The quality of the ocean waste plastic is just as good as virgin plastic, but recycling it at the factories reduces the amount of CO2 being produced by 56 per cent. The production of ocean waste plastic uses 85 per cent less energy, emits 75 per cent fewer greenhouse gases and saves twice as much energy as burning it in an incinerator. The recycling process also creates new jobs.
And this is probably our favourite fact of all: Buying one foundation is equivalent to removing at least 10 plastic bags from the ocean.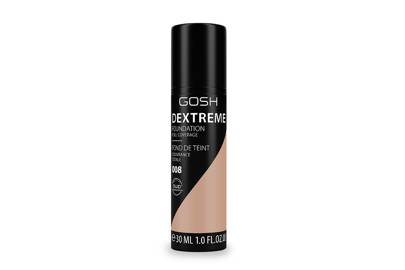 The foundation itself sounds good, too. It contains an ingredient called EnergiNius™. According to the company, it is derived from Indian Ginseng roots. "It's certified organic and it boosts cellular energy and dynamism, protects the skin from screen-emitted light, fights digital pollution and restores skin vitality," they said.
The foundation has a matte satin finish and promises full coverage all day long. It's smoothing and perfecting, which makes a good base for other makeup products.
It only comes in four shades at the moment, which is disappointing. They've only got Porcelain, Natural, Sand and Golden.
It's out on the 17th July.