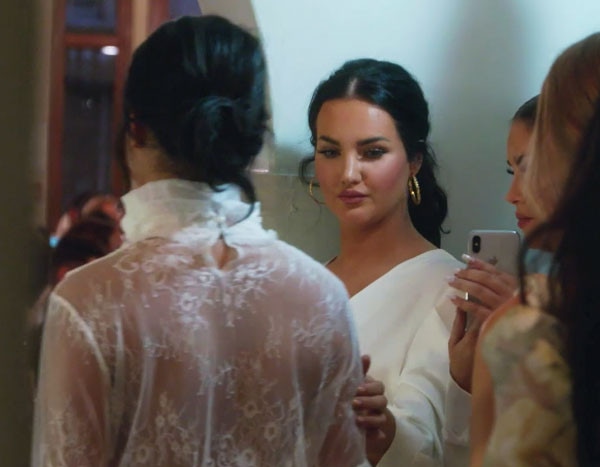 Reunions and runways!
On Tuesday's season one finale of Relatively Nat & Liv, Natalie Halcro and Olivia Pierson put their differences aside to pull off their very first fashion show. As things were still tense following their Los Angeles spat, the influencer cousins felt it was time to express their frustrations.
"I'm gonna take my mom's advice and I just need to tell her how I feel," Liv noted in a confessional. "And I think we need to sort this out, because…I mean, we're best friends and, more importantly, we're blood."
During a heart-to-heart, Liv assured Nat that their fight was uncharacteristic and revealed she wished she could help more with the creative burdens. This admission resonated deeply with Halcro, who wished Liv would stay up with her some nights as she worked on designs.
Nonetheless, Nat was eager to end the fight as she didn't want the fashion show to suffer.
"I apologize. I'm not trying to lose my best friend or cousin, you know, for a business venture," Nat expressed during their conversation. "'Cause I need you and…I don't want to do any of this without you."
With all of this drama behind them, Nat and Liv were able to focus solely on preparing for the fashion show. Thus, the former WAGS stars were absent for Stephanie Halcro's first meeting with her biological sister Suzanne Stepan.
As fans may recall, Stephanie was adopted by the Halcros after her mother passed away. However, little to her knowledge, her birth mother Sandy had given up a child for adoption in her late teens.
"Not only am I about to meet her, I'm about to meet like, god knows how many other people," Stephanie relayed to the Nat & Liv camera. "I know she has 3 kids and a husband. So, I mean, I'm going to meet my nieces and nephew—which I never even thought that I had any nieces and nephews."
Thankfully, Stephanie didn't embark on this reunion alone as she had brother Joel Halcro, mom Rhonda Halcro and aunt Julia Pierson by her side.
Unsurprisingly, the first meeting was filled with tears and lots of hugs. Apparently, Suzanne had been on the hunt for her biological family since 1990.
"I shouldn't say I felt lost, but you do. It's hard for adoptees," Suzanne expressed to the group. "You're lost and alone."
To make matters worse, Sandy's brother (who is cousins with Rhonda and Julia) turned Suzanne away during a conversation and refused to tell the family any specifics. In fact, until Stephanie reached out, Suzanne assumed she was an only child.
"You're stuck with us now," Rhonda quipped. "We're not letting you go."
Suzanne was clearly welcomed into the Halcro-Pierson clan as Joel even brought her and her husband David to a family dinner. This warm reunion came after Nat and Liv's successful fashion show.
Speaking of the fashion show, the famed influencers were met with praise and applause following the premiere of their debut collection.
"I came in with really 0 expectations. I was really pleasantly surprised," Modern Vintage Sale Director Alicia Melamed told Nat and Liv. "And I think just in like, a fashion atmosphere right now that's dominated by streetwear was really refreshing to see such beautiful, feminine silhouettes. I think you guys have something very special."
Of course, all of this came about thanks to hard work. Not only did Nat and Liv work up until the very last minute, they also enlisted their siblings' help.
It takes a village, right?
See everything that went down on this week's episode in the recap video above!