How fashion editors and influencers are falling back in love with the occasion hat
I wore my first-ever hat a couple of weeks ago.
I don't mean a cap, or a bucket, a visor, or even a wide-brimmed straw sunhat… but a *hat* hat. A real fancy, wedding-worthy number with floral embellishment, veiling, the works. And I couldn't have loved it more.
The idea of an 'occasion hat' used to be nothing more than the joke your aunt would throw out every time your ma told her that you had a new boyfriend. Whether or not you in fact gave her said occasion to ever 'get a hat', you no doubt took the jibe with (minor embarrassment and) a pinch of salt. No one wore hats to weddings any more, did they?!
Fancy hats seem to have fallen out of favour over the last few years, with puffed-up headbands and the 'fascinator' proving more popular alternatives. Which is why, with less than a week until I was set to step foot in Ascot's Royal Enclosure, I panicked that nowhere actually sold hats any more.
Everywhere I looked, or Googled, seemed to only offer these abstract creations ready to perch on the side of one's head. And my ticket very clearly stated that if I were to be so insolent as to opt out of a full hat situation, then a headpiece must have a 'solid base' of 'four inches or more'.
I bought three hat/headpiece hybrids that sat pretty on a little headband, before my friend scoffed at the idea of bringing headband-based-headwear into the Royal Enclosure.
I still, to this day, don't know whether she was winding me up and whether they would, in fact, have been accepted, but by this point I was so sick of wheeling my tape measure out every time I saw something that I remotely liked that I gave up on the idea of a headpiece and decided to plump for the full works. The big daddy. A Hat.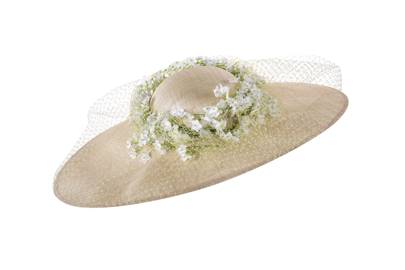 I wandered into Fenwick's hat department and immediately felt as though I'd been enveloped by a warm blanket of reassurance. These weren't the hats I had imagined my aunt balancing atop her head were I to give her the wedding she so desired. They weren't layered with chiffon or shadowed by a giant bow. These were beautiful, modern, chic pieces that I was actually itching to try on.
My tentative '5 minute look' became an hour spent trying them all on, and I finally opted for a stunning oval Tracy Hillel number, with delicate, almost daisy-like floral detailing to the top and a net-veil covering. I was obsessed.
And it seems I'm not the only one to have rediscovered the power of the occasion hat. While hat-wearers at Ascot and summer weddings alike were once viewed as well-to-do, tweed-wearing cliques from far-out rural areas, this year saw endless fashion editors and influencers plumping for entirely OTT pieces.
They were everywhere on Instagram, from enormous straw brims with immeasurable fringing to several-feet-wide wirework adorned with floral accents.
And just like that, the fashion world gave a big, hat-adorned nod to the world of hats.
Scroll down for our 5 favourite headwear moments this summer so far…