I live a busy life and like most twenty-something city dwellers, my week involves a lot of deadlines, client meetings, trying to fit in a yoga class or two and socialising with friends. Basically I'm always go, go, go.
Whilst I'm someone who likes to take care of my health and wellbeing, ashamedly as work started to pile up, I realised that I had let things slip up a bit. Exercise started to become infrequent, I was overindulging in all the office treats and I was having far too many late nights and it was showing on my skin. I was well and truly burning the candle at both ends.
So when it was suggested that I head to Scottsdale, Arizona to try out a range of restorative treatments at some of their top spas, I squealed in my chair from excitement.
Here are the restorative treatments I tried and how they boosted my wellness and can boost yours, too.
Sound Bath Therapy
This is an ancient sound healing practice that harnesses the body's own vibrational and material properties on a cellular level.
The singing bowls can be used to activate the chakras and remove energy blocks, making it suitable for anyone who is interested in finding a way to declutter the mind, relax and destress.
Sound Bowl Therapy Review
Nestled in the Sonoran Desert, just outside of Scottsdale, Arizona CIVANA wellness resort is the perfect place to relax, restore, move and nourish yourself.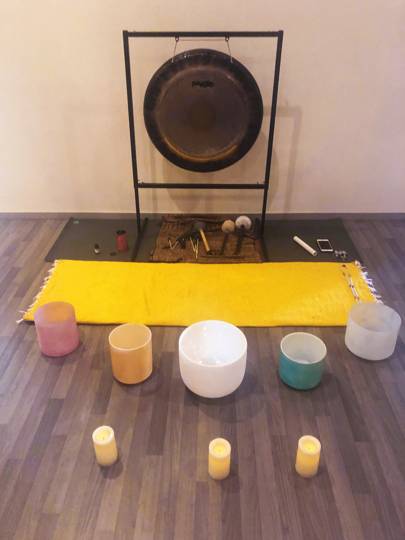 I'd seen a lot of sound bowl pics on my Instagram feed but didn't know too much about it. However, a quick Google search informed me it was the latest in wellness for some much-needed headspace, making it perfect for a stress head like me.
The room was set up with mats and blankets and at the front of the room was a massive gong, tuning forks, bowls in different sizes and colours and lit candles.
Mat chosen, I got cosy under my blanket and followed the teacher's instructions to let go and listen to the sounds. To begin with, the sounds started off soft and wind-chime like which was very soothing and I soon found myself drifting off into a bit of meditative state which is very rare for me. However, as the class progressed, the sounds deepened and got louder; you could literally feel the vibrations throughout your body.
Once the 45 minutes were up and the sounds began to slowly fade and we were gently awakened, we ended with a few 3-4-5 breathing exercises to further relax the body and mind.
Post-sound bowl therapy I certainly felt a lot more relaxed and at ease than when I walked in. Having the sounds to focus on made it easier for me to let go of my thoughts than with traditional meditation.
Hydrafacial
What is a HydraFacial?
Most skin – whether it's oily or dry – can be dehydrated, which is caused by a lack of water in the skin. Step in the Hydrafacial.
The HydraFacial uses a clever hydradermabrasion device that simultaneously provides cleansing, exfoliation, extractions, as well as hydration by infusing the skin with serums filled with antioxidants, peptides and hyaluronic acid. This is basically a glass of water for your face.
Hydrafacial Review
Standing at at three stories and nearly 40,000 square feet is the uber luxe Phoenician spa part of the recently renovated luxury Phoenician Resort which has seen the likes of President Obama and Michelle Obama stay.
This was easily one of the biggest spas I'd ever been to. There is a rooftop pool, fireplace with lounge area, a Drybar salon (I made a mental note to stock up on their infamous dry shampoo), nail lounge, vitality pools as well as 24 treatment rooms.
The results of this facial are supposed to be instant so I was more than ready to have skin so glowy it would make JLo jealous. The facial begins with a double cleanse before my face is covered in warm towels to help to prepare it for later extractions.
My facialist then used hydradermabrasion device to glided it back and forth across my face, it felt a like a bit like one of those facial cleansing brushes sweeping across my skin. An acid peel followed I which was a bit stingy, luckily it was only on for about 5 mins.
Next onto the fun extractions. Using a vacuum like nozzle all the dead skin cells were literally sucked out of my skin at the same time disbursing a serum containing lactic and glycolic acid to help dislodge my stubborn pores.
The tip was then switched again this time to the clear nozzle which helped push antioxidant serum into my parched skin, my skin felt very juicy. She then used a hand held LED light which she placed directly on my skin to help the serum to penetrate further. She opted to use red light as it stimulates collagen production and helps repairs damaged skin.
To wrap things up my skin was slathered in moisturiser and SPF. I also had the pleasure of seeing how dirty my face was at the end of treatment as everything that had be extracted out went into a cup. It was pretty gross.
I expected my skin to maybe appear a little blotchy given all the steps but when I looked in the mirror my complexion was radiant and clear, cue a selfie which was sent to couple friends to gloat about my new youthful appearance. I felt so confident with my skin other than mascara I didn't wear any makeup for the rest of my stay! I'm planning on treating myself to another one of these facials on my birthday in a few months.
Reiki
What is a Reiki?
This is a Japanese healing tradition which uses a gentle hands-on technique that reduces stress, eases pain and facilitates healing. It does not involve manipulation of the muscles or other soft tissue and can be performed fully clothed. It energizes and balances the body, mind and spirit, helping you to relax and alleviate emotional stress.
Reiki Review
Known as the ulitmate desert oasis in Scottsdale, The AAA Five Diamond Fairmont Scottsdale Princess provides the perfect setting to enjoy al fresco living in the blooming Sonoran Desert.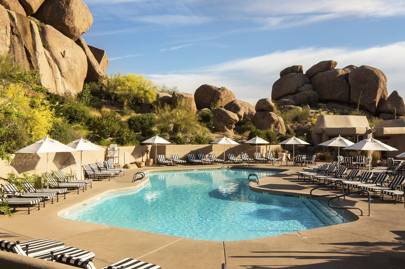 The treatment room was quite small but had a very chilled vibe with crystals on the table top, soft music playing and the smell of essential oils and incense.
Before the treatment began my therapist walked me through how things would work, which was just as good as I had zero idea what to expect. She explained during the hour session she would place her hands on and off my body transferring healing energy to treat the different chakras. Apparently some people feel a warm tingling sensation or see colours. All of this with just the power of touch? I won't lie I was being to feel a tad sceptical.
I lay on the bed, closed my eyes and embraced the warmth on my skin from the heated sheets, the therapist then reached out and held my hand and the Reiki began. The hour goes by quite quickly and I'm so relaxed I fall asleep, before I knew it the treatment is over. We then discuss how I found my experience and she then tells me what she felt apparently my body was very receptive.
After the treatment I did feel very chilled out and actually quite positive in fact I felt super upbeat. As someone who struggles with traditional meditation I surprisingly found it really easy to switch off during the Reiki. Maybe it was all that positive energy! Would I try a Reiki again? Yes I think it would work really nicely as a body reset every few months. I'm a convert.
Custom Massage
What is a custom massage?
We put our bodies through a lot on a daily basis from slouching over at our desks to pushing it to it's limits at an F45 class. Which is why it's so important to make sure your body get's much some much needed recovery time. But what our bodies require in order to relax and repair changes frequently. The custom massage is, well, 100% customizable and is specifically modified to meet these changing needs. Whether you like your pressure light or firm all basis are covered.
Custom Massage Review
Surrounded by saguaro cacti, mountains and blue skies lies the Four Seasons Resort Scottsdale at Troon North. Everything here from the artwork to the furnishing is inspired by the Sonoran Desert.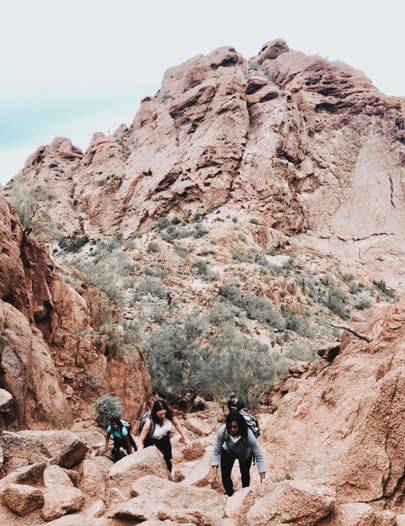 I made my way across the lawn to the spa reception where I was greeted by a member of staff who asked me to fill out a medical form before being showing me to the spa changing rooms. It was very clean and well equipped with various hair appliances and products.
I waited in the relaxation room for my therapist to come and meet me. Once greeted by my therapist I'm led to a private treatment room. Before the massage begins I'm asked to choose an essential oil from options such as basil, jasmine and rosemary. Scent chosen I lay in the warm bed and my treatment begins.
The therapist used a range of massage techniques including stretching, striping and holding all to varying pressures. Admittedly, given that my last massage was three years ago and I had just done a hike that same morning my muscles were pretty tight but the further we got into the treatment I could start to feel my body loosen up.
Once the massage was over my therapist recommended that I drink plenty of water to help flush the metabolic waste from the tissues. That night I had the best nights sleep I'd had in ages and the next morning I felt so stretched and limber I was tempted to do the splits. (don't worry I didn't) I must to this more often.
As well as treatments the spa also has a sauna and a colour therapy steam room. It was blue on the day I went which is supposed to make for a soothing and tranquil experience.
Final Thoughts
As my week came to an end, I felt re-energised and ready to head back to London with my new found zen, lesson learnt here is that it's so important to take a bit of time out for yourself to just chill the f*** out. And whilst I can't hike up a mountain every morning or have a luxe treatment everyday there are simple things I can incorporate into daily routine to bring some much needed calm such as talking a walk at lunchtime to get some fresh air studies have shown there is a direct link between vitamin D and serotonine which is the happy hormone. Giving myself an at home facial on a Sunday, running a hot bubble bath and lighting some scented candles or even just reading a book. I've even started scheduling me time into my diary. I feel like a whole new me.