THE PRODUCT
Hanacure Multi-Aciton Treatment Mask All-In-One Set
THE HYPE
As soon as Drew Barrymore posted a photo on her Instagram of her trying the Hanacure mask, the whole world was obsessed. It's hardly surprising when the mask makes you look super scary. You see, as it dries, it tightens and pulls your skin in all sort of directions, and then freezes your face in some pretty peculiar poses. It wasn't long before the Kardashians got their mitts on the famous mask, and also took to Instagram to share their experience. At least I'll be in good company…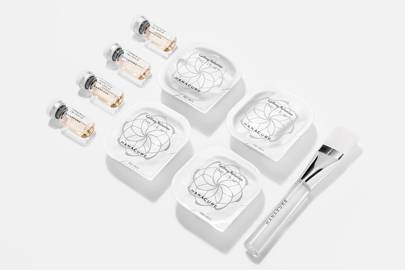 THE REVIEWER
Lottie Winter, beauty editor
BEAUTY BIO
My skin has been driving me mad lately. Just as one breakout dries up, another emerges and no amount of clean eating and tender loving skincare seems to be helping. On top of that, it's also looking lackluster due to not enough sleep. Luckily, the Hanacure mask claims to tackle both issues, drawing out impurities to leave pores deeply cleaned, and also tightening and firming the skin.
THE REVIEW
Hanacure Treatment Set comes in a slick and clinical white presentation box, containing four capsules of Gelling Solution, four ampules of Lifting Serum and the application brush. The instructions are – thankfully – very straightforward and easy to follow, with illustrations for each step to avoid any confusion.
The preparation of the mask strikes the perfect balance between scientific and serious, yet fun and feel-good. All you have to do is peel back the corner of the Gelling Solution, tip in the ampule of Lifting Serum, and shake to mix the two together until a thick gel forms. Then, using the brush, simply smooth the mixture over skin, avoiding the eyes and lips, and let it work its magic for 30 minutes before washing off.
When the two are mixed, it creates what they call their Purifying Compound, which absorbs impurities as it reacts to the CO2 in the air, after which it transforms into CO2 OctoLift, tightening and lifting while releasing botanicals and peptides – both potent anti-aging ingredients.
For some reason, I had expected the mask to smell like chemicals, or else to sting, but in reality, it isn't unpleasant in any way – it doesn't smell nor does it tingle or burn upon application. On the contrary, it feels cooling and refreshing upon first application. The 30 minute treatment time did throw me slightly – my skincare products usually only take a few minutes and hadn't factored for a whole half hour of mask time. Nonetheless, I seized the opportunity to sit back and relax.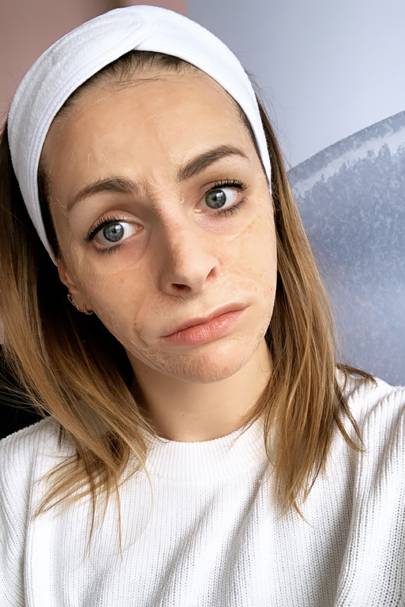 At around the five minute mark, I started to notice a pulling sensation, as if the mask was shrink-wrapping my skin. Although not unpleasant, it did get so tight that it started pulling one eyebrow up and one side of my mouth down, oddly enough leaving me looking very, very sad. And I couldn't move – at all. It had frozen my face into this peculiar expression and all I could do was stare at myself in the mirror in a slightly scary insight into what I would look like as an old lady (and a super sad one at that).
Half an hour of staring into the abyss of my sad future face, I was glad to wash the mask off. It balled up a bit and took a fair few splashes to wash off entirely. My skin was pretty red when I washed it off but soon settled down, after which it felt the softest it has ever felt in my life. Although my blemishes were still there, my skin felt tight and lifted long afterwards and had a distinct glow.