PRODUCT
Power 10 Formula Vc Vitaful Mist, £11.99
THE HYPE
K Beauty products have gained a cult following, especially when it comes to skincare, renowned for results-driven products that can easily be added to your regime, especially the fast-acting face mists that promise instant radiance and improved skin tone in one easy spritz.
REVIEWER
Oriana Findlay, GLAMOUR Intern
BEAUTY BIO
I am lucky to have clear skin, however, the bane of my existence is that it always feels dull and dry. In an age obsessed with youthful, glowing skin you can understand my frustration.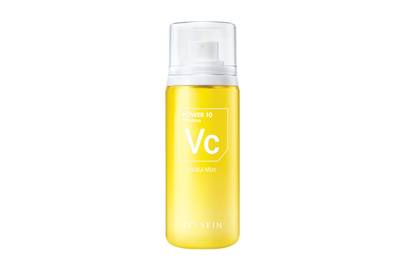 THE REVIEW
The Vitaful Mist appears to be the knight in shining armour I've been looking for all along – especially since it promises to brighten my face immediately. However, this seems to be a bit of an understatement. The instructions tell me to close my eyes and hold the bottle approximately 20cm from my face and a few citrus-scented sprays later, my face closely resembles someone who forgot their umbrella and got caught in the rain. At first I wait idly for the water to absorb and then read the instructions and realise that I'm supposed to dab it in to help speed this process up. After a few seconds I am surprised to see that I am actually glowing and my face feels super fresh.
THE VERDICT
I must say I am impressed with the product. I have tried to achieve this natural dewy look on many occasions and love that this didn't take a multitude of highlighters and bronzer to achieve. Instead, a mere 80ml bottle of Vitamin C and camellia sinensis leaf extract is all you need. Perhaps the best thing about the product is the size. You can easily slip it into your handbag and in no time you can achieve that dewy glow or refreshed and revived. Oh, and the smell, it helps wake up my senses too.