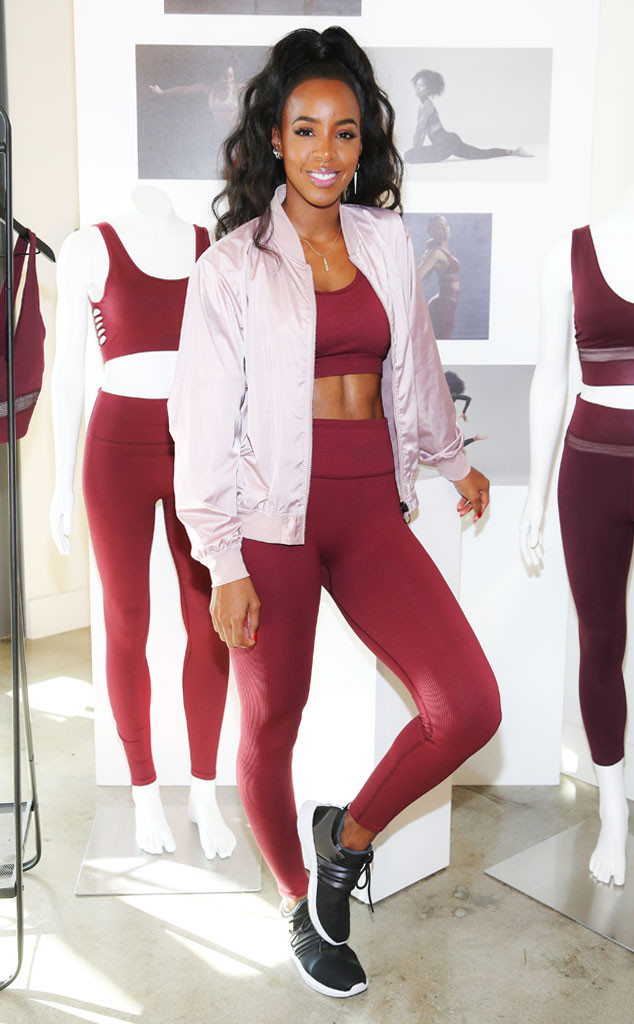 Randy Shropshire/Getty Images
Being a present mother, while also balancing work, fitness and everything else, is not for the faint of heart. Thankfully, Kelly Rowland is figuring it out and helping women do the same.
"Before I had my son, I was thinking 'Oh my gosh, this is going to be so easy. I'm going to work out, I'll do this, I'll do that,'" she told E! News. "I had no idea. I knew I was going to love my son, but I'm so obsessed with him and I want to spend so much time with him."
While this sounds relatable to many mothers, as a singer, writer and television personality, Kelly had to find time to obsess over her son. Her first piece of advice for mothers trying to do the same: Find an outfit that you can wear to all of your commitments. Fortunately, her new collaboration with Kate Hudson's sportswear company, Fabletics, makes that easier.
"I'm wearing the Valetta top and leggings right now," she continued. "I came from working out. I went right into lunch. Then, I went right into hanging out with my son and now I'm on calls, then I have more calls. Then, I have a meeting. So I wanted to make sure the collection was a realistic choice for any woman's day—no matter their background or occupation."
Based on the feedback sine the launch of her line, Kelly stated that she's exceeded her goal: "It's like a dream come true. I had this vision on my vision board for women of all different backgrounds, skin types, shapes, sizes, curves…I see so many different women wearing it and my heart just explodes every time I see it pop up on my timeline."
She's grateful for the outcome. However, the singer also expressed that the inspiration, which stems from her post-baby fitness journey, wasn't easy. After Titan Jewell Weatherspoon's arrival four years ago, the Fabletics ambassador didn't have a choice in regards to finding a balance. With a serious postpartum health scare that caused her abdominal wall to separate, she had to work out and maintain her health.
"The inside of my body changed and it was a moment when my core became extremely weak, which gave me back problems—Diastasis recti," she revealed. "It affected my abs, which affected my back. I don't care about being skinny more than I care about being healthy."
Health and fitness, however, take time and energy. Two things that new moms may not have enough of. Thankfully, Kelly has a solution for that, too.
She shared, "In my gym bag, I keep these drinks that I have that keep my endurance up. Some times, the day will beat you up. Or, the day before will beat you up, and you feel like you're so tired. It gives you an extra boost of energy. [They're made] by a brand called True. It's something that you pop in your drink and it's really good."
Cheers to that!