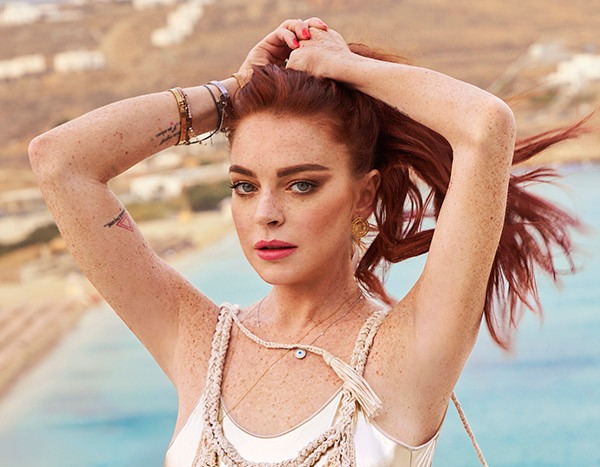 If you've been watching Lindsay Lohan's Beach Club so far, you'll know that Lindsay Lohan is a visionary.
Or at least she talks like one. The actress-turned-entrepreneur is a one-liner machine on her MTV reality show, offering bits of life advice and words of wisdom both to her VIP hosts and the audience at home that's just unparalleled. Where else can you find out that people in Mykonos are just gonna do what they're gonna do?
So far, Lindsay has said some pretty legendary things that make us wonder why the heck this reality show is mostly about a bunch of unfunny and unwise "ambassadors" having drama and getting yelled at by Panos. Surprise surprise, Lindsay Lohan is the star of Lindsay Lohan's Beach Club.
On not judging people on the beach: "The second you walk onto that beach, we are all equal people no matter how much money we have, no matter where we're from. Everybody has to be treated exactly the same. You can't judge people in Mykonos. There's no point. Because people are gonna do what they do how they wanna do it, and that's the beauty of it."
On Brent crying about it: "It's like, what're you gonna do, cry about it, Brent?"
On being happy in controlled environments: "Lohan Beach House. It's a controlled environment where people can be happy. My biggest fear in the world is being judged."
On champagne showers: "I think we need to give him a champagne shower!"
On what it feels like to hold a champagne gun: "I feel like Putin."
On this not being the Brent show: "This is not the Brent show. This is Lindsay Lohan."
On how to cook fish: "What are we in Atlanta? I'm gonna shuck the fish, take the bones out…I'm not Martha Stewart, I've already been to jail."
On the energy in Mykonos: "Americans don't understand the energy in Mykonos, which is very relaxed."
On always calling Oprah: "Always call Oprah."
On being religious: "I'm religious in the sense of meditation. I do three times a day. This is my own personal religion, and the space that I need to then function myself."
On other people being religious: "I'm going to watch you really closely, because you're religious."
Stay tuned for more of Lindsay's best/weirdest/most wise lines next week!
Lindsay Lohan's Beach House airs Tuesdays at 8 p.m. on MTV.