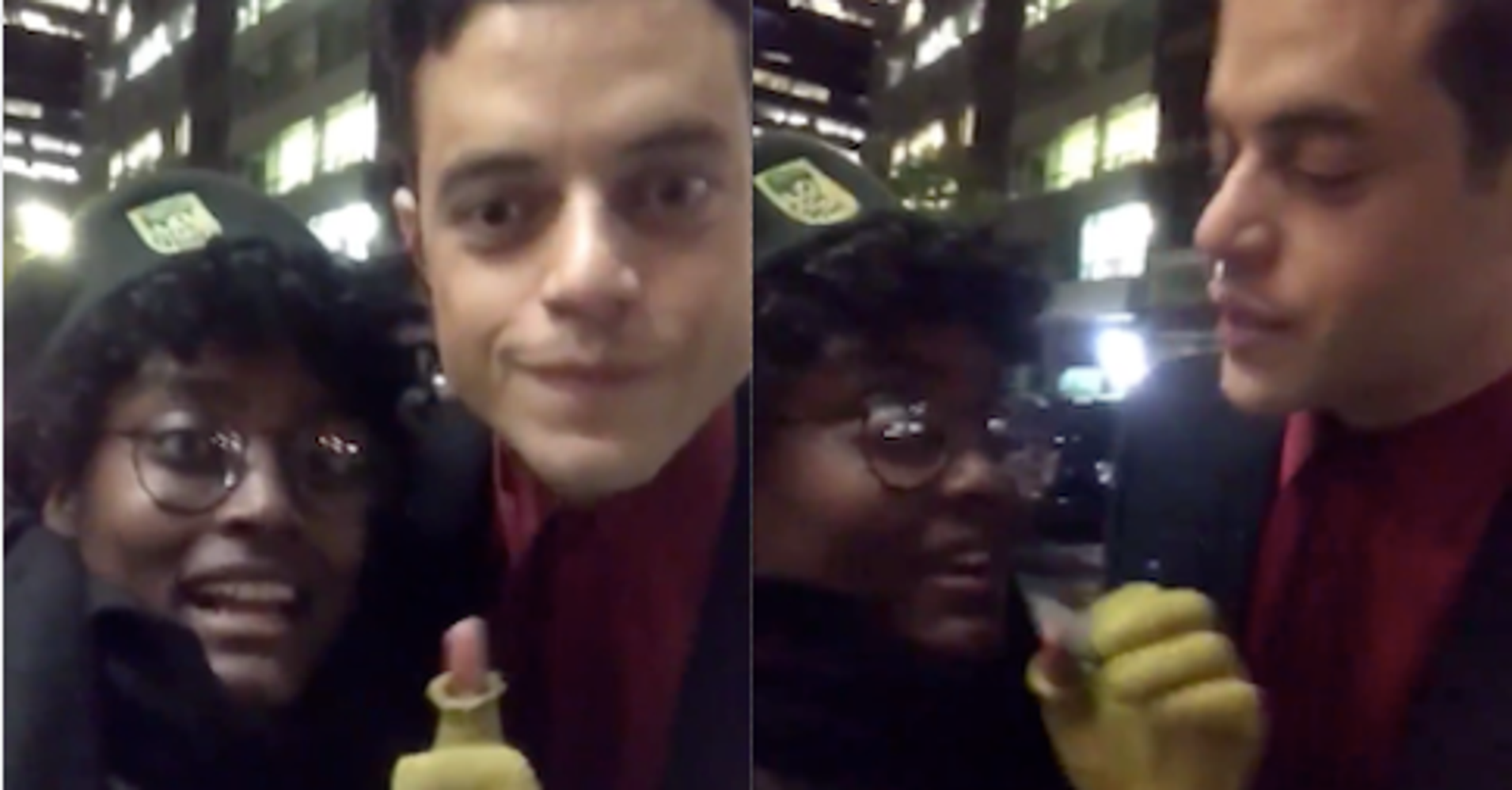 A dedicated Rami Malek fan approached the "little silhouetto of a man" ― OK, the "Bohemian Rhapsody" actor allegedly is 5-foot-9, but bear with us ― and walked away with a viral internet meme.
Film student Xan Black, on a mission to meet the "Mr. Robot" star on Monday, learned Malek was doing a Q&A for the Freddy Mercury biopic in New York City and staked it out.
Black approached Malek outside the event, immediately started recording and asked the actor if he could give a shoutout to some friends.
"No, but we can take a picture," Malek curtly replied.
Black immediately apologizes in a so-awkward-you-can't-look-away moment that, thankfully, was captured on video. The two attempt to salvage the meeting with a quick snapshot.
Malek has every right to his privacy ― and to deny a fan's request as he sees fit ― but his abrupt response quickly drew attention online, with the video racking up more than 1 million views.
Black, who remains a fan of the actor after the encounter, explained that they "didn't know how to react" after Malek shut down the request.
"I thought to myself, I'm not gonna question it, he wants a photo. And it was fine, I got what I wanted," Black told The Cut. "I don't know, it just felt kind of startling because I didn't expect that response for videos. And he's not obligated to do what I expect him to."
The fan added that Malek is a "genuine person" who might've acted differently, had he not been rushing to the Q&A.
That, however, didn't stop people on social media for making the most out of the candid moment, which quickly turned into a widely shared internet meme, poking fun at Malek.
Malek has yet to publicly comment on the video. Maybe he can put those "Mr. Robot" hacking skills to good use and do something about these memes.