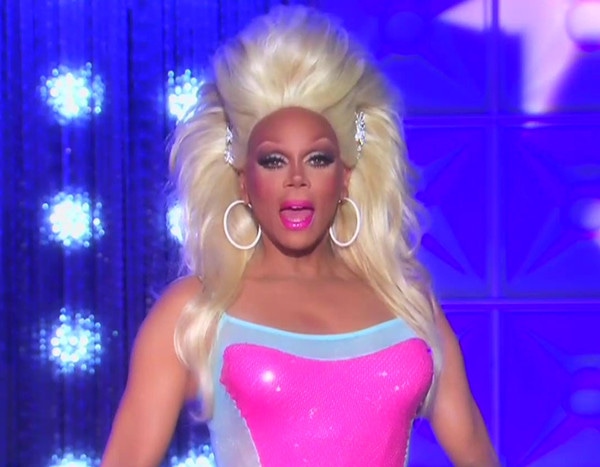 Well that was just about as thrilling as we had hoped it would be.
Tonight, the four eliminated All Stars returned to RuPaul's Drag Race to lip sync for their lives against four of the still-competing queens, and it was truly an event to remember, even if there were a couple who did not come to slay as hard as they should have for this second chance.
Each of the eliminated queens had to choose one of last week's bottom four queens to go up against, while Manila and Monet remained safe.
First up was Jasmine, who was last to choose, so she ended up against Trinity with Ru's song "Peanut Butter." Jasmine clearly knew very few words other than "peanut butter," and so she barely held a candle to word-perfect Trinity and her famous butt-shaking. Jasmine was quickly gone once again.
Up next was Farrah, who naturally chose Valentina, especially after angrily confirming earlier that Valentina eliminated her because she was truly the worst of the night she left.
They got "Kitty Girl" and had some very different approaches to the song, as Valentina was performing in a Broadway revue and Farrah was doing her very best "Dirrty" era Xtina even while wearing purple feathers and multicolored streamers. Valentina won, though Farrah put up a good fight.
Gia faced off against Naomi to "Adrenaline," and at first it seemed like only Naomi was really there to perform until Gia ditched her schoolgirl outfit for a sparkly minidress. Buuut even then, Naomi very clearly won. She did a frickin' backbend in stilettos!
Finally, Latrice faced off against Monique to "Sissy That Walk," and it was quite the showdown—such a showdown that pre-episode screeners cut off right before the reveal of who won. Surprise! They both won, and both got to stay in the competition, which now goes right back to regular All Stars rules.
Was this all just a ruse to get Latrice back into the competition? Perhaps, but we're truly not complaining.
As was also announced tonight, the cast for season 11 will be revealed on VH1's Youtube channel next Thursday at 12 p.m. ET.
RuPaul's Drag Race All Stars airs Fridays at 8 p.m. on VH1.