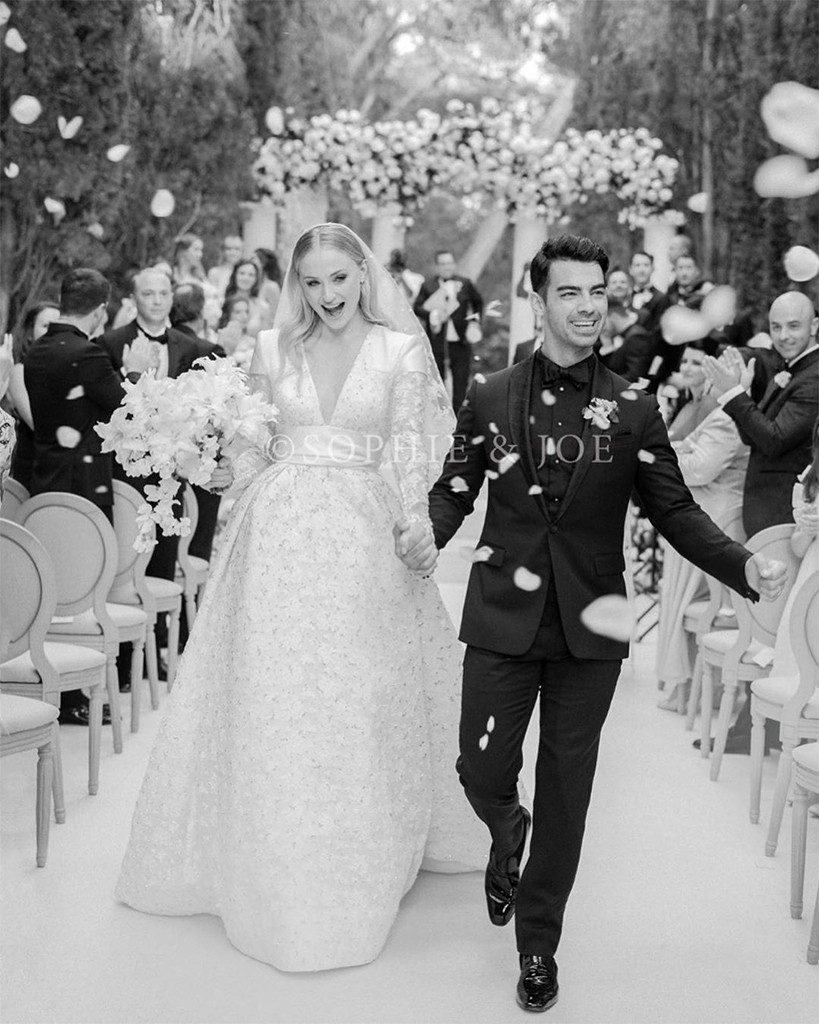 Instagram / corbingurkin
The bride wore Louis Vuitton.
It's no secret to fans by now that Sophie Turner and Joe Jonas tied the knot for the second time a week ago in France, nearly 6,000 miles away from the Las Vegas chapel they first exchanged vows in early May.
The newlyweds have since shared the first portrait of their most recent nuptials, the famed bride and groom happily walking down the aisle arm in arm as a very chicly dressed wife and husband.
And, in quite a different direction from her silk Bevza jumpsuit in Sin City, Turner donned a flower-embroidered tulle and silk gazar gown with leather satin details for the grand occasion, custom designed by Creative Director Nicolas Ghesquière.
The dress featured a v-neckline, a cut-out back and lace sleeves layered under cap ones with a veil to match. It's not surprising that Turner donned Louis Vuitton on her special day as she is an ambassador for the brand.
More or less surprising, the gown took more than 350 hours to assemble, WWD reported. That breaks down to over two weeks—if you worked around the clock, that is.
The work did not stop there. According to WWD, it took more than 10 embroiderers 1,050 hours to decorate 14 meters of tulle for the dress, each panel embellished with 100,800 crystal and white beads.
Add on another 48 hours to embroider Turner's veil and she was soon ready to walk down the aisle looking like, in Ghesquière's words, an "absolute beauty."